When it comes to iOS upgrades, Apple [AAPL] runs a slick operation -- so slick in fact that developers are already experiencing more traffic from users of the as yet unreleased iOS 7 than they do the two year-old iOS 5.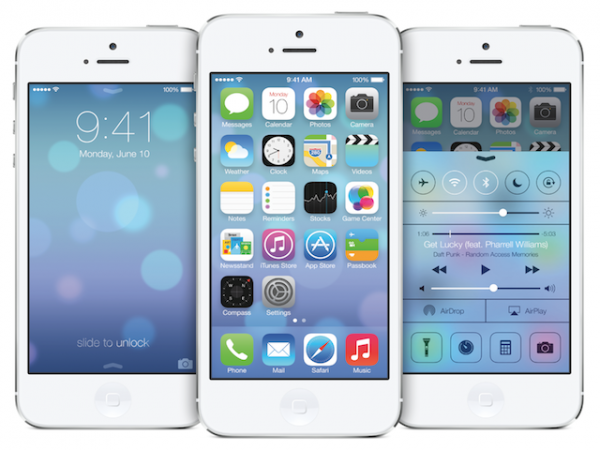 [ABOVE: The pre-release pictures of iOS 7 -- already more widely used than iOS 5, some developers say.]
Already there
A NextWeb report cites numerous iOS developers who confirm this is the case -- and what makes this truly remarkable is that this kind of activity is being experienced way before the actual release of the operating system.
Tapbots' Paul Haddad shared on Twitter that there were already more Tweetbot users on iOS 7 than still on iOS 5.
The IconFactory is seeing three times as many users on iOS 7 as it does on iOS 5.
This is fascinating. It indicates that Apple's developers are the most active users of its platform (active enough to cause a statistically relevant occurrence such as this). But that's not all it suggests -- it suggests just how cohesive Apple's platform has become.
At present, 93 percent of users have already migrated to the current iOS iteration, iOS 6. That's an extremely impressive exposition of just how transparent and easy Apple has made the product upgrade process. It's the reverse of the desperately fragmented Android ecosystem, because:
There's no wait for system upgrades to be made available.
They are made available to a wide range of recent and current models (though some features may not work).
There's no need to wait on carriers to choose to support the release.
There's no delay as manufacturers attempt to avoid revealing the device you just bought in the mobile phone shop isn't physically capable of running the latest OS iteration.
With stats like these it's no wonder there's so much criticism.
Criticism is easy
Take recent coverage of iOS 7. In the name of "balance" (but at the sacrifice of "objectivity") commentators began to slam the new OS for a range of sins -- despite it not yet being finished, available, or finalized. If you think about it, that's pretty much the equivalent of moaning about a Christmas present you haven't received yet. I don't lend a great deal of credibility to criticism of something that isn't finished. It's not even useful.
What is useful is that this fresh insight from developers that suggests that despite only being seeded to a tiny number of people the OS already seems sufficiently stable for daily use.
That's all the more interesting when you compare iOS to Androids. The vast majority of Android users are marooned on a three year-old OS without any clear upgrade path and deprived of whatever new features the latest iteration has available.
What's also interesting about Apple's new OS is the subtext to the release. On the basis of a few quiet hints within Apple's NDA-protected developer release notes I'm very much getting the impression the company is quietly encouraging developers to consider creating apps that work only on the latest iteration of the operating system.
Think about this. It means Apple is so confident in the non-fragmented nature of its OS that it believes it has a viable business case with which to encourage developers to migrate their business to a system that hasn't been released yet. That's particularly interesting in light of this statement from TheNextWeb:
"Users who had updated to the latest version of the OS were far more likely to update to the latest versions of apps as well. Yes, this might be circumstantial, but other stats corroborate that 'early adopter' activity spreading outwards. For instance, users using the current version of an app have 40% more sessions per user and 63% longer session lengths than those on older versions."
Business shift
This means Apple's users are not only more likely to upgrade, but those that do are a far more active congregation of users than those on any other platform.
Even the BBC last week admitted: "The fact that overall engagement levels on Android devices are lower than on iOS," as justification for prioritizing iOS development above that of Google's "free" distribution.
I expect to see Apple promote the message of its cohesive iOS ecosystem and active user base in the months ahead, as it gears up for a range of product releases this Fall.
Perhaps these truths are what keeps some Android users awake at night.
Got a story? Drop me a line via Twitter or in comments below and let me know. I'd like it if you chose to follow me on Twitter so I can let you know when these items are published here first on Computerworld.