There's a host of interesting insights for Apple [AAPL] watchers emerging from LeWeb in Paris, France, this week, where iPod Daddy, Tony Fadell, sat down to talk about the smart home and the company's recently departed European vice president, Pascal Cagni, gave a few hints of the philosophy that guides Cupertino in its business and revealed he got his job because he "wasn't a salesman, but a product guy." 
The connected home
This particular "edition" of LeWeb is focused on the Internet of Things, an all-encompassing term that includes M2M devices, connected objects, iPhones, mobile devices and more.
This is an important topic: by 2020 an estimated 50 billion devices will be connected to the Internet, the organizers claim, and, with an eye to the future opportunity for Apple, Google and others in the mobile space, what's being discussed may interest anyone attempting to map what's coming next from Cupertino.
He may not be at Apple any more, but iPod inventor, Tony Faddell, is now involved in the creation of Nest, an intelligent, connected thermostat for the home, one with an Apple flair, naturally he referred to this:
"At Apple, Steve taught us that every single customer touch point -- the boxing, the retail experience, the customer support [matters]," he said, adding:
"Secrecy keeps people more excited when it comes out, especially when it comes to thermostats."
Microsoft's plan for iPhone, Android
Microsoft took a chance to make itself relevant this morning when company VP, Steven Guggenheimer shared a few of his ideas to make Windows relevant in what's increasingly becoming an iPhone and Android age.
He talked numbers -- 1,500 devices have been certified for Windows 8. He also talked about the company's attempt to ensure the OS works on any device, "the experience is the marriage of hardware and software," he said.
The company push is clearly to sit somewhere between Apple and Google: unlike Apple, you can choose from a range of different devices from different manufacturers, rather than choosing from a small list -- though in my case I'll wait and see if the experience will truly be consistent across all these devices, which is important because…
Part two of Microsoft's mobile strategy is to ensure that it is standard-based so users get a consistent experience across all devices. That's a kick in the teeth to Android's fragmented approach, in which the software experience is not at all consistent between devices.
Personally I think Android has become so entrenched among some thought leaders in the technology space that Microsoft may face challenges getting its messages across, though we'll see where they get to in 12-24-months time. (I had similar reservations for the eventual fate of Android, as I recall, which teaches me not to discount Microsoft just yet).
Apple's French connection
Another speaker with a really strong Apple background took a seat at the show, Apple's former General Manager and VP Apple Europe, Pascal Cagni. He quit his post at the company earlier this year.
He began by pointing out just how much things have changed for Apple at events of this kind.
"Look, look," he said, "All the front row is using an Apple product."
He recalled when he began working with the company when Apple products were the exception, rather than the rule at industry events such as LeWeb.
What helped the company succeed?
"Apple simply believes its duty is to make the best products in the world," he said.
"Working with Steve [Jobs] he gave me the keys to Europe. My job was very simple, to keep it simple and to recruit the best talent. The rest fell into place."
What did he learn? The concept of "doing a few things well". He even noted the attention to detail that went into Jobs' keynotes. "Attention to detail and the importance of saying no to things [helped]," he said.
Saying no?
"A lot of people said we should make a digital camera…[but]…we couldn't see how to be disruptive in that," he said.
On launching new products, he offered advice to start-ups and competitors:
"I'm still surprised today when you have this unique product that's taken years to make it, when you have the chance to show it you should show it once," he said.

"You only have one chance to give the first impression. You cannot miss that," he explains. "I believe a start-up also has that one chance, and must consolidate all its resources to build and exploit that chance."
Apple has this concept that it shouldn't aim to be the master of everything. That it should outsource many things while focusing on those areas in which it excels, bringing in the very best talents in those areas. "To be a functional nation of specialists," he added.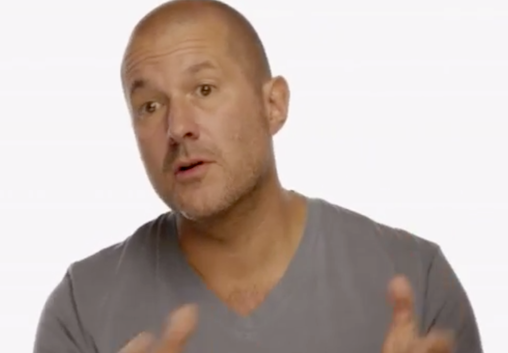 [ABOVE: Apple designer, Ive, often talks about the complex nature of simple design.]
Apple won't get into the smart home just yet
Like Fadell, Cagni is also focused on the Internet of things. He sees two billion smartphones in use in Europe within the next few years and imagines the need for connected home devices and apps as the potential drivers for European tech start-ups.
How did Cagni get his job with Steve Jobs? In typical Jobs fashion, the two men went for a few hours walk on the beach. Cagni got offered the job because: "I wasn't a salesman, but a product guy."
Based on various reports across the years I note Jobs made a lot of his big decisions while walking with people in outside space -- it's clear part of the DNA of the Apple co-founder was a deep love the experience of being outdoors.
Will Apple expand its reach into the future market for connected devices, the Internet of things?
Maybe, but not yet, said Cagni.
"Apple is on a journey in which you will see it focus on its core products. ….I don't see Apple jumping on the Internet of things immediately….they have too much to do to maintain their leadership ….so all of you have a few months to begin your journey [in the Internet of Things].

"Apple may join you in a couple of years time."
There's many more Apple, Google, Microsoft related snippets to be gleaned from what's being said at LeWeb this week. There's also much activity for specific verticals, including healthcare, social networking and apps development : cast your eyes across LeWeb's video feed if you're looking for something specific, I doubt you'll be disappointed.
Got a story? Drop me a line via Twitter or in comments below and let me know. I'd like it if you chose to follow me on Twitter so I can let you know when these items are published here first on Computerworld.