It's a shame Steve Jobs didn't live to see it, but Apple [AAPL] this morning achieved something that would have seemed utterly impossible not too long ago -- it put The Beatles on sale in Russia as it expanded iTunes into numerous new countries.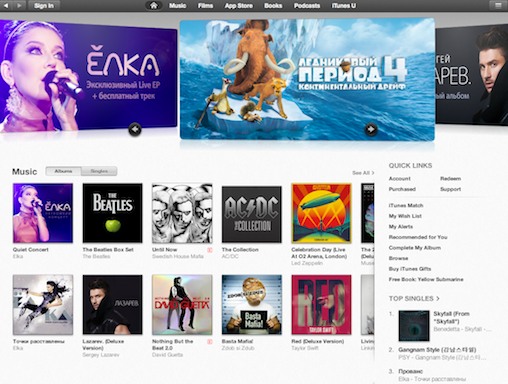 [ABOVE: The front page of Russia's all-new iTunes Store.]
Back in the U.S.S.R.
This is a much bigger deal than it might seem to younger readers. The Beatles became the music for young dissident Russians during the Communist era, despite being banned by the Party. This continued long after the band broke up in 1970.
The extent of Cold War Beatlemania was such that underground music pressing plants would press copies of those hard to find but much in demand Beatles albums on X-rays, so the discs would carry X-ray images of bones and body parts. Fans called this form of music distribution "Music on the bones".
The underground market in Beatles bootlegs was expensive. In some parts of Russia a single album cost 200 Roubles -- the equivalent of a month's pay at that time. iTunes today offers the albums at around 199 Roubles, though the average wage is now  23.6 thousand Roubles.
A little more history: The Beatles became the clarion call for disaffected Russian youth, with some experts saying love of their music did more to spread so-called "Western Values" in the country than anything else which took place during the Cold War.
In a relatively recent interview, Art Troitsky, Russia's leading rock music writer described the importance of the band:
"In the big bad West," he said, "they've had whole huge institutions which spent millions of dollars for undermining the Soviet system. And I'm sure that the impact of all those stupid Cold War institutions has been much, much smaller than the impact of the Beatles."
Documentary maker Leslie Woodhead said:
"[The Beatles] liberated a certain spiritual energy so that two generations of Soviet kids simply gave up on building socialism and started to realise that the Cold War enemy, instead of being a threat, made wonderful music.

"There was a life out there that was a lot more fun than the one they were living."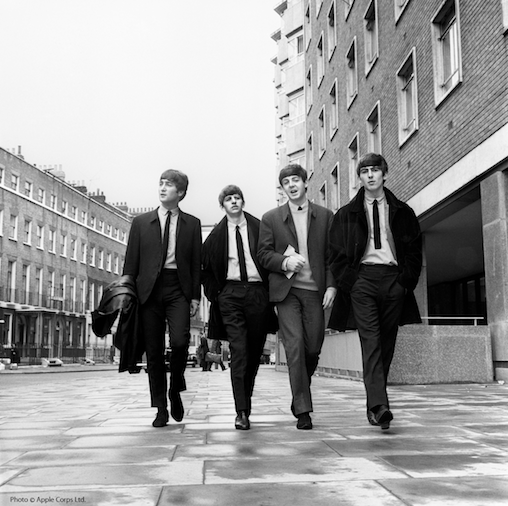 [ABOVE: The Apple Corps./Apple Inc. Beatles image distributed at iTunes detente in 2010.]
The long and winding road
Jobs loved The Beatles, so much so that his decision to name his company "Apple" led to years of litigation between his Apple and The Beatles' Apple Corps.
The two firms then entered years and years and years of negotiation just to bring the music to iTunes -- now, together since 2010, the music is available legally online in Russia. The cultural significance of this would no way have been lost on the Apple co-founder.
Speaking in November 2010 when music from the band finally reached iTunes, Jobs said: "We love the Beatles and are honored and thrilled to welcome them to iTunes."
He couldn't resist a quip, adding: "It has been a long and winding road to get here. Thanks to the Beatles and EMI, we are now realizing a dream we've had since we launched iTunes ten years ago."
It's not just Russia and The Beatles: Apple this morning opened up iTunes Stores in 56 additional countries, also including India, Turkey, and South Africa (where you can now search for music featuring the phrase "Nelson Mandela").
The new stores feature some local content -- a repertoire no doubt set to rise as the media firm reaches deals with indie labels in these new territories.
Movies have also been made available in Russia, Turkey, India and Indonesia, and will be available in "select additional countries".
It's also a pretty big deal, particularly as anti-piracy initiatives proceed in these new territories, that iTunes Match support is available in all the new markets. Industry insiders will certainly recognize the complexity of reaching all the deals required to legally achieve that.
Come together
Apple's Eddy Cue heads up the iTunes division that's achieved these new markets. He's also recently taken on some of the responsibility of departing iOS chief, Scott Forstall, principally Siri and Maps.
It's interesting to reflect if Cue, and Apple CEO, Tim Cook, reflect on Jobs' statement on how The Beatles impacted his management style.
"My model of management is the Beatles. The reason I say that is because each of the key people in the Beatles kept the others from going off in the directions of their bad tendencies.

"They sort of kept each other in check. And then when they split up, they never did anything as good. It was the chemistry of a small group of people, and that chemistry was greater than the sum of the parts."
Perhaps so; it's also interesting to note just how deeply Jobs applied the lessons of Sixties counterculture across everything he did, telling his biographer, Walter Isaacson:
"You always have to keep pushing to innovate. Dylan could have sung protest songs forever and probably made a lot of money, but he didn't. He had to move on, and when he did by going electric in 1965, he alienated a lot of people. The Beatles were the same way. They kept evolving, moving, refining their act. That's what I've tried to do -- keep moving. Otherwise, as Dylan says, if you're not busy being born, you're busy dying."
"Stay hungry, stay foolish," perhaps, but here we are: Apple opened up iTunes for business in Russia today, bringing music from The Beatles to the country legitimately and online. The move's significant in so many ways: 
It's culturally and politically significant.
It follows years of antagonism between Jobs' Apple and The Beatles Apple Corps.
It reflects a new move to offer legitimate services in Russia
It underlines the media firm giant iTunes has become.
In a sense, it's a fitting tribute to the achievements of the tech industry and of Steve Jobs.
I think it's interesting. I also think Mr. Jobs would have loved it.
Got a story? Drop me a line via Twitter or in comments below and let me know. I'd like it if you chose to follow me on Twitter so I can let you know when these items are published here first on Computerworld.