WWDC 2013: Apple [AAPL] delivered its message loud and clear today as a confident Tim Cook took the stage to conduct fellow executives as they put forth the proposition that this Fall, Apple will be coming out with all guns blazing.
[ABOVE: Jony Ive lets us know what design means.]
Apple shares the recipe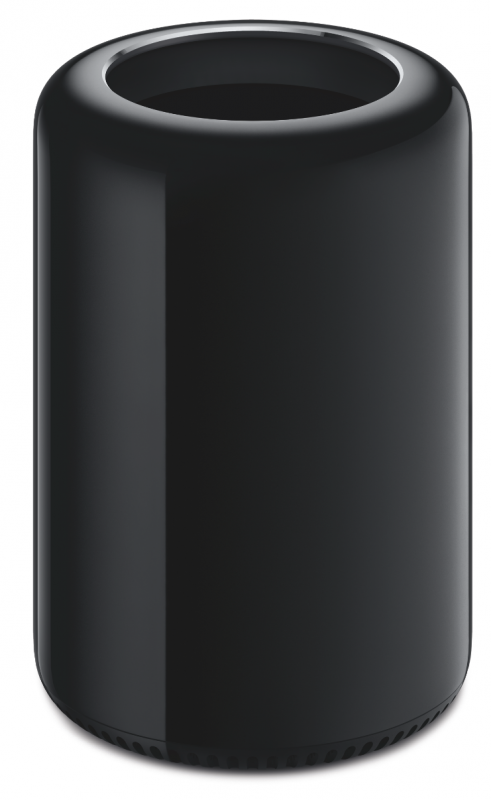 All the ingredients are there:
Two increasingly integrated operating systems that focus on power, efficiency, and elegant control. These are festooned with new features that should massively improve the way we use these systems.
Advances in Maps, while underplayed, delivered a few interesting new possibilities, not least introduction of a new SDK for developers to use to implement Apple's service within their own software offerings.
Siri gained new voices, new features and built-in support for Microsoft Bing. It also took pole position for future auto integration dubbed iOS in Car. This will appear in production models of vehicles from 12 auto manufacturers next year.
Apple's move into cloud computing was clearly evidenced by the introduction of iWork for iCloud. This may not seem too special yet, but it's a clear expression of how people will be using software on a device and OS agnostic basis in future. I'd not be at all surprised to see iWork for iCloud made available to Android devices at some point in the future -- if such a release ever makes sense.
iOS improvements extended to every element of most users interaction with the device, including password control, photography and a series of handy improvements within Safari.
Google was dumped. In Apple's world that former friend now makes a Web browser that's just not as fast as Safari, and a popular OS that doesn't really thrill or delight its customers. For all the promise of market dominance, Android just doesn't cut it when it comes to actual use -- or else why would iOS users use their devices 50 percent more than do Android users?
Impressive advances in hardware, including an all-day MacBook Air -- you can almost watch all three 'Lord of the Rings' movies without running out of power.
The professional market wasn't forgotten. Phil Schiller expressed just enough understanding of what these users need before introducing a hugely powerful new Mac Pro that's only really a little larger than that failed (but critically acclaimed) Apple product, the Cube.
The company reeled off a whole host of statistics that pushed forward its case in contrast to competitors. "Can't innovate anymore, my ass," said Apple's marketing chief, Phil Schiller, perhaps the biggest attack on the company's critics so far.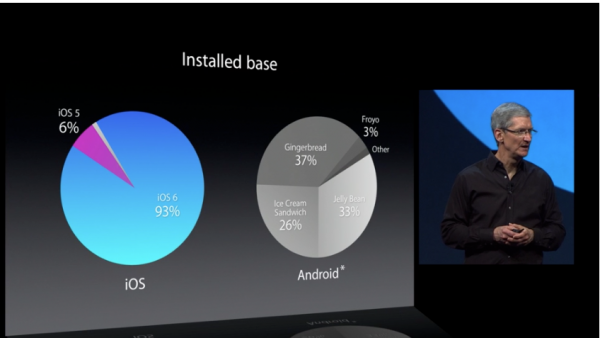 [ABOVE (left): This is what a market-leader's OS graph looks like.]
Effective deployment
Apple CEO, Tim Cook, seems to have got over his initial discomfort when presenting from the stage. This time round he seemed far more confident, far more in control. He seems to have found his role leading his people by enabling their own achievements. He'll share the spotlight and tries to maintain the entire company in its focus on its main ambition: To make the best products in the industry.
If a commitment to excellence in tandem with an ability to delegate to a strong, ambitious and creative team is the mark of a weak leader, I'll eat my hat. A strong leader barks only when a bark is required, and the quiet man showed his teeth last year with the removal of Scott Forstall.
iOS is another animal. The new breed seems to have its own existence within the device. Designer Jony Ive has clearly focused on developing a logical user interface, while also working with depth and layers to create a software entity that appears to have life within the iPhone or iPad. Existing iPhone owners (back to the iPhone 4) will install the new OS and feel as if they have a brand new phone, and a more powerful one.
You see, as far as I can tell from the brief demos we saw today, when you move your iDevice around in certain views you'll see matching activity on the display. In this way the iOS becomes a living creature nestled inside of the hardware. While I fully expect that statement to become my own passport to an eternal place on Pseud's Corner, my point is that Ive has given iOS a much stronger sense of identity, dumping skeumorphism in favor of an interface that isn't retro, isn't imitative and certainly isn't flat. This OS works in three dimensions.
As Ive puts it in the video above:
"Design is more than the way something looks, it's the whole thing, how something works. Design defines so much of our experience."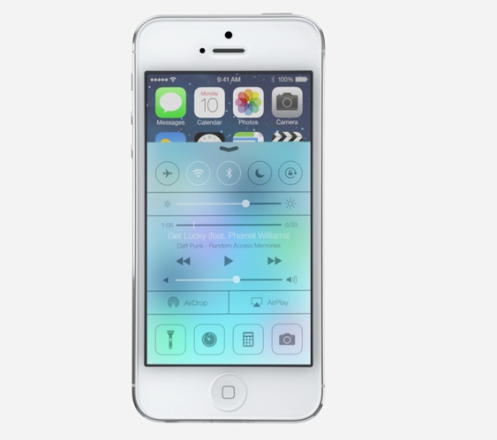 [ABOVE: With iOS 7 iPhone now offers easy access to your most used controls with Control Center.]
Tomorrow belongs to?
Today's WWDC event also provides us a few hints as to Apple's general strategic direction. This year's crop focuses on:
Improved user interfaces and powerful new features such as multitasking.
Display technology.
Flash drive performance.
Battery technology.
Mad good graphics.
No surprise that Apple stock's a little volatile subsequent to the announcements. There were only two immediately available new products: the MacBook Air and iTunes Radio. Apple's promised improvements are all scheduled for release "in Fall".
Investors naturally concluded the next few months will be a little slow for the company. Perhaps they are right -- Apple's not so worried, with a few billion dollars in the bank it can afford to wait a little while in order to ensure the integrated end-to-end vision of post-PC computing it is developing can be executed as precisely as a Jony Ive design video.
We know that by the time Fall turns around, Apple will have introduced us to a few new surprises it has been cooking up in its kitchen -- new iPhones, in particular.
It may be instructional when considering what the company is plotting to consider these words from Ive:
"There is a profound and enduring beauty in simplicity, in clarity, in efficiency. True simplicity is derived from so much more than just the absence of clutter and ornamentation—it's about bringing order to complexity.

"iOS 7 is a clear representation of these goals. It has a whole new structure that is coherent and applied across the entire system."
That structure doesn't stop with the system. It is being applied across both Apple's product range and its manner of execution.
Faster, better, longer, cheaper
What then can we expect from these unconfirmed, undiscussed and not yet revealed devices on the basis of today's announcements? Some answers seem obvious: battery life improvements, display technology improvements, better power management and much improved flash drive performance. And, if the rumors can be believed: a cheaper model in support of the flagship edition.
When will we see these?
Apple has told us just enough that we know we only have to wait a few more weeks before it hits the market fighting. With what I saw today I'm relatively confident that when it is ready to deliver, it will deliver solutions that reinvigorate its already world class franchise. If I had any Apple stock I'd be booking a fantastic spring break next year.
Got a story? Drop me a line via Twitter or in comments below and let me know. I'd like it if you chose to follow me on Twitter so I can let you know when these items are published here first on Computerworld.