Apple [AAPL] appears on course for a major Fall upgrade across its ecosystem with Reuters adding fuel to this speculation with reports the company also plans an autumn launch of a $99 iPhone available in multiple colors.
[ABOVE: This lengthy Apple ad does a pretty good job explaining the potential of mobile apps to transform life  -- a message that should be cross platform.]
Ive's Attacks
"For this year, Apple is expected to launch two new models, widely referred to as the iPhone 5S, with new fingerprint technology, and a cheaper version in plastic casing, supply chain sources have said. Apple plans to dress up the cheaper phone in a range of 5-6 colors to differentiate it from the more expensive model that has traditionally come only in black and white.

"The US firm has discussed a price of $99 for the cheaper phone, the timing of which could slip to next year, one of the people said. It's not yet clear what the final price would be." Source: Reuters.
Reuters also claims Apple is considering introduction of larger screen iPhones and has begun testing 4.7-inch and 5.7-inch models, proving the company's quite capable of adopting on of the "innovations" of its competitors.
However, unlike competing devices the company seems able to promise an identical user experience across all displays, with WWDC attendees currently learning about new features in Xcode and iOS 7 which should make it far easier to deliver consistent user interfaces across different resolution displays -- an essential step as it moves to app support in future large screen devices.
Cheap, or different?
Reuters' revelations seem directly contrary to previous statements by the company, principally marketing chief, Phil Schiller's relatively recent assertion the company would never make a cheap iPhone. (Interestingly that claim was published and then retracted -- by Reuters, proving that even that source isn't infallible).
"Reuters has withdrawn the story headlined "Apple exec dismisses cheaper phone as a market share grab-report" which was based on a Shanghai Evening News report that was subsequently updated with substantial changes to its content," the company said.
The notion Apple may diversify its range of iDevices with new sizes hasn't been so roundly denied. Apple CEO, Tim Cook, told AllThingsD: "We haven't [launched these] so far. That doesn't shut off the future." (Italics mine).
Some you win, some you lose, but Reuters has another iPhone 5S claim this morning, the not especially surprising claim that the next edition iPhone will integrate a fingerprint sensor. That makes sense as Apple acquired Authentec last year and has filed numerous patents that suggest its looking to new ways to secure its devices -- this could link in directly to claims Apple is lookng to deploy its own new mobile payments system.
Whatever the company is planning it won't be too long until we find the facts:
"Test production for both the standard and cheaper iPhone models aims to start next month, with mass production ramping up in August to meet a September launch target," says Reuters, citing its sources.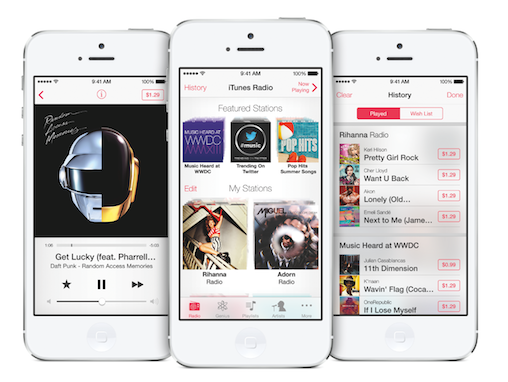 Apple is upgrading its entire ecosystem
It is interesting to note that speculation earlier this year suggested Apple intended accelerating iPhone releases. It's possible this speculation wasn't completely erroneous, as Reuters also claims: "Trial production was originally planned to start in June, but the mixing of colors is taking longer than expected as Apple has very high and idealistic standards."
With today's claims in mind it might be interesting to reflect on just what products Apple is expected to ship this coming Fall:
Confirmed
OS X Mavericks
Mac Pro (Apple only says "later this year".)
iTunes Radio
iWork in the cloud
Anticipated
Final Cut Pro X (with 4K video editing support)
iPod touch upgrade
iPad
iPad mini
iTunes update
Rumored (at various points)
Low-cost iPhone?
Apple television?
iTunes movie streaming a la Netflix?
When you look at this list of products and consider the growing integration between Apple's Mac and iDevice operating systems, it's difficult to ignore the cumulative impact of all these systems. Any one of these improvements is important, purely in new product terms -- but together, they constitute a major release comprising the company's entire ecosystem.
What's the plan?
Apple tends to do things for a reason. It's a finicky about this as it tries to be when it comes to ensuring the products it does ship are ready. The notion the company intends a major more or less simultaneous upgrade across its entire ecosystem is unlikely to be an accident of timing (though that's not impossible). To me it appears the company is dedicating itself (and huge spending on research & development) to the task.
The news from WWDC has given us a glimpse at both the operating systems which will glue together the various products included within its product release road map, but there seems to have been no single point with which the company has justified such a major series of moves in the same time period.
I may be wrong, right, or half-right, but the timing on these releases suggests to me the company has a few more cards to play, a few more OS/device features that breathe extra life into its overall platform strategy. It will be interesting across the remainder of summer to see what these might turn out to be.
Got a story? Drop me a line via Twitter or in comments below and let me know. I'd like it if you chose to follow me on Twitter so I can let you know when these items are published here first on Computerworld.