Apple rumors interesting, if thin.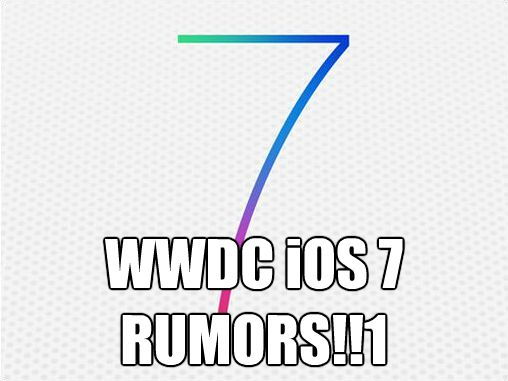 Apple (NASDAQ:AAPL) is expected to announce iOS 7 later today, at the Worldwide Developers Conference keynote. But the traditional pre-WWDC rumor-mongering seems muted this year. We think we know that the iPhone/iPad operating system gets a flatter look, but details are sparse.
In IT Blogwatch, bloggers reveal what little they have to reveal.
Your humble blogwatcher curated these bloggy bits for your entertainment.
Seth Weintraub breathlessly reports these "tidbits":
I've been given a quick peek at an early beta of iOS7. ... The whole OS has that 'skinny jeans' Helvetica Nueue Ultra Light [font]. ... instead of carrier signal bars, Apple now has 5 dots. ... The app icons are different across the board. ... Yes, they are flat.

...

Perhaps most interesting: There are two color schemes for many of these apps...especially since we've heard whispers that the whole UI might shift slightly based on external factors. ... We've heard that maps has a new walking directions functionality.  MORE
Release Harry McCracken!
...lots of folks underestimate the importance of Apple's WWDC. [It's] a conference for software developers, about software. ...this is a particularly pivotal year for Apple operating systems. ...this is the first year that Apple's industrial-design honcho Jonathan Ive is in charge.

...

Most of the scuttlebutt...has related to a possible "flattening" of iOS's interface into something simpler and less skeuomorphic. ... And the time is ripe for changes to basic functionality.

...

The last-minute WWDC rumors and reporting involve relatively-minor-to-extremely-minor matters. ... That leaves Apple with limitless opportunity to surprise us.  MORE
So John Gruber dares to dream a dream of time gone by:
...here we are, on the cusp of WWDC 2013, and nobody outside Apple seems to have any idea what Apple is set to show. ... I haven't been this in the dark about what Apple was set to announce in a keynote since the original iPhone introduction.

...

The thing to focus on...is not merely what it looks like. ... Whatever has changed in iOS 7, has changed for reasons other than fashion. ... The primary problem Apple faced with the iPhone in 2007 was building familiarity. ... That problem has now been solved. ... The training wheels can now come off.

...

Exciting.  MORE
But Joshua Topolsky appears to snark it up (but later clariies that he was being honest):
I love the way @gruber can make a lack of progress sound heroic.  MORE
Meanwhile, Terry Briggs is not amused by Weintraub's reportage:
[I] would smash my phone with a brick...if it came out looking like that.

...

Jail breaking would be the phones only saviour from something so god damn fugly.  MORE
Computerworld Blogs Newsletter
Subscribe now to the Blogs Newsletter for a daily summary of the most recent and relevant blog posts at Computerworld.