People with (ahem) "knowledge of the situation" say that Cisco is about to sell its Linksys business unit. Cisco (NASDAQ:CSCO) bought Linksys almost ten years ago, as part of a strategy to move into consumer and small-business products. Sadly for Cisco CEO John Chambers (pictured), that strategy has lost money; this sale will be the latest in a line of closures and divestitures of Cisco's low-end businesses.
In IT Blogwatch, bloggers shed few tears for the purveyor of shoddy products that Linksys has become.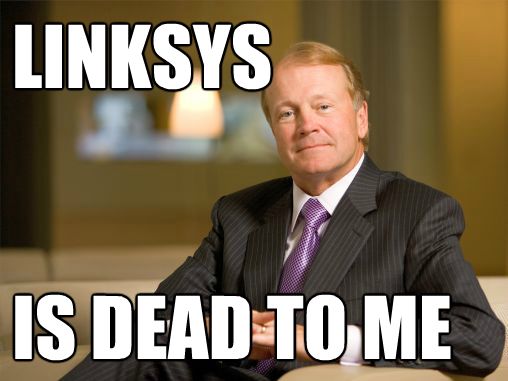 Your humble blogwatcher curated these bloggy bits for your entertainment.
Serena Saitto and Jordan Robertson report:
Linksys...may attract the interest of TV set makers seeking a recognized brand and technology. [It] is likely to fetch much less than the $500 million Cisco paid for it in 2003. ... Karen Tillman, a spokeswoman for San Jose, California-based Cisco...declined to comment.

...

Cisco wants to sell Linksys as part of its strategy to exit consumer businesses. ... [It has] closed businesses such as the Flip video-camera unit...after a foray into consumer technologies backfired.  MORE
Simon Sharwood adds:
Cisco's long and inglorious retreat...may be about to reach another miserable milestone. ...the consumer market has been a mess for the networking titan. ... CEO John Chambers [decided] the company had no business outside the world of business.

...

the rumour at least seems well-timed given that Cisco has just acquired Meraki, a company whose WiFi assets are rather more modern [so] it will help Cisco to present a less-confusing portfolio of WiFi brands.  MORE
Charlie Osborne notes Santa's little helper:
The computer network equipment maker has hired Barclays to find a buyer for the division, according to [rumors]. ... Barclays is also assisting tech giant Google for its sale of the Motorola Home business, which sells equipment to players within the cable and television industry.  MORE
Who might buy it? Brad Reese speaks out:
Earlier today I received an unconfirmed rumor that privately held...Belkin International was set to purchase Cisco's...Linksys division.  MORE
At which, Jason W. scoffs, thuswise:
Belkin... the absolute worst consumer router manufacturer on the planet. Sounds like a good match.  MORE
But Brian Burwell is baffled:
What's to sell? Cisco destroyed everything Linksys the day it bought Linksys.  MORE