Apple [AAPL] has faced challenges manufacturing displays for its newly-announced iMac and iPad mini devices as it transitions its business away from Samsung -- now there's signs it's finally resolving some of these short-term challenges as the company has announced its new iMac range will be available from Friday, November 30.
[ABOVE: The iMac launch.]
The Samsung thing still hurts
Apple warned that the new models may be delayed when it announced them next month, saying only the new Macs would ship from November (21.5-inch model) and December (for the 27-inch model).
Apple's kept to its announced schedule, the 21.5-inch iMac will be available at the end of the month, while the 27-inch model is available for pre-order but won't ship until December.
Additional reports from within its supply chain in the Asia Pacific suggest the delay's attributable to the challenges partners have faced manufacturing displays in the quantity and quality required for use within these new Apple products.
The delay has partially been caused by the need for display manufacturers to invest in new production processes in order to make the screens. In the case of the iMac, Digitimes sources tell us the new iMac models use, "panels sourced only from LG Display."
"The company has had to develop a new production process for mass producing the iMac panels and has limited capacity, which is delaying shipments," the report explains.
Apple has really focused on the display, as revealed within its October press release, where it says:
"The new iMac also features a completely reengineered display that reduces reflection by 75 percent while maintaining brilliant color and contrast. In the new design, the cover glass is fully laminated to the LCD and an anti-reflective coating is applied using a high-precision plasma deposition process. Every iMac display is individually color calibrated using an advanced spectroradiometer."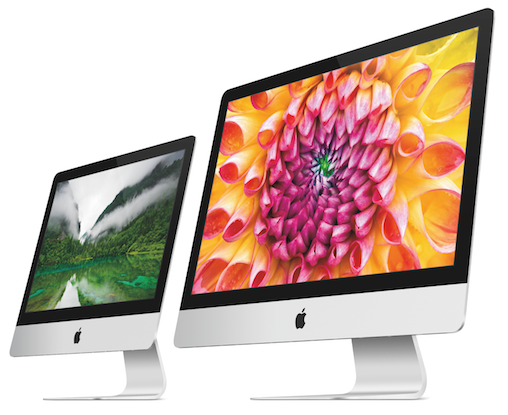 [ABOVE: The new iMac, on display.]
Means of production -- An Apple weakness
It isn't just the iMac that has been impacted: Apple is said to have been able to furnish just 60 percent of the iPad mini models it had hoped to shift, the report explains. Apple had hoped to ship ten million of these in the current quarter, but now "might only" reach six million in the period, this report warns.
"Mass production of panels used in the iPad mini has reportedly suffered low yield rates, and backlight module providers have also had a shortage of supplies, which is affecting the amount of iPad minis that can be shipped in 2012, said the sources."
It seems inevitable these short-term display production problems will be figured out. Apple needs to resolve these challenges in order to secure supply of its current products: failure to secure display supply will also threaten the company's other cunning plan to introduce an iTunes-savvy smart television with an Apple logo on it. The company won't be able to launch into this adventure until it has display production challenges resolved, after all.
In a sense the problems Apple is facing as it seeks to transition itself from being overly-reliant on Samsung reflects a weakness in the company's tried and tested business partner model.
In the case of Samsung, that company clearly hoped that Apple's dependence on its manufacturing capabilities would force its former partner to turn a blind eye to its attempt to directly compete with similarly-designed devices in the smartphone space.
Apple's cosy relationship with Google also came a cropper as the latter firm undermined the uniqueness of Apple's iPhone OS with the eleventh hour creation of its own free alternative, even while then company CEO, Eric Schmidt, sat on Apple's board.
Wil Apple take a stake in the supply chain?
Nevertheless, Cupertino's operations teams must be gratified to have bought the new iMac to market -- it has taken many months to secure the services of alternative component suppliers and it's inevitable that mass production be delayed as new systems are bought in.
It seems possible Apple might be asking itself to what extent it is beginning to make sense to bring some component manufacture in-house, suggesting that its relationship-by-proxy (Foxconn) with Sharp could intensify as time goes by.
Apple's component supply challenges underscore the advantage held by those who maintain their hold on the means of production -- and it's important to note that Google, which produces nothing, is similarly exposed to the vicissitudes of its relationships with manufacturers.
If you happen to be interested in acquiring one of these new machines, prices start at $1,299 (21-5-inch) and/or $1,799 (27-inch), available online from the Apple Store.
Got a story? Drop me a line via Twitter or in comments below and let me know. I'd like it if you chose to follow me on Twitter so I can let you know when these items are published here first on Computerworld.