Whew! Some month we've had in Android Land, eh? The Nexus 4, Nexus 10, Android 4.2 -- it's enough to make even the most mentally stable tech-lover turn delirious. In a good way, of course (well, more or less).
Lost in the shuffle of the pre-holiday insanity, though, is yet another new Nexus device -- one we haven't had the chance to discuss in detail.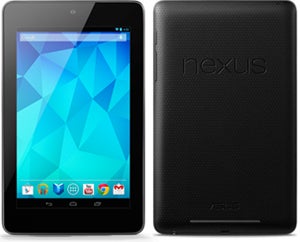 It's an updated version of the Nexus 7 with 32GB of internal storage and integrated support for HSPA+ mobile data.
Google doesn't seem to have an official name for the tablet beyond "Nexus 7 32GB Wi-Fi + Mobile Data," which -- let's face it -- isn't the most memorable moniker. I've seen some folks refer to the device as the "Nexus 7 3G," but that's actually a bit of a misnomer; with HSPA+ connectivity, this is very much a 4G-level device. So to make things simpler, I'll just refer to it as the Nexus 7 4G from here on out.
I've been using the Nexus 7 4G for a couple of weeks now, and the most noteworthy thing about the device is that it's almost exactly like every other Nexus 7 model. It looks the same, weighs the same, and even has the same dimensions -- something that surprised me, as mobile data models often end up being a tad bit heavier or thicker than their Wi-Fi-only counterparts. There's a SIM tray on the tablet's lower left side -- discretely blended into the dark texturized material and accessible only via a pin tool -- but that's about it as far as visible hardware changes go.
Looks aside, the Nexus 7's performance is every bit as good as what you get on any other Nexus 7. Except for the fact that you see a
mobile data icon in the top-right of the status bar, you really can't tell any difference between using the Nexus 7 4G and using one of the regular Wi-Fi models. Even battery life is roughly comparable, both in official spec-sheet estimates and my own real-world observations.
In terms of data connections, the Nexus 7 4G supports HSPA+ up to 21Mbps. It can also work with GSM/EDGE/GPRS (850, 900, 1800, 1900 MHz) and 3G (850, 900, 1700, 1900, 2100 MHz). That's the same set of connections you get with the Nexus 4, meaning pretty much anything other than CDMA/LTE is fair game. (It is worth noting that while the Nexus 4 supports HSPA+ speeds up to 42Mbps -- speeds achievable only on T-Mobile's network in the U.S. -- the Nexus 7 maxes out at 21Mbps, which is as high as AT&T's HSPA+ network can go.)
So the big question: Is the Nexus 7 4G worth the extra cost? Let's take a look at the numbers: The Nexus 7 4G sells for $299, which is just 50 bucks more than the Wi-Fi 32GB Nexus 7. (And yes, in case you're wondering, this one is actually in stock at the moment -- for the U.S., at least -- according to the Google Play Store.)
The true cost, though, comes with the fees you pay for monthly data access. Right now, Google is selling the Nexus 7 4G unlocked along with an AT&T SIM card (a micro-SIM, to be precise). Given the fact that the device is unlocked, there's no reason you couldn't ditch the AT&T SIM and use the tablet with some other service, if you were to get the appropriate SIM card on your own. You can't, however, simply drop in a SIM from your phone; the card has to be specifically programmed for a data-only device in order to work.
AT&T is offering a wide range of data plans for the Nexus 7, including several contract-free pay-as-you-go options. You can get 250MB a month for $15, 3GB a month for $30, or 5GB a month for $50. Those rates are all based on domestic U.S. use; if you're planning to travel internationally, the prices are significantly higher. The plans also all include unlimited Wi-Fi access at AT&T's various public hotspot locations, of which the company says it has 30,000.
Realistically speaking, 250MB a month isn't much of anything. So for most people, we're talking about a minimum of 30 bucks a month to get a Nexus 7 4G online with a standalone data plan. Considering that you're probably already paying a decent amount for data on your smartphone, that's a fairly substantial fee to tack onto your monthly cost sheet -- especially if you're able to use your phone as a Wi-Fi hotspot (either with your carrier's blessing or, ahem, without).
Where the Nexus 7 4G may make a little more sense is for people who already have one of AT&T's "Mobile Share" plans -- plans where you pay for a set pool of mobile data each month and then share it among multiple devices. If you have one of those plans, AT&T will charge you an extra 10 bucks a month to add the Nexus 7 onto your list and give it access to your data pool.
Personally, I'd rather save my dough and stick with a Wi-Fi-only tablet. I tend to use tablets mostly at home or for offline video-watching while traveling. On the rare occasions that I'm out and about and do need to get a tablet online, I can fire up a mobile hotspot from my phone and have the tablet connected in a matter of seconds.
If you like the idea of having data access built right into your tablet, though -- and don't mind paying the extra month-to-month fees -- the Nexus 7 4G is a fine option to pursue. It's basically identical to its Wi-Fi-only brothers and only 50 bucks more than the equivalent Wi-Fi model. And with its unlocked setup and prepaid plan availability, it doesn't require any obnoxious carrier commitments; you can take it to any compatible provider and start or stop service whenever you want.
For a tablet with mobile data, it doesn't get much better than that.
SEE ALSO:
• iPad Mini vs. Nexus 7: Don't sound the death gong yet
• Google's Nexus 10: To buy or not to buy?