Google's Nexus 4 is easily one of the most anticipated Android phones of all time. The only problem? As of now, you can't actually buy it.
Despite the fact that the Nexus 4 went on sale nearly two weeks ago, the device remains unavailable to order -- and many of the diehard fans who staked out the Google Play Store on the phone's launch day are still waiting for any sign of their shipments.
As you've probably heard, Google sold out of the Nexus 4 -- both the 8GB and 16GB model -- within minutes of the phone's launch earlier this month. Selling out isn't the problem; that's relatively common with hot products in high demand. There's more to this story.
First is the way Google started the Nexus 4's sales. With no presales available, people were champing at the bit to get the phone the second orders opened up. Google initially said it'd start Nexus 4 sales on November 13th, with no specific time; later, word got out that the floodgates would open at 9 a.m. PT that day. Plenty of Android enthusiasts planned their days around that schedule to make sure they wouldn't end up empty-handed.
But then Google randomly started the sales about 15 minutes early, with no announcement and no warning. And then things really went to hell: The company's Play Store buckled under the pressure of incoming traffic and became almost unusable. Even if you managed to get a Nexus 4 in your shopping cart, the site would repeatedly hiccup and give you errors before you could check out.
Soon, Google's storefront started randomly switching between showing the phone as available and showing it as "coming soon." That level of barely-usable business went on much of the day. With enough work, you could often place an order -- but it took an awful lot of effort. I chatted with scores of people who spent hours trying to make it happen.
If only the troubles had stopped there.
After two days of silence, many of the users who managed to order devices -- myself included -- received emails from Google stating that the Nexus 4 was backordered "due to overwhelming demand" and that the phone should ship "within three weeks." There's been no official communication since. And Google's Play Store continues to show the Nexus 4 as being "sold out," with no option to place an order or be notified when more units become available.
Look, we obviously aren't talking a matter of life and death here. The world will go on. But within the realm of technology and customer service, countless people have had needlessly frustrating experiences with something that should have been simple and fun. No matter how you look at it, Google botched the Nexus 4 launch -- and it very much warrants criticism for those mistakes.
If anyone should be able to handle a high-traffic situation -- particularly one so easily anticipated -- it's Google. We can't fault Google for selling out of a product (though to be clear, we actually don't know how many it sold -- "selling out of initial stock" could mean selling 500, 5,000, or 5 million). But there's really no excuse for the subpar experience so many shoppers had.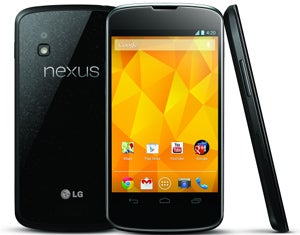 Basic store struggles aside, providing no opportunities for pre-orders and then launching sales earlier than announced is somewhat of a slap in the face to the company's core fanbase. People were excited to buy this phone, and they planned their days to make sure they'd be able to get one. Then Google pulled a last-minute switch and left many of those people out in the cold. Imagine if a popular band did the same thing with ticket sales for a highly anticipated concert. Its fan club would be pretty frustrated when they learned they had lined up at the wrong door.
Finally -- and this may be Google's greatest misstep in the matter -- how can the company leave the Nexus 4 listed simply as "sold out" for this long? We're in the midst of the busiest shopping days of the year, and no one can place an order for a Nexus 4 right now. Even if the device is backordered, why in the world wouldn't you still accept orders and then provide estimated ship times, as other companies do? As it stands, shoppers have to keep checking back on their own to see if/when the phone switches over to "available" status. While some people will take it upon themselves to put in that effort, others won't bother. And they shouldn't have to.
The Nexus 4 has the potential to be a huge breakthrough for Google and the broader Android ecosystem. It offers the best overall user experience you can find on Android today, and its unusual pricing model offers the ability to break free from carriers' chains and pay a reasonable amount for monthly cellular service. In many ways, this is an extraordinary device we're talking about -- one that, combined with Google's newfound marketing efforts, could very well become the first Nexus phone to achieve mainstream success.
The way Google is handling the Nexus 4's sales, however, is anything but first-class -- and if the company doesn't get its act together soon, there's no telling how much opportunity it could miss.
[UPDATE: Late in the day on Monday, November 26, Google sent out emails to many of the users who had ordered Nexus 4 devices and were still waiting on their shipments. The emails said the devices were "scheduled to ship this week" and that separate notifications would be sent once the devices were actually en route. Early on the morning of Tuesday, November 27, meanwhile, Google sent out another set of emails informing customers that the Nexus 4 would be back on sale in the U.S. starting at 12:00 p.m. PT that day. The second wave of availability was problem-ridden for the first few hours but appeared to be stable and functioning properly by mid-afternoon.]
SEE ALSO:
• Google's Nexus 4: To buy or not to buy?
• Nexus 4 vs. Galaxy Nexus: Worth the upgrade?
• Google's Nexus 4: Understanding your carrier options
• How free Google services can help shrink your phone bill