Apple [AAPL] is closing in on the launch of its Pandora/Spotify-battling iTunes streaming music service, though introduction may have been delayed by problems finalizing its deals with music labels and song publishers, loose-lipped Sony sources have revealed.
[ABOVE: From the land of fake ads and products which will never ship comes this spot celebrating...the iMac touch.]
Apple's 11th-hour deals
Speaking to Music Week, Sony/ATV boss Marty Bandier explained that the publisher refused to sign a deal to agree to such a service last month, conceivably in the few days prior to the iPad mini launch.
"They said they really needed an answer on this in 48 hours because if this wasn't resolved in 48 hours they would have to wait a few more months," he said. "We obviously couldn't be rushed into making a very serious decision about that and they weren't ready to have the deal done with the record companies so it was kind of like a non-event." 
This news doesn't mean Apple's shelved its plans. Bandier is evidently open to agreeing a deal, saying he is "sure we will work out an appropriate license."
Pandora CTO, Tom Conrad, last week attempted to calm investor fears in the repercussions of Apple's mooted service on the popular US Internet radio channel.
"My sense about Apple entering streaming radio is that Pandora will continue to do the same things we've done all these years and the rest will sort itself out," he explained.
This may be true, but Pandora has been working to position itself to fight off the threat of its potential new rival, including the launch of its mobile apps under the Pandora 4.0 umbrella.
The smaller firm's share price has taken a hammering in recent weeks as investors cut their holdings on the stock on strength of recent claims Apple finally intends entering the streaming music service fray. Volatility in that company's stock was also increased on news Pandora senior insiders had sold of $63 million in value of their own personal holdings.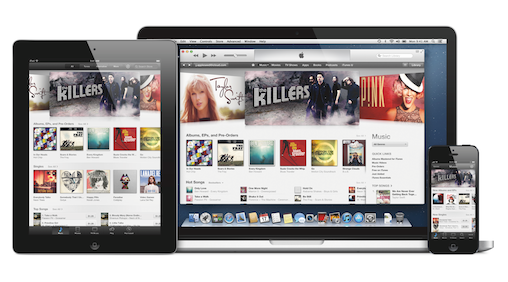 [ABOVE: Apple needs to focus on users to get this service right.]
Apple's got to get it right
Apple is a significant threat. On launch, iTunes music streaming/radio services will reach over 400 million iTunes users and over 400 million iOS device users. That's a huge number of people all of whom the company can easily tempt to try the new service. 
Apple executives -- who recently chose to delay iTunes 11 until the end of this month because the software "wasn't ready" -- will also be working furiously to ensure whatever service they do introduce doesn't attract the kind of critical vitriol the company won through its over-promised introduction of Apple Maps, which cost iOS chief, Scott Forstall, his job.
The company cannot afford to botch up this launch. Months of critical coverage is beginning to impact the company's legendary connection with its consumers. Maps, problems with Siri, Chinese labor problems and rascally competitors have all conspired to take the shine off of Apple. 
The impact is now being felt with the latest Strategy Analytics data claiming Apple has lost brand loyalty for the first time. 
Just "75 percent of iPhone owners in Western Europe say they are likely to buy their next phone from Apple, down from 88 percent in 2011. US repeat purchase intentions have also seen a slight decline, down from 93 percent in 2011 to 88 percent in 2012," the analysts explain.
"Negative press prompted by a perceived lack of recent innovation by Apple has meant we are starting to see some growth in the number of previously highly loyal consumers who are now reconsidering whether or not they will purchase a new iPhone for their next device," said analyst, Paul Brown.
Apple clearly needs a new smash hit product introduction if it is to retain the congregation it has worked so very hard to build. Particularly to head off global reports naming the firm as one of the world's biggest corporate tax avoiders, paying just 2 percent corporation tax.
Has Apple lost flexibility?
Assuming Cupertino can navigate a way to introduce a non-compromised service consumers actually enjoy using, then Apple could transform music streaming services. 
That's not unlikely given the continued success enjoyed by Spotify and Pandora. What is open to question is if Apple will end up offering free music access with its device sales, or if it will levy a monthly fee along with an ad-supported service.
Claims Apple intends launching streaming music services aren't new. The company acquired streaming music service, Lala.com, way back in 2009. Since then little has been seen of the purchase with reports across the last two years occasionally speculating Lala staff had been directed to build links with the video industry, presumably in an attempt to create supporting services for the Apple television.
It's possible Apple's TV adventure has been mothballed pending a change of heart across the big television content incumbents, it's not unlikely Apple's ex-Lala teams might have been pointed back at music, if only in an attempt to recoup some of the investment made in such services.
Bloomberg last month promised music streaming would be enabled in the first three months of 2013. 
"Apple has intensified talks with major music labels to start an advertising supported streaming-radio competitor to Pandora by early next year, according to people with knowledge of the negotiations," it wrote.
While this is unlikely to be a fully international roll-out, the news from Sony/ATV suggests Apple may be working on a much tighter time frame as it seeks to wrest back the close relationship with consumers it has enjoyed across the last decade. However, will the now gigantic company be able to move with sufficient flexibility to meet the new challenges it faces now it no longer appears to be a media darling?
Got a story? Drop me a line via Twitter or in comments below and let me know. I'd like it if you chose to follow me on Twitter so I can let you knowwhen these items are published here first on Computerworld.