It's virtually guaranteed that Apple [AAPL] will sell several boatloads of iPads this Christmas, as nearly half of US children are pestering parents to pull out their credit cards and splash the cash for the tablet that rules over us.
[ABOVE: This clip picked up some interest earlier this week. Made in the '90's it shows the young Jony Ive set out the essential ideas that have governed almost every product release from the company since.]
Beware. This report contains percentages
Nielsen research data confirms it's an Apple Christmas once again, revealing that 48 percent of children aged 6-12 in the US want an iPad while 39 percent will go wild for a Wii.
What else do America's children want? Well, dear parent you'll probably please your progeny if you pimp them out with an iPod touch (36 percent), iPad mini (36 percent) or iPhone (33 percent).
A computer is the most coveted item among 31 percent of children, though given the way the rest of the results are looking, you'll get a better smile from young Jacob if you give him a PC with, erm, an Apple logo on it. And you probably don't want to buy your children a PSP, even if they happen to make the cut to become a Black Friday deal on Amazon.
Mathematically minded readers reading the results above will notice that they add up to over 100 percent -- that's because Nielsen is measuring preferences by product, rather than requesting any form of order across the list.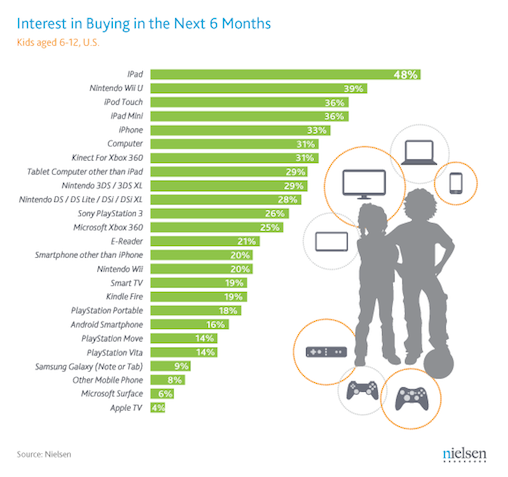 [ABOVE: Care of Nielsen, here's the full released data.]
Is the tablet industry finally emerging?
What about children over 12? Same deal, really, with an iPad at the top of the list (21 percent).
What's interesting here is that iPads were popular among 24 percent of teens in the same survey last year, suggesting either that the iPad halo's waning, or that Apple's cannibalized its own market with the iPad mini, or that Android tablets are catching up (they are, see below).
If you aren't planning to pander to your teen's iPad habit, you might engender some season to be jolly feedback if you give them a computer, which is desired by 19 percent.
14 percent of kids aged 13+ think an iPhone's a good idea, in contrast to just 12 percent who'd be happy having Android. Though that's slightly more satisfying than an iPad mini (11 percent) among the milkshake-slurping kids in the schoolyard.
Intriguingly 18 percent of children would be happy with a "tablet other than an iPad", which suggests Android-powered devices may finally begin to make significant gains in 2013. Which is probably why Apple's sat on its Apple television as it's hugely hyped October 2013 reveal (you heard that speculation here first folks).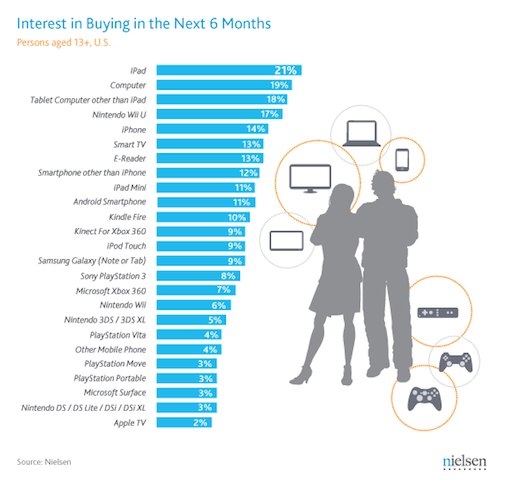 [ABOVE: Nielsen's data for children over 13.]
There's life beyond Apple
All this looks like fantastic news for Apple except for one thing: while the company still dominates the list and interest in having an iPad is higher than ever, interest in non-Apple products (principally those based on the famously rejected by Steve Jobs as a "stolen product" Android OS).
You can see devices running Android climbing through the categories this year in comparison with last, and while there's one a one percentage point difference between teens interested in a non-iPad tablet year on year, that percentile point speaks volumes regarding the steady erosion of Apple's cool factor in the face of constant attack from every quarter.
"Reinforcing the notion that the tablet market is the one to watch, non-Apple devices – led by Amazon's Kindle Fire and Samsung Galaxy offerings – proved nearly as desirable as the iPad among teens and adults, while e-readers showed a slight decline in interest from 2011," Nielson observed.
Perhaps, but these survey results have to be reassuring for Cupertino, suggesting there might be legs in predictions by some analysts that iPad sales this season could hit 30 million.
Apple appears ready to cope with this surging demand. Morgan Stanley's Katy Huberty observed key iPad component suppliers already expect higher than predicted revenue in the current quarter, which hints the company's thrown off at least some of its component supply problems in order to meet this anticipated demand.
But can anything else satisfy?
The challenge for tablet makers isn't just about making that first sale. They also need to make sure their customers enjoy using their device.
J.D. Power's customer satisfaction ratings (released in Septemner) scored the iPad at 848 and the Kindle Fire 841 on a scale of 0 to 1,000.
This basically means that when its comes to good customer experiences, this year's tablet season's a two horse race, with the iPad and iPad mini competing with the Kindle Fire. Which suggests a disappointing season for everyone else.
Got a story? Drop me a line via Twitter or in comments below and let me know. I'd like it if you chose to follow me on Twitter so I can let you know when these items are published here first on Computerworld.