Apple [AAPL] seems set to make a series of rapid improvements in Maps with Siri conceivably exiting beta status in time for WWDC 2013, that's this morning's conjecture based on news both features will be included within the next edition of OS X.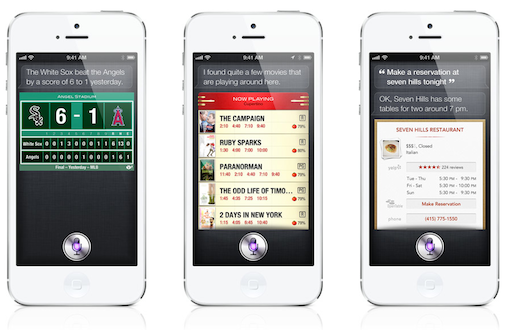 Ready to talk
In a sense both moves appear utterly inevitable. These two server-based solutions should be relatively simple to deploy on a Mac -- indeed, there's no reason not to imagine these services being made available to other platforms, as Apple seeks to put a little Cupertino everywhere.
Apple has already committed to introducing annual OS X upgrades. The most likely point at which the company might introduce these upgrades -- albeit in pre-release status -- is at or around the company's annual WWDC event.
That commitment to regular upgrades puts the company under pressure to deliver attractive fresh features designed to tempt users to upgrade to new versions of the OS. Security, performance and iOS/OS X-merging usability improvements should help the company achieve that, but its software teams know they must also deliver exciting new features developers can exploit and users can enjoy.
A 9to5Mac report claims that Apple intends popping Siri support and Maps inside of the next edition of OS X, with plans to announce this at WWDC. That's interesting from a consumer point of view, but could also offer opportunities for developers. I predicted such inclusion in December 2011.
[ABOVE: Siri's 2012 improvements feature within this video, which also features Scott Forstall...]
Getting on the Map
It seems inevitable Apple will continue to develop Siri to make it more useful. One way in which it can become more useful might be to extend its capacity to control applications to the Mac, another -- one that would be a great fit for a WWDC introduction -- might be to offer developers a set of API's to enable voice control of their apps, on the Mac and on iOS.
In a sense Maps has been this year's Apple disaster, but as any General can tell you occasional defeat is inevitable, what matters is what you do next. In this case the company seems set on course to continue improving its mapping service, and one way in which it might be improved is to make it as freely available as possible.
With that in mind it makes sense that Apple might:
Begin to offer Maps as part of OS X;
Introduce a set of API's developers might use to include support for Maps within their applictions.
Make Maps an online service available to multiple platforms.
Many will see the last idea as unlikely.
Apple wants its mapping service to be one of the things you only get to use on its platform. This could be true, but if we look to Google Maps, we learn that the more active users a cartographic service can attract, the faster it improves as those users send in corrections and location information updates.
Given Maps are already a tarnished product, it might makes sense that Apple wriggles out of its kimono and unleashes its new service in as public a way as possible in an attempt to make Maps world class as quickly as possible.
[ABOVE: Tony Fadell saw where the puck was going with the iPod, now he's flying the Nest. Is it possible he might help Apple get ahead of the puck once again?]
Siri, Siri everywhere
Many on launch derided Apple's voice assistant, but this hasn't stopped competitors moving to introduce their own similar solutions.
Siri has been a beta product since launch in 2011, and there's got to be a point at which its beta status will end. It seems appropriate that when it does, Apple might bake a few API's developers can begin to use, as it makes moves toward next-generation voice-controlled devices.
One way in which voice controls may prove useful across iOS and OS X devices might emerge to be the home automation market. There's a rapid move toward M2M connections for domestic items -- we've all heard claims that Apple's much-speculated upon iTunes-savvy television set may benefit from voice controls, for example, but there's scope for additional future opportunities within the digital home…
Assuming Apple doesn't intend introducing its own range of white goods, the company may have an opportunity to deploy iOS and Mac support for Siri within a future SDK for use by firms developing solutions for the smart home.
In theory at least -- for a fee payment of which would also include some kind of kite mark -- Appe could offer such an SDK to domestic device manufacturers. This software could enable a plethora of new devices equipped with deep iOS and Mac integration and capable of being controlled by voice at a distance.
Potential growth areas within such a plan might include home security and door entry systems, heating systems, environmental controls (a la Nest) and, perhaps, white good products such as microwaves.
This may sound far-fetched but Apple's under pressure to continue to be seen to innovate and smart home devices are anticipated to become a big growth sector. Analysys Mason predicts the global market for M2M connections will grow to 2.1 billion devices in 2021.
While that evolution poses many challenges when it comes to bandwidth provision on a global scale, there's no way Apple can be blind to the potential ramifications of this trend on iOS devices, and the potential added value that could be seen through the addition of vocal controls for people's homes.
I'm not anticipating sight nor sound of such an SDK at WWDC 2013, but I do expect Apple to continue to investigate such technologies as it seeks new features designed to maintain its position at the forefront of software innovation.
Got a story? Drop me a line via Twitter or in comments below and let me know. I'd like it if you chose to follow me on Twitter so I can let you knowwhen these items are published here first on Computerworld.