The iPad mini and iPad 4 release date has arrived for the LTE version. Sprint (NYSE:S) is the first 4G data carrier to have the latest Apple (NASDAQ:AAPL) SKU in stores. But don't all rush at once, 'cos stocks are, umm, "limited."
In IT Blogwatch, bloggers all rush at once.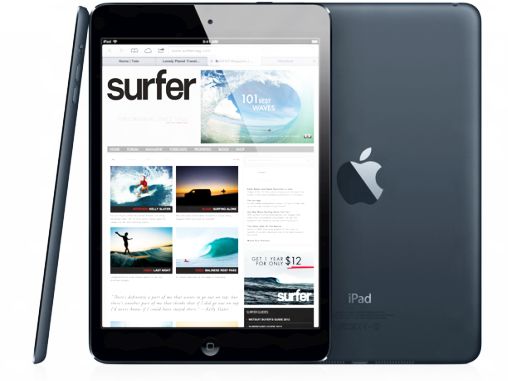 Your humble blogwatcher curated these bloggy bits for your entertainment.
Kent German notiert sich Dingenskirchen:
...buyers waiting for the LTE version...will have their chance...in Sprint carrier stores...Friday.

...

[It] will cost significantly more than its Wi-Fi-only sibling [starting at] $459.99.  MORE
Mikey Campbell gets inside the story:
Sprint on Thursday was the first U.S. carrier to announce it would begin selling Apple's newest 4G LTE iPads. ...will be offered with month-to-month plans, meaning there will be no subsidy.

...

plans range from $14.99 for 300MB of data...to $79.99 for 12GB [with no] activation fee.  MORE
But laequis compares and contrasts:
Google just announced the availability of the new Nexus 7 with LTE/3G for $299. The comparable iPad Mini is $559!  MORE
Jamie Condliffe advises, "Grab one while you can":
"Limited quantities of the new iPad" will be available. ... It's not clear how limited...it might pay to play safe and get down there early.

...

If you pre-ordered an LTE-equipped iPad Mini...reports suggest that the devices have already started arriving.  MORE
But what of the Mini's inferior display? Nick Bilton muses thuswise:
I've used them both and I have to say, the iPad Mini, although fuzzier...is incomparable to the larger iPad. Picking them both up...feels like picking up a feather and a dumbbell.

...

The iPad Mini...fits in my jacket pockets [it's] the perfect size. Sure, it doesn't have a [retina] screen...but the weight and shape instantly negate that.  MORE