We all know the computer world is mutating into one comprised of mobile devices, and while Apple [AAPL] and Samsung [SSNLF] lead this game, Microsoft [MSFT] isn't out the smartphone race just yet and company CEO, Steve Ballmer, thinks he's in with a chance.
[ABOVE: Can Microsoft dance between Android and iOS?]
Stuck in the middle with you
His analysis is pretty simple: Google's Android ecosystem is fragmented and unpredictable with a malware problem that's endemic to the entire foundation of the platform. Apple, on the other hand, is limited by the cost of its hardware and its reputation as being somewhat controlling when it comes to what happens within its ecosystem.
Ballmer was chatting with the venture capitalists at Reid Hoffman when he made his statements, as reported by Cnet:
"The ecosystem of Android is a little wild."

"Apple's system looks highly controlled and quite high prices."
Microsoft's big idea is to straddle the divide between the two, though we must wait and see if its eventual implementation means it takes the worst or the best of the two worlds described in Ballmer's vision.
The man who bought us the hair-raising spectacle of dancing wildly while shouting: "Developers, developers, developers..." then waxed rhetorical on Microsoft's future fortunes in mobile. (Here's a recent article looking at development on Windows 8).
"How do you get quality not at a premium price with not quite as controlled an ecosystem?" he asked. "The best of both world's is available to us," he added.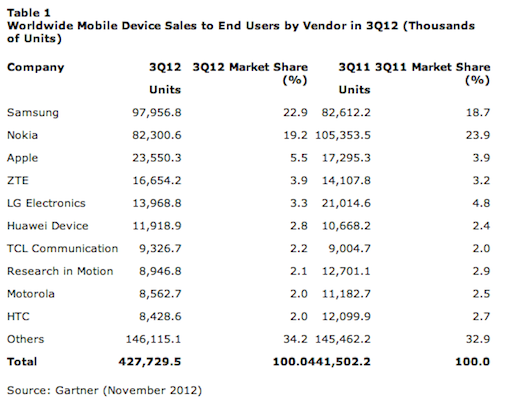 The good or the bad?
Perhaps that's true, and it is also correct operators don't want the devices on their networks pretty much defined by just two big firms, Apple and Google. Describing all the other devices other than those from Apple and Samsung/Android as "a sea", Ballmer also observed many customers seek an alternative.
That's where Windows phone steps in he argued: "When you whip out your phone, you want to see the things that matter to you," he said. That's a reference to the live tile interface which presents users with their most required information without the need to use apps. That's perhaps the signature schematic of the Nokia Lumia.
The evolution of Apple and Android shows us that once an operating system hits the mobile space it grows and develops over time. 
That's part of the Microsoft game plan now it has its new Windows mobile OS in the wild, but it took the company quite some time to get there. It's debatable if Ballmer's boys will be able to evolve as quickly as its two biggest competitors.
"If anyone thinks hardware innovation in pocket devices is ending, they are nuts," Ballmer said. 
That's the crux of things really: what I've seen in the sector across the last five years sees the two dominant operating systems attempt match each other on popular features while also ensuring a distinctive identity for their platforms.
Will Apple change the game?
Microsoft (and Research In Motion) face the quandary of delivering the features everybody wants, while trying to develop their own distinctive platform experience.
From an Apple-holic perspective, what's interesting about this is that we're less able to predict the evolution of Apple's iOS now control across that company's Human Interfaces has been given to award-winning designer, Jony Ive. There's a good article here on some of the ways Ive may change the iOS.
That step could change Apple's game, but while we wait for his dreams to hatch and for Google to improve the security of its ecosystem, Microsoft has a chance to innovate its own distinctive experiences. 
It's starting from behind.
Gartner analyst, Carolina Milanesi, recently Tweeted out (as opposed to pointed out) that Apple and Samsung together controlled 46.5 percent of the smartphone market: "Leaving a handful of vendors fighting over a distant third spot".
Microsoft clearly hopes that its deep pockets and strong position in the existing PC market will help it take a stake within the top three OS players, though its results so far mean it has a long way to go before it meets even Ballmer's least optimistic target figure of 10 percent.
However, the company's slow evolution within mobile so far means there's a threat Microsoft will forever play follower to the Android and iOS lead. Though I'd be open to being surprised.
Got a story? Drop me a line via Twitter or in comments below and let me know. I'd like it if you chose to follow me on Twitter so I can let you knowwhen these items are published here first on Computerworld.