Google's Nexus 4: Hands-on impressions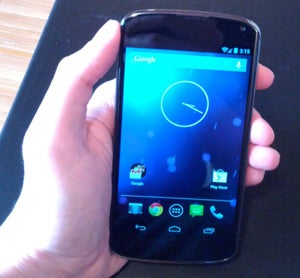 Ladies and gentlemen, I have in my hands Google's next Nexus phone.
The Nexus 4, announced yesterday and rumored for about 50 years before then, goes on sale directly from Google starting November 13. The unlocked, off-contract phone will cost $300 for an 8GB model and $350 for the 16GB version.
So what's the phone actually like to use? I haven't had it for long -- I'll be sharing more detailed thoughts after I've had a chance to really get to know the thing -- but my first impression is that this is one very nice device.
In terms of basic hardware and form, Google has clearly taken the best parts of LG's Optimus G -- the foundation upon which the phone is based -- and polished them to near-perfection. This is truly a melding of LG's basic hardware and Google's sense of design.
Put simply, the Nexus 4 looks and feels the way a high-end smartphone should. It's sleek, solid, and not at all flimsy. There are no cheap-feeling, plasticky surfaces here.
The Nexus 4's 4.7-in. display extends all the way to the side edges of the phone's face. That brings up an important detail: On the Nexus 4, the glass is curved, but it's curved in a different way than what we've seen with past Nexus devices.

Here, the glass curves along the edges of the phone -- something the Android team did in order to match the way you hold and interact with the device. (The glass curvature on past Nexus devices, in contrast, was designed to match the contours of your face -- but let's face it, most of us hold our phones in our hands far more than we hold them up to our heads these days.)
Speaking of the screen, boy, is it a beaut. If you've seen the Optimus G, you know what to expect: The device uses True HD IPS technology and boasts a resolution of 1280 x 768, with 320ppi. It looks fantastic -- crisp, clear, and bright, with phenomenal detail. This is hands-down one of the best screens I've seen on an Android phone, rivaling the likes of HTC's One X for the gold-medal spot.
Surrounding the screen is a seamless silver metal band that extends all the way around the phone's perimeter. The level of thought put into this design is apparent: The band meets the edge of the screen's glass in a soft, subtle curve that looks and feels incredible. It's easy to see how the slightest change in approach could have resulted in a sharp-feeling edge or an awkward-looking meeting point -- but Google and LG avoided those pitfalls and achieved a solution that begs to be caressed.
Last but not least, there's the back of the phone -- which, like the phone's front, utilizes Corning Gorilla Glass 2 for protection. At the risk of firing off an overused adjective, I feel compelled to say that the back of the Nexus 4 is -- yes, I'm going there -- beautiful. LG has created a mesmerizing moving-crystal effect that brings to mind the classic Google Nexus wallpaper. The design actually appears to shift as you change your perspective. It's really something to see. (The downside: The glass does seem to pick up an inordinate amount of visible fingerprint smudges.)
There's so much more to be said about the Nexus 4 -- and rest assured, we're barely scratching the surface. I'll be spending the next several days using the phone and getting to know both its hardware (this phone is F-A-S-T) and pure Google software (the new Android 4.2 Camera app looks absolutely awesome) inside and out. I'll share my detailed thoughts in an in-depth review next week.
I'm also exploring the new Samsung-made Nexus 10 tablet and will have some early impressions on that device to share with you soon. [UPDATE: Google's Nexus 10: Hands-on impressions]
Keep an eye on Android Power for all the updates or come join me on Google+ for extra sneak peeks and around-the-clock discussion.
REVIEW: Google's Nexus 4: To buy or not to buy?
Shop Tech Products at Amazon
What Readers Like
Cortana, Windows 10's built-in virtual assistant, is both really cool and really creepy.
Services like Keep, Evernote and Microsoft OneNote are often called "note-taking apps." But they've...
It had a good 36-year run, but its day is done.