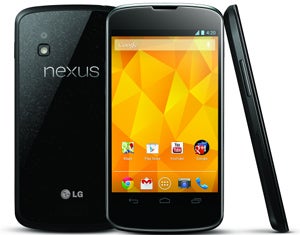 Can you believe it? After months of waiting and anticipation, Google's new Nexus 4 phone is finally here.
The Nexus 4 is available now (when it's in stock, at least) at $299 for an 8GB version or $349 for a 16GB model. For those of us in the U.S., that setup is a bit different from what we're used to with smartphone sales: Rather than being sold through a carrier, subsidized and on contract, Google is focusing on direct and unlocked sales with its Nexus 4 phone.
That means you buy the device outright from Google -- no contracts, no subsidies, and no commitments to anyone. You can buy the Nexus in a more traditional manner, if you want -- T-Mobile is selling the phone for $200 after a $50 mail-in rebate and with a new two-year contract -- but for most people, the unlocked route will be the better option.
Why? Simple: By going unlocked, you can opt to use the device with any compatible service provider you want. That includes prepaid providers, which offer the same basic service as the big boys at a fraction of the cost. And since you aren't signing a contract, you're under no obligations; if you decide you aren't satisfied with your service or find someone else offering a better rate, you're free to jump ship at any point with no penalties, fees, or hassles.
(By using an unlocked phone, you can also easily utilize native Android features like Wi-Fi hotspot or USB tethering without having to pay more. Your phone is a Google phone, not a carrier phone -- and it has true pure Google software without any carrier crippling or unnecessary meddling.)
So who should you use for service -- and how do you sign up? There are several possible options, but two carriers in particular stand out for their excellent plans and solid reputations:
1. T-Mobile Monthly 4G
If you can manage with a low pool of monthly minutes (and with free Google services, it's more feasible than you'd think), T-Mobile Monthly 4G is about as cheap as you can get for smartphone service. The company's marquee prepaid plan -- which I use myself -- is $30 a month for 100 anytime minutes, unlimited texting, and unlimited data (with the first 5GB per month at 4G HSPA+ speeds).
You pay up front each month, and the total cost is literally $30 plus basic tax -- no 911 fees, no "universal service charges," no "regulatory charges," and no "administrative charges." You can either pay manually at the start of each month or set up an account and have T-Mobile charge you automatically.
Any minutes over your allotment cost 10 cents apiece. Being that this is prepaid service, you'll never get any unexpected bills; instead, additional monthly minutes are available only if you opt to leave an extra balance on your account. (I typically leave about 20 bucks on mine in case I go over.)
You don't have to go for 100 minutes a month, either. T-Mobile has several Monthly 4G plans, including $60- and $70-per month options that include unlimited voice minutes.
To get started, all you need to do is order is a prepaid SIM card activation kit from T-Mo; it costs a whopping 99 cents, shipping included. (The Nexus 4 utilizes a micro-SIM, so make sure you order that type of card.) Once you get the SIM, you'll just pop the card into your phone and follow the included instructions to activate your account. The whole process takes about five minutes.
(If you want to port in an existing cell phone number, you should be able to find an option to do so within the online activation process. If you have trouble, you can always call T-Mobile's customer support after you initialize your new account to get things squared away. Either way, just be sure not to cancel your old cell phone service until after that procedure has taken place.)
2. Straight Talk
Straight Talk is a Wal-Mart-affiliated provider that offers service on your choice of AT&T's or T-Mobile's network. Its best plan is $45 a month for unlimited minutes, unlimited texting, and unlimited data.
There is an asterisk, though: While Straight Talk labels its data as "unlimited," some users have reported being throttled down to slower-than-4G-level speeds after hitting the 2GB mark. Straight Talk doesn't have a clear policy about this, so it's somewhat of a gray area. The vast majority of people don't come close to hitting 2GB of data in a single month, but if you do, that's something to consider.
To get service with Straight Talk, just order a SIM from the company; they're currently 10 bucks, shipping included. With the Nexus 4, you need to make sure you get a micro-SIM, which leads us to one last footnote:
Straight Talk currently offers micro-SIMs only for AT&T. If you want to use Straight Talk with AT&T's network, you're golden. If you want to use it with T-Mobile service, though, you'll have to order the regular-sized T-Mobile SIM and then take matters into your own hands.
The standard carrier plan options
Not keen on the whole prepaid concept? You can use the Nexus 4 with a standard carrier smartphone plan -- even without signing a contract. Since the Nexus 4 is a GSM/HSPA+ phone, it'll work with either T-Mobile or AT&T in the U.S. All you'll have to do is get a micro-SIM from the carrier you prefer and then contact them to activate an account.
(If you already have an account with one of them, you should be able to simply move the SIM card from your current phone into the Nexus 4 and be good to go. If your current SIM card is a regular-sized SIM instead of a micro-SIM, you'll just need to go to one of the carrier's stores to swap it out; most carrier retail locations will do that at no cost if you're a current customer.)
AT&T's individual plans start at 70 bucks a month for 450 minutes and 3GB of data. That doesn't include texting and does include the usual smattering of shady surcharges; realistically, you're probably looking at a minimum of 80 bucks a month. If you want 5GB of data per month instead of 3GB, the cost goes up by $20 -- giving you a grand total of at least $100 a month with all the various fees.
This is precisely why I say most people will do better by going prepaid.
(T-Mobile's standard plans are a bit less painful but still generally less beneficial to most customers than the prepaid alternatives.)
More resources
Want more food for thought? You can get a detailed look at the prepaid experience as well as the Nexus 4 in these in-depth reports:
• Android off-contract: My prepaid journey, 3 months later
• How free Google services can help shrink your phone bill
• Nexus 4 vs. Galaxy Nexus: Worth the upgrade?
• Google's Nexus 4: To buy or not to buy?
• Nexus 4 revisited: Detailed thoughts after 3 months with the phone