Apple [AAPL] and Samsung continue to be locked in conflict, with Samsung winning one round in the Dutch court while the ITC declares in favor of Apple in another. The importance of what's at stake cannot be underestimated: the post-PC age is upon us, and the old guard of PC manufacturers are tottering -- even HP is worried, refusing to allow its staff to bring their own devices to work in case they choose non-HP gadgets.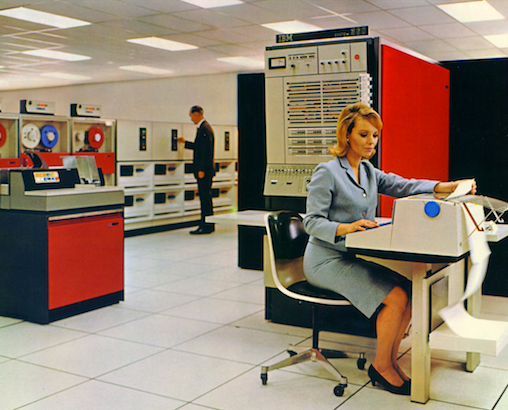 [ILLO: Back when PCs were mainframes. Image c/o The Computer History Museum.]
Take pride
"HP's policy is that we don't offer BYOD within HP and that will not change soon," Eric Cador, HP EMEA senior VP printers told The Channel.
"Why? It would be embarrassing -- more importantly it would be embarrassing for our employees. Employees have to be proud of our products," he said. 
That's saying a mouthful as the implication is that HP feels its employees may favor products from other companies, and right now the big hitters in the mobile space are Apple and Samsung.
Those two are slugging it out in the courts, attempting to define what's right and what's wrong when it comes to patent protection, design and more. 
While you can pick sides in their battle, the fact is that all this international litigation serves to set down a template as to what's fair in tech love and tech war.  These cases will define the battlefield for future competition in the tech industry.
It's only to be expected that different legal systems make different judgments in this, as both firm's effectively collude in testing the true extent of available protection under international patent law.
Change hurts
The industry is transforming, creating new leaders and new followers. HP's admission that it won't allow BYOD choice among its workers shows the firm's weakness in this changed market. 
This weakness is reflected within the stagnant or shrinking growth afflicting the entire PC industry. Former champions are failing while new ones are springing up. 
Apple's CEO, Tim Cook, noted that Apple is now selling more iPads by unit in any quarter than any PC vendor is selling PCs. This is a time of huge and disruptive change, part of the reason why PC sales fell 8.6 percent in Q3 2012.
With so much at stake, it's not so surprising either of the leaders of the transformed technology landscape are conflicting in the courts. They need to define what the face of future competition will be. 
Last night a US ITC judge said Samsung had infringed four technology patents belonging to Apple, including for the design of the front of the iPhone and touch screen technology. That finding needs to be reviewed before becoming binding and the decision won't be finalized until February.
Also yesterday a Dutch court ruled Samsung's displays were different to the iPhone, following similar decisions in courts in Britain and Germany. 
During the ITC investigation, Apple filed papers confirming the US Department of Justice is investigating Samsung to find out if it is misusing standards essential patents in violation of antitrust law with its treatment of FRAND patents.
You win some, lose some, when you turn to the courts, but the extent of the war seems to be pulling every legal authority in.
Beyond legal
Likewise, the extent of the transforming tech industry landscape is pulling everyone into its embrace. 
Microsoft is attempting to forge its way in this new tech landscape. As part of this, CEO, Steve Ballmer this month told shareholders he was attempting to steer the company into becoming a "devices and services" firm. 
That's a move away from that company's decades-long way of doing business in a partnership model, and a move toward becoming some mutant creature, ("Apple-soft?"), attempting to churn out devices and services consumers may choose to use, with its family of Surface tablets the first out the gate (we'll pretend there never was a Zune).
The extent if this transformation is huge, just look to:
Litigation everywhere as stakeholders attempt to define the playing field for future competition;
The transformation of established business models;
The decline of former industry leaders in favor of new champions;
The evolution of the PC industry to suddenly include carriers and manufacturers of mobile devices, even Amazon's a gadget firm now.
Rapidly intensifying competition.
Evolution of the species
I recall back when the iPad was invented when many argued the device would never become an adequate replacement for a PC. Now, with each iteration, these tablets become more capable and the cloud services supporting them continue to evolve toward their inevitable future as consumer level software-as-service provision hubs. 
With each year tablets become more suitable as replacements for the PC. At some point in the not too distant future, the things your iPad can't do will instead be sent to server-based software services to do for you. And it isn't just the iPad, it's also your smartphone, your PC, your Mac. 
In most cases, the primary computing devices used will be mobile. Smartphone sales exceeded those of PCs last year. That trend will continue and the devices we use today will be eclipsed by those tomorrow, particularly in light of the steep competition in the sector.
There are those who continue to argue that iPads (and those other tablets languishing unsold in warehouses worldwide) aren't really PC replacements. 
They can think that if they like. 
They wouldn't be the first to fail to see the third wave.
In the '70's mainframe computers were the best things you could find. These things needed teams of people to run them. When later on the first PCs appeared, the cognoscenti argued that PCs weren't computers: they didn't have the memory, didn't have the processor, didn't have the team. 
Here's a smaller version of the image above to remind you of these machines.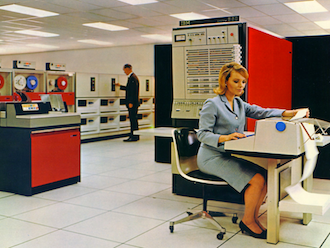 Then Apple went to Xerox Parc, paid Xerox in shares of the company, and put together the desktop GUI that became the Mac and spawned the PC. This is now rapidly being replaced by the evolution of mobile devices. What comes next? 
As we await Apple's earnings announcement tonight, talk isn't if Apple's new products have been successful, the question is if the company has been able to deliver them in sufficient quantity.
The future of the post-PC era isn't going to be defined by analysts, the media or technology pundits. As Shaw Wu at Sterne Agee says this morning: "Almost every product from Apple has been criticized. And yet every one has gone on to sell way more than anyone thought. At the end of the day, does it really matter what we say or the press says? No. At the end of the day, customers decide."
Got a story? Drop me a line via Twitter or in comments below and let me know. I'd like it if you chose to follow me on Twitter so I can let you knowwhen these items are published here first on Computerworld.