Samsung secured victory over Apple [AAPL] in Q3, exploiting pent-up iPhone 5 demand to briefly become the world's biggest smartphone model maker; now fresh reports claim Tim Cook's company intends taking strategic control of the means of production of some essential components to defend itself against its rivals.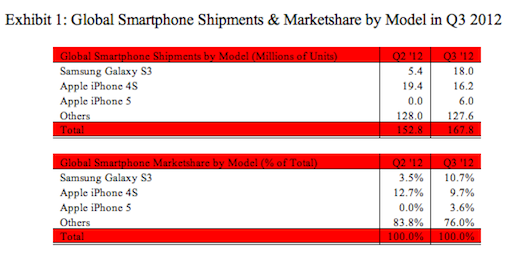 Samsung is winning
Strategy Analytics explains: "Samsung's Galaxy S3 has overtaken Apple's iPhone 4S to become the world's best-selling smartphone model for the first time ever in Q3 2012." 
Samsung's high-end smartphone beat the iPhone 4 and 4S in sales in the already expired quarter -- but, like the clouds, this vaporous throne disappears in Q4 when the iPhone 5 will lead the pack.
Analyst Neil Mawston observes: "The Galaxy S3's position as the world's best-selling smartphone model is likely to be short-lived." 
"The Apple iPhone 5 has gotten off to a solid start already with an estimated 6.0 million units shipped globally during Q3 2012. We expect the new iPhone 5 to out-ship Samsung's Galaxy S3 in the coming fourth quarter of 2012 and Apple should soon reclaim the title of the world's most popular smartphone model," he added.
Android devices are presently outselling iPhones. These sales are being supported by generous carrier subsidies, as carriers worldwide work to avoid being dominated by the disruptive technologists at Apple. 
The carrier connection
Carriers know their business plans were transformed by the iPhone: before its introduction carriers pretty much dominated mobile device manufacture to the point of dictating what features these devices had. Apple changed the channel on that show, opening up the market for smart devices people liked. 
While they liked the boom it created for their business as voice revenues fell, carriers didn't like losing control and feared ending up completely in  thrall to Cupertino, so they are looking to favor less powerful, less disruptive Apple alternatives.
Android is not a unified OS -- different devices, manufacturers and carriers provide less or more of the experience within devices which run the gamut in terms of features. 
This means the well-featured iPhone is sometimes contrasted with Android-powered devices that simply do not compete on design, build quality, device features or software support. 
[ABOVE: Samsung doesn't just make small mobile devices, it also makes big ones: this is the K-9 Thunder self-propelled howitzer, manufactured by its weapons industry subsidiary. Soundtrack is in Korean though, so you might want to lower the volume.]
Means of production
Apple may have a new battle plan: component supply.
Foxconn's recent admission that it cannot manufacture iPhones fast enough, suggests component scarcity will define the winners and losers in the smartphone game.
Samsung has vast factories from which it manufactures its devices. It even makes many of the components with recent reports suggesting Apple is having problems replacing the Korean firm in its supply chain.
With almost military planning, Apple could take strategic investments in component and raw materials providers in an attempt to secure its own lines of supply while also disrupting those of its competitors.
A report on Digitimes claims:

"Apple is reportedly directly communicating and putting in orders with upstream material makers to produce various products that have specialized specifications while skipping assemblers and parts makers as part of the overall production process, according to industry sources."
Apple's seeking a "more vertically integrated" business model and that it is "taking precautions" to keep its supply sufficient, the report explains. Apple is also examining additional chemical, display and raw material providers in its attempt to secure capacity to cope with future demand.
Apple is also moving to respond to critics who claim it doesn't supply enough US jobs. Apple's manufacturing partner, Foxconn, allegedly plans to open up factories in Detroit and LA. These locations will be used (apparently) for LCD television manufacturing (cue new Apple television speculation). Foxconn is also launching a training program for US engineers. It will be educational to see if Android manufacturers make a similar commitment to US employment and engineering skills. 
The smart industry
All these moves are a big deal. The existing market for smart devices (devices currently defined as smartphones and iPads/tablets) is expected to increase almost 50 percent, from 821 million units in 2012 to 1.2 billion in 2013, according to Gartner.
Thing is, smart devices are not confined to smartphones and tablets: in the next 18-24 months you can expect new breed devices, smart meters, intelligent connected smart traffic systems and more to begin to enter common use. 
At an indeterminate future point it is possible most domestic electronics will be smart; most manufacturing and agricultural control systems will be smart, most vehicle and traffic management systems... you get the idea?
The evolution of such devices is likely to pose further pressure on smart device raw material and component supply, not to mention the challenges of actually manufacturing these things in sufficient quantity to meet demand.
Component chess
This means Apple's new approach of making direct deals with material makers reflects yet another industry need: the need to secure supply of even the most mundane components for smart devices.
Samsung certainly has the advantage. This giant family-owned conglomerate with a widely varied business portfolio, including arms manufacture, is in prime position to continue to out-produce any other smartphone maker. 
The company is further buoyed by the fact that it doesn't even need to develop the software it puts inside its machines, turning instead to Google's Android, Microsoft's Windows and, who knows, one day perhaps RIM's BlackBerry 10.
As the smartphone industry is increasingly defined as Apple versus Samsung conflict we're looking at a David and Goliath struggle, however -- contrary to what so many people seem to think -- Apple is not Goliath in this game. 
Got a story? Drop me a line via Twitter or in comments below and let me know. I'd like it if you chose to follow me on Twitter so I can let you knowwhen these items are published here first on Computerworld.