Say what you like about market share, but it doesn't appear there's any dimming in demand for Apple's [AAPL] brand-new iPhone 5, with manufacturer Foxconn admitting it's having a tough time meeting global demand for the world's best smartphone.
[ABOVE: How your iPhone can improve your personal security -- just add a little pepper spray.]
Demand exceeds supply
That demand exceeds supply is no great surprise. When the new iDevice hit the shops in September, Apple found itself selling 1,157 of the things every second across launch weekend for a cool 5 million sales in just three days.
The iPhone is 123.8 mm at its longest point. Across its launch weekend, Apple sold iPhones which if laid end-to-end would stretch across a distance of 619 kilometres, or 384 miles. That's one big production line.
Keeping that production line moving is a problem for Foxconn, where Chairman Terry Gou admitted today: "It's not easy to make the iPhones. We are falling short of meeting the huge demand."
That's the same Terry Gou who promised earlier in the year that Apple's new iPhone would : "Put Samsung's Galaxy III to shame," when it appeared. Which despite the protests of that company's own quasi-religious congregation of assimilated users, most independent minds agree the iPhone has.
In an attempt to meet demand, Foxconn has reportedly switched some production to its subsidiary firm, Foxconn International Holdings, which began manufacturing these devices in October.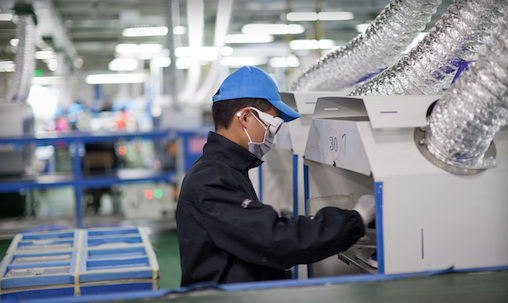 [ABOVE: An iPhone worker at Foxconn, c/o Apple.]
The Sharp problem
It's not the only component and manufacturing problem Apple faces as it tries to distance itself from Samsung. 
Apple has been purchasing its displays from Sharp, but that company has itself faced big problems staying afloat. Sharp has been struggling in recent years, but the company has been thrown a lifeline by its new deal with Apple. However, staying in business has proved troublesome for Sharp, with the company CEO telling analysts that company is on the brink of disaster.
In order to maintain display supplies, Apple may have invested up to $2 billion in the Japanese firm, reports Asymco. Analysts there note that Apple spent one-third more on capital expenditure than it had anticipated across 2012. The company had expected to spend c.$8 billion on this, but the final number came in at $10.3 billion.
To be fair the additional cash may also have represented Apple's significant investments in improving conditions at its partner manufacturing plants in response to criticism of labor conditions at its suppliers.
"My guess is that these attempts to shore up Sharp are directed by Apple to ensure both continuity of supply and a balanced supplier base (offsetting Samsung, another supplier)," Asymco wrote. 

"If Sharp were to enter some form of bankruptcy, the key plant(s) used in producing screens for Apple might be 'up for grabs' by creditors and they might be taken off-line, jeopardizing Apple's production capacity, irrespective of contractual obligations."
That Apple faces component supply and manufacturing problems at this time isn't such a big surprise. But please don't think the company is isolated in facing such challenges.
Can demand ever meet supply?
Think about this: the rate of growth of the smartphone industry is utterly dependent on global capacity to ramp-up production of electronic components which are hard to make, using raw materials which are hard to source. Manufacturing of these devices is also an intensive process.
Smartphone sales are the fastest-growing market worldwide, period. Add iPad sales to smartphone sales and the cumulative quantity of these devices is far higher than the number of computers sold this year. But this isn't the crest of the wave -- the industry hasn't yet peaked.
Sure, there's one billion smartphones in use right now -- but there's four billion more people using more traditional mobile phones. This means almost every one of those four billion users is a potential smartphone purchaser, with maybe one-in-five of those perhaps choosing an iPhone.
"Nokia remained a dominant force in smartphones for over a decade until the arrival of Apple's iconic iPhone in 2007," Strategy Analytics senior analyst Scott Bicheno said. "The iPhone revolutionized smartphone design and it catalyzed industry growth."
Most of the world does not yet own a smartphone and there remains huge scope for future growth, particularly in emerging markets such as China, India and Africa, the analysts also said, predicting the next billion smartphones will be sold across the next three years.
Ovum also anticipates smartphone ownership will soar, predicting 1.7 billion by 2017.
The take away here is that these outpourings from Foxconn, and Apple's two billion dollar investment in Sharp strongly suggest we've reached a crisis point in the smartphone industry. We've hit a point at which manufacturing can no longer easily meet demand, and new manufacturing facilities don't seem able to come online fast enough.
The likely impact of this will be price increases across key components, as manufacturers in specific verticals look to exploit this surging demand across limited supply.
That's likely to impact Apple, which will be forced to raise iPhone prices or reduce its margins. These moves will also impact other smartphone manufacturers, particularly at the low end, driving the cost of entry level models to aclimb. 
Danger signs
Those low specced smartphones don't sell in the huge quantities of other models, which means manufacturers don't have the advantage of being able to place huge component supply orders, leaving them more vulnerable to market-based price fluctuation.
These conditions will further impact device manufacturers at the bottom end of the market. They are already competing with each other on price, but will now be competing with each other on access to components. This makes it highly likely we'll see further consolidation across manufacturers, while general smartphone industry growth rate will decelerate as stakeholders are forced to seek out new sources of component supply.
With this as the backdrop, any perceived supply-based shortness in availability of the iPhone 5 shouldn't be looked at in isolation: it represents an industry-wide problem as manufacturers find that the exponential market growth as seen in the last five years just can't continue at its present rate. And demand for these new smart devices is nowhere near its peak at this time.
This means that at it this stage in the smartphone wars, there's still plenty to fight for as mobile devices move to define the shape of tomorrow's computer world.
Got a story? Drop me a line via Twitter or in comments below and let me know. I'd like it if you chose to follow me on Twitter so I can let you knowwhen these items are published here first on Computerworld.