Apple [AAPL] is on a roll at the moment and while it means the plucky little company we all had a soft spot for has now become this giant corporation the chattering classes love to pretend they hate, this growth has put the firm in the cat bird seat to grab a slice of enterprise action as working life gets mobile.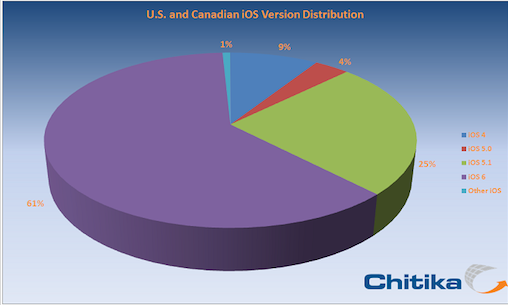 Hype or happening?
Two nuggets stuttering their way across the Web today help confirm my premise: one points out the huge extent to which the iPhone is replacing BlackBerry across huge US government departments; the other observes that 61 percent of iOS users have already moved to iOS 6 after one single month. 
The latter point is pretty significant as it means Apple's users are engaged with their devices, willing and eager to upgrade. For enterprise purchasers of course it means there's a reasonable chance new security problems will be addressed within updates -- and a good chance iPhone users on their internal business networks will grab the software that protects them.
Analytics firm Chitika says 61 percent of iOS users have already upgraded to the new operating system. The firm grabbed a sample of the hundreds of millions of mobile ad impressions coming out of its ad network across the last month to arrive at its claims.
"iOS 6 growth has decidedly leveled out over the past week, although it still is growing. Since our previous study on October 2, 2012, iOS 6 gained nearly 10% usage share, now constituting 61% of all iOS traffic," they explain.
What's important here is to compare the speed with which iOS users migrate to a new OS in contrast to the snail's pace with which Android device users make that step. The complexity of getting and installing an update is a real challenge for users and manufacturers of those devices -- and enterprise users -- already concerned for the open nature of the OS -- cannot afford for devices on their networks to be compromised, or to wait for them to be secured.
Better business
That's probably part of the reason Apple's doing so well in large-scale enterprise and government deployments. iOS is a perfectly capable client system for the big name virtualization solutions used by some corporations. (Citrix, for example). These things are driving Apple's system to eat RIM's share of the market it has traditionally owned.
Don't believe me? Just take a look at the nuggets held inside this second report, that the US Immigration & Customs Enforcement (ICE) is to put over 17,600 of its employees onto iPhones, dumping previous supplier, RIM/BlackBerry.
That's not the first move to Apple by US.gov. The GSA has moved to a mix of Apple and Android devices, but it is interesting that ICE's decision to move completely to the iPhone was partly driven by that organization's concern that Android was too open, while Apple's environment is more controlled and includes built-in protections against attempts to modify the installed OS. So no keystroke loggers, then... 
This is the backdrop that led Good Technology this year to note that 97.3 percent of business tablet activations are iPads and 73.6 percent of business smartphone activations are iPhones. 
Apple's growing enterprise presence
Apple's grip on the enterprise market for tablets is likely to grow and expand on introduction of the smaller iPad (iPad mini, iPad nano, iPad air, iBook -- there's almost more speculated names than iPad models) later on today, said Sam Lakkundi, Chief Mobile Officer at multi-channel mobile developer, Kony:
"The iPad Mini will transform this dynamic, allowing professionals ranging from utility workers to field service workers to easily complete work on the go. This, combined with the fact we're expecting to see a lower price point, will absolutely increase tablet adoption in the enterprise beyond the typical management positions."
He added: "This has important implications for organizations as well, as mobile adoption will only continue to rise and both consumer and enterprise focused companies will be able to reach their target audiences whenever, wherever."
Got a story? Drop me a line via Twitter or in comments below and let me know. I'd like it if you chose to follow me on Twitter so I can let you knowwhen these items are published here first on Computerworld.