It's great when a developer comes up with an app that is well-designed and useful. But it's even better when that application is tweaked to help users when unusual circumstances occur.
About 10 days after Hurricane Sandy hit, there were still chronic gas shortages in the NYC area. I needed to fill my car's tank, but there were still a large number of gas stations that weren't yet operating -- including many in my neighborhood -- and those that were open were experiencing long lines. I had no idea where to go.
I was talking to a friend from New Jersey, and told her of my dilemma. "Oh, that's no problem," she said. "Use GasBuddy."
According to its site, GasBuddy.com is a group of local websites that allow people to share local gas prices via crowdsourced data. Registered users enter the prices that they just paid for gas into the database; the time and date that the info was updated is also shown so that you know how recent the information is. Besides the main website, there are apps for iOS, Android, Blackberry and Windows Phone mobile devices.
When Sandy hit, the site moderators at first asked New York users to leave information in the comments fields as to which stations had gas. But they followed up with an online utility they called the Fuel Shortage Tracker.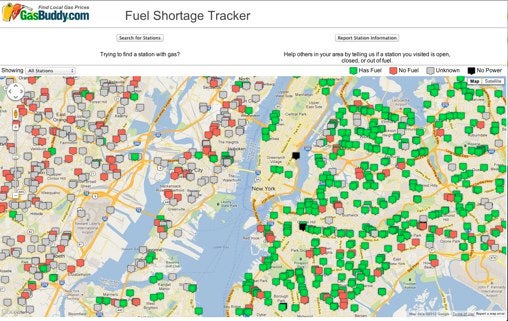 For something created basically on-the-fly, it was well designed. You typed your city, state or zip code into a search box and you got back a list of nearby gas stations, together with their status (whether it had fuel, was out of fuel, or was closed). Click on the name of a specific station, and you got a timeline showing the fuel status over the past 24 hours (important when you needed to know if a station had just been supplied and so was likely to have gas when you got there); a comment area where drivers reported on which gas stations were open, how long the wait was (for both cars and people with containers who needed to fill up generators) , and how well-organized the queue was; and a Google map view showing the station's location.
There was a Web-based mobile version as well. The full site view was more comprehensive than the mobile version of the site -- you got a more complete map view showing where stations are and which were open; and it was easier to find stations in other areas. But for those depending on their smartphones to get them to a fuel source -- especially when the station they were at ran out before they got to the front of the queue -- the mobile version was extraordinarily helpful.
Because I don't use my car to commute, I've never really felt that much need for an app that pointed to less expensive gas -- I generally just fill up where and when I need to. But even though I probably won't use their app much in the future, I wanted to express my appreciation for the folks at GasBuddy.com, who took the trouble to make life just a bit easier during a chaotic and difficult time.