The Samsung-versus-Apple conflict has hit a new zenith with news from Samsung that it intends terminating its years long display supply deal with the Californian firm, even as  Apple [AAPL] prepares to introduce the iPad mini alongside an updated version of the existing iPad this week.
UPDATE: Since this story appeared online Samsung Display has moved to deny the claims in the Korean newspaper they emanated from.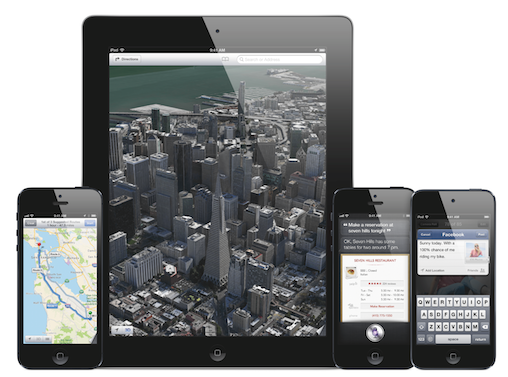 [ABOVE: Apple's Maps on iOS devices -- but Samsung isn't on the product road map any more.]
Samsung dumps Apple
A report from the Korea Times reveals news from Samsung Display, claiming the firm intends terminating its contract with Apple for the supply of LCD displays. 
Samsung has apparently chosen to terminate the long-standing deal between the two firms because it believes the Apple business just isn't good enough. Apple makes huge orders but expects to pay low prices in exchange for these. As Apple diversifies its supply lines, the value of its orders to Samsung's business has shrunk, the report implies.
"We are unable to supply our flat-screens to Apple with huge price discounts. Samsung has already cut our portion of shipments to Apple and next year we will stop shipping displays," a Samsung source said.
It seems an age since the death of Steve Jobs last year, when Jay Y. Lee, the only son of Samsung chairman and COO, Lee Kun-Hee attended the service to be held in California on Sunday at the invitation of Apple CEO Tim Cook.
The decision marks the growing discord between the two companies. Samsung Display was Apple's top supplier at the end of the first six months of this year, shipping over 15 million displays. This shrank to under 3 million in Q3 and will fall to 1.5 million in the last quarter as Apple turns to displays from Sharp, LG and others.
Apple production hit by transition?
Samsung's confirmation of its loss of Apple's billions of dollars of business comes as the two sides fight bitterly in courts worldwide. The news also emerges subsequent to claims that iPhone 5 production is being impacted by Apple's decision to use other suppliers as it waits for its new partners to reach and maintain its product quality and production quantity demands.
Samsung is not manufacturing the display used in the iPad mini, the report also confirms. What the report doesn't say is that Samsung is also unlikely to manufacture the displays used in another product Apple plans to launch this week: the new iPad.
The new iPad will only be a slight upgrade, rather than a full product refresh. Most elements will remain the same, bar introduction of a Lightning connector and a better 4G radio that works on fast mobile broadband networks outside of North America, (in other words, similar to the 4G receiver inside the iPhone 5). With just 1.5 million displays left to produce under the tail end of its Apple contract it's unlikely Samsung will produce the display for the new device.
The display contract termination news follows reports that Sharp has now bought its display manufacturing lines up to speed to deal with Apple's huge orders.
The iPad mini
Turning to the iPad mini, a quick product detail refresh based on the latest speculation: 
A 7.85-inch non-Retina touchscreen display.
The display will offer a 4:3 aspect ration with a resolution of 1,024-x-768
The device will be available in both Wi-Fi and 3G variants
Capacities will include 16GB, 32GB and 64GB.
To keep prices low the iPad mini will sport an A5 processor.
Apple will also introduce version 3 of the iBookstore at the event, positioning its device as a direct competitor to Amazon's Kindle.
It seems likely a range of smart covers will also be made available.
As long ago as last week it looked possible these systems would cost as little as $249, but since then speculation's shifted slightly and now it looks likely these things will cost nearer $299, with some reports suggesting a $329 base price. Last week's rumor saw a claimed price of €249.
Analyst Sameer Singh of Tech-Thought tends against the $249 claim, telling Computerworld: "I still think a starting price of $299 is more likely, but I'm less certain than I was before. It really depends on how Apple views the competitive dynamics in the industry. If Apple sees the [Google] Nexus 7 and the [Amazon] Kindle Fire as major threats, they could get more aggressive with a $249 price."
Apple executives may also see slight cannibalization of its now mature iPod product range as worthwhile in exchange for further dominance of the tablet/iPad market it currently leads.
The company does face unexpected challenges moving forward as it attempts to bring its new component suppliers up to speed. This begs the question: Will this affect Apple product availability across the coming months?
Got a story? Drop me a line via Twitter or in comments below and let me know. I'd like it if you chose to follow me on Twitter so I can let you know when these items are published here first on Computerworld.