Apple [AAPL] this morning complied with a court order and published a notice on its UK home page in which it sort of said it didn't think the world's biggest smartphone maker, Samsung, infringed its patents.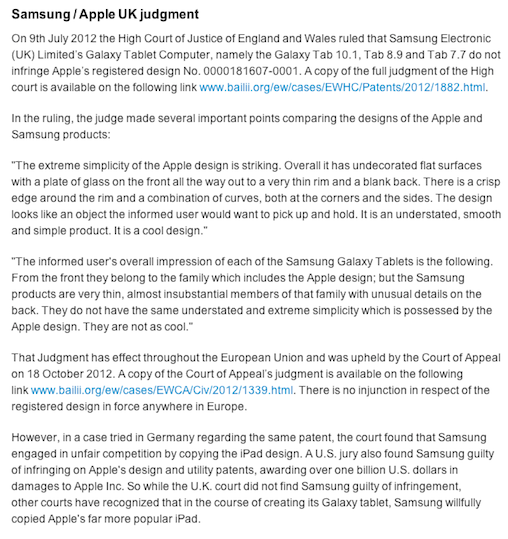 [ABOVE: Apple's UK statement in full.]
Just not as cool
The company hasn't gone for the slogan: "This can't be an iPad, it's just not cool enough," approach some said it should have used, though it has come pretty close, even ending the lengthy document with the statement:
"So while the UK court did not find Samsung guilty of infringement, other courts have recognized that in the course of creating its Galaxy tablet, Samsung willfully copied Apple's far more popular iPad."
Publication of the statement follows last week's decision by the High Court (PDF) that the original judge in the case was correct and Samsung did not in fact infringe Apple's design patents in its Galaxy Tab. Judge Birss originally said Apple would need to run a series of press ads and a message on its Website explaining that Samsung is no copycat, at least, not according to UK law.
Apple's stuck to the letter of the Birss decision, which it has also made available in full on its Website (PDF). Within the message, Apple also points out that the UK decision is very different from those taken in similar cases in Germany and the US, where Samsung has been found guilty of infringing Apple's patents.
Judge Birss did make some interesting statements regarding the two devices:
"The extreme simplicity of the Apple design is striking. Overall it has undecorated flat surfaces with a plate of glass on the front all the way out to a very thin rim and a blank back. There is a crisp edge around the rim and a combination of curves, both at the corners and the sides. The design looks like an object the informed user would want to pick up and hold. It is an understated, smooth and simple product. It is a cool design."
"The informed user's overall impression of each of the Samsung Galaxy Tablets is the following. From the front they belong to the family which includes the Apple design; but the Samsung products are very thin, almost insubstantial members of that family with unusual details on the back. They do not have the same understated and extreme simplicity which is possessed by the Apple design. They are not as cool."
The truth economy
That Apple has highlighted these other two cases is interesting. Writing at Forbes, Tim Worstall notes:
"The jury in California decided that Samsung's tablet did not breach the design patent."
Adding:
"The German verdict is actually irrelevant. For that court shouldn't have been hearing the case in the first place. Design patents (as opposed to technical ones) are European Union wide. A case concerning such an EU design patent should only be heard once (with subsequent appeals, sure) rather than fought 27 times, once in each country."
Korea versus China, Google versus Apple
This means the for Apple versus Samsung the fight seems set to continue -- no great surprise really, following last night's publication of fresh Strategy Analytics data which confirms that in smartphones we see the US/China (Apple/Foxconn) competing with the US/South Korea (Samsung/Google). Similar figures emerged overnight from IDC.
Strategy Analytics claims global smartphone shipments grew 35 percent to hit 162 million units in Q3 2012. Samsung shipped 57 million of these (56.9 percent), while Nokia's descent drove that firm out of the top three. 
"Apple grew a healthy 57 percent annually and shipped 26.9 million smartphones worldwide for 17 percent marketshare, up from 14 percent recorded a year earlier. Apple had a solid quarter in the important United States market and this helped to strengthen its global performance," said analyst, Neil Mawston.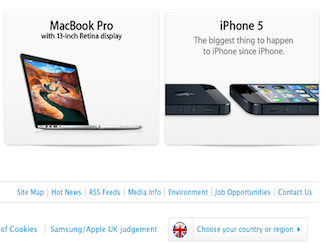 [ABOVE: Apple's Samsung Ad is available via a link on the company's front page.]
The analysts also claimed global tablet shipments reached 24.7 million units in Q3 2012, with Apple accounting for 57 percent of these while Android accounted for 41 percent, the analysts said.
That ratio seems set to change on Apple's introduction of the new new iPad and iPad mini. 
Got a story? Drop me a line via Twitter or in comments below and let me know. I'd like it if you chose to follow me on Twitter so I can let you knowwhen these items are published here first on Computerworld.