Here comes the 7.85-inch Apple iPad Mini; time for Richi's rumor roundup. Price, features, and release date all triangulated within, despite Apple (NASDAQ:AAPL) ''doubling-down on secrecy.''
In IT Blogwatch, bloggers have figured it all out well before Tuesday's Cooknote.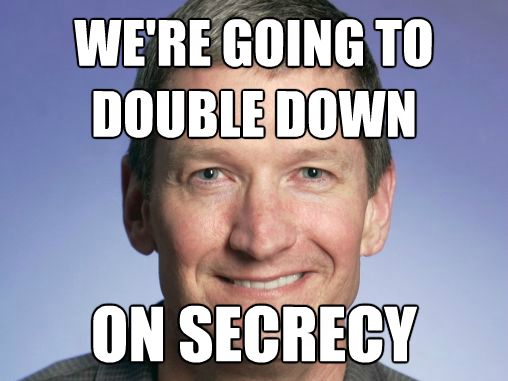 By Richi Jennings: Your humble blogwatcher curated these bloggy bits for your entertainment.
Gregg Keizer reads between the lines:
The invitation is typical Apple-esque, with...a single line of text: "We've got a little more to show you," [which] most assume refers to the iPad Mini...with a 7.85-in. screen. ...talk of a smaller tablet has circulated almost since the 2010 launch of the 9.7-in. model. ... [It] flies in the face of earlier statements from...former CEO Steve Jobs.

...

If Apple hews to its usual timeline...it will begin taking pre-orders...Oct. 23 [to] Oct. 25 [and] begin selling the tablet at retail on Nov. 2.  MORE
Anna Leach leaks the prices:
...a German site...Mobilegeeks.de is showing...an inventory spreadsheet from the German gadget store Media Markt. ... The cheapest iPad Mini, an 8GB Wi-Fi-only device, is listed at €249. ... The most expensive model, a 64GB cellular device, is listed at €649.

...

[A source] claiming knowledge of Media Markt's internal [system] adds: "It's not a fake."  MORE
Jonny Evans rallies the faithful:
Apple will attempt to exploit the active nature of its users. ... The device...introduction will see Apple focus on iBooks. ... Apple executive Eddy Cue said in email released [at] trial that he: "Found email, books, Facebook and video very compelling" on a 7-inch Samsung.

...

[Media Markt] suggests you'll be able to pick up an iPad mini at prices from $249...a nightmare for competitors.  MORE
And Adrian O'Connor considers the marketing stratification:
$249 for 8GB...$349 for 16GB...sounds plausible. ...they use the cheap 'base' model to get people interested [but] let the customer talk themselves in to buying the next model up.  MORE
Meanwhile, Jim Pollock tries to decode a fishy leak of 24 separate iPad SKUs:
2 models: iPad Big/Mini

2 net configs: Wifi only/[LTE]

2 colors...

3 [flash]: 16, 32, 64G

...

24 SKUs.  MORE
So a snarky Denys Zhadanov mocks Microsoft:
Good timing there, thinking of Surface...announcement.  MORE
But wait! Aaron Lee and Adam Hwang bring bad news for Apple:
Google, following the launch of Nexus 7...in June 2012, will unveil a Nexus tablet model for US$99...in the fourth quarter of 2012 [say] Taiwan-based supply chain makers.

...

[It's] equipped with [a] single-core processor 8950 developed by...WonderMedia Technologies, and a HUVA TN panel made by...HannStar Display. [It] will be produced by...Quanta Computer.  MORE