The Federal Trade Commission clearly states on their website (below) that the only authorized source for free annual credit reports is AnnualCreditReport.com.
Below the headline, the FTC website expands on the point:
The Fair Credit Reporting Act guarantees you access to your credit report for free from each of the three nationwide credit reporting companies — Experian, Equifax, and TransUnion — every 12 months. The Federal Trade Commission has received complaints from consumers who thought they were ordering their free annual credit report, and yet couldn't get it without paying fees or buying other services. TV ads, email offers, or online search results may tout "free" credit reports, but there is only one authorized source for a truly free credit report.
Good to know, especially for New York Yankee fans.
Below is a picture, taken a couple days ago, from my seat in 412th row behind home plate at Yankee Stadium.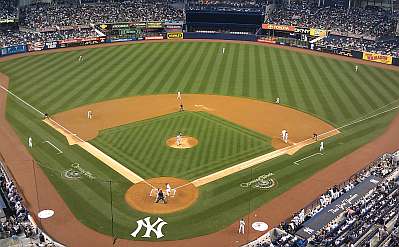 I had a great view of the entire stadium, which is plastered with ads - one of which caught my Defensive Computing eye. It was just in front of the visiting Minnesota Twins bullpen which you can see below.
See that blue stripe in front of the bullpen, across the bottom of the outfield fence? Here's a closeup:
It's an ad for the website freecreditscore.com.
Even without the FTC warning, common sense dictates that any organization that pays for an ad at Yankee Stadium expects to profit from the deal. And, there is no profit in giving away stuff for free.
After the game, when I went to freecreditscore.com, my favorite website rating service, Web Of Trust (a.k.a. WOT) warned about it. As the screenshot below shows, the site is rated "very poor" across the board.
Despite the warning, I went to the site and, like any techie, read the documentation. Here is a question from the FAQ on freecreditscore.com
Q: Is this where I get the free Credit Report from the federal government?
A: No, that is a different site called AnnualCreditReport.com.
Baseball is a business, I get it. But advertising like this strikes me as a mistake by the Yankees.
Update: April 20, 2012 4pm ET:  It's a big day at Fenway Park today, the 100th anniversary. While watching the game I noticed an ad for freecreditscore.com along the first base line at field level.