Apple [AAPL] has begun iPad mini production, The Wall Street Journal confirms, but smartphones and tablets are just the hors d'ouevre for what's ahead, with app developers predicting a future in which mobile devices, iPads and iPhones, become part of everything we touch as we enter the world of intelligent machines.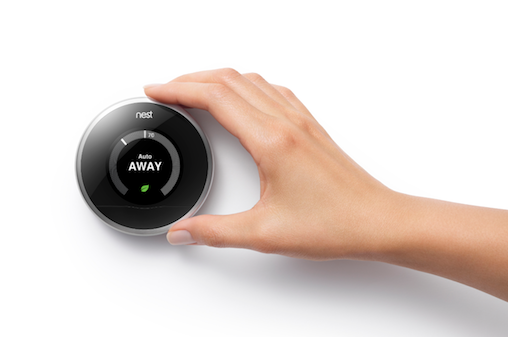 [ABOVE: Ahead of the puck. Tony Faddell's iOS-savvy Nest thermostat is (slightly) ahead of its time.]
Developers, developers, developers
Developers hold the keys to the connected future. They believe that by 2015 they will be building apps for all manner of devices: televisions, connected cars, game consoles, foldable screens and more.
Platform providers need them to be interested in building apps for connected devices. These things are likely to be based on or compatible with mobile operating systems. Apple's developer community continues to be the most active and engaged OS community while interest in Android is in decline, the latest data shows.
Appcelerator today published the world's biggest survey of mobile developers yet. The survey claims: 85 percent of 5,562 developers interviewed for the survey are "very interested" in building iOS apps, while interest in building Android apps is in decline.
"Android's return to decline in developer interest levels is disconcerting, with now fewer than 66 percent of developers very interested in developing for the tablet platform and 76 percent for the smartphone platform," Appcelerator claims.
These figures confirm the iPhone and iPad's place at the vanguard of the move to a future of connected devices, in which buzz words such as smart cities, smart buildings, smart automobiles and M2M connectivity will enter everyday life.
[ABOVE: Polaroid founder Edwin Land had his own visionary ideas of where technology would take us.]
Ahead of the puck
Hand it to the "father of the iPod", Tony Faddell, to see where the puck is going. His new firm, Nest, introduced a new version of its elegant and intelligent learning thermostat this week. It's a perfect example of an intelligent connected device that's compatible with mobile operating systems, in this case iOS.
What's happening with mobile will eventually be seen as a seismic shift that disrupts entire industries. We're not just talking about Post-PC, we're looking at the evolution of all-new processes across most walks of life. 
Certainly that's what developers are becoming aware of, telling Appcelerator: "Mobile has the power to reshape entire industries, and these changes can be swift. It is not enough to port elements of your existing business model over to mobile. Staying competitive in the era of mobility requires fundamentally re-envisioning traditional business models through a mobile-first lens."
This is a fast-moving time: One interesting insight from the survey is that two-thirds (66 percent) of them think it is likely that a mobile-first social networking start-up could break Facebook's dominance of the social Web.
[ABOVE: Listen to what Apple's Steve Jobs said at the International Design Conference in 1983, his predictions suggest todays tech evolution. Thanks to Life, Liberty and Technology.]
Who is building our tomorrow?
It might be interesting to reflect on who the developers who will build our new tomorrow are:
Appcelerator reveals that the majority of its sample are mostly males aged between 20-29-years most of whom work in firms with under ten employees. 
They're a switched on bunch, politically aware and profoundly disappointed with the politics of our time: They are passionate about fighting corruption, ending poverty, fighting corporate greed and politics. They are concerned about censorship and ignorance, unethical business practices, global warming, selfishness and lack of empathy.
Proud of their work they care about freedom of speech, and also care about censorship, individuality, creativity and innovation, human rights, design, the environment. 
They champion the free flow of information.
Developers are critical to the future evolution of connected devices, including solutions for smart cities and homes, intelligent domestic appliances, connected traffic control and energy metering solutions and more. To ensure these devices are interoperable, developers will need to decide which operating systems these products will be compatible with. That decision defines the nature of the future connected age. 
That's the point. The battle between Google and Apple (and Microsoft) for dominance of the mobile OS is really about a whole lot more than what it sounds: these mobile devices will reveal themselves to hold the key to a connected future the nature of which will dwarf the historical evolution of our computerworld.
Putting it in context
With this in mind, it's no surprise Apple intends consolidating its hold on the tablet market with the iPad mini, and no great shock that the company seems likely to introduce its device at a price that puts existing competitors in that space under enormous pressure. Equally it is no surprise the Android ecosystem is fighting back using every tool available to it. The true markets they are fighting for are much bigger than the devices, because the firms are cast in a battle in which -- consciously or through historical imperative -- they war to define who runs the future digital planet. 
They say you should look to history to understand the future. The very worst outcome for all concerned would be if one platform becomes over-dominant. Look to Microsoft's historical dominance of the PC industry for an example of how poor an outcome that would be. That dominance led most users to live with an anodyne (one size fits no one) platform subject to constant security breaches because of its pervasive position.
With that in mind I consider our connected future will be far better if Android, Apple and Microsoft become embroiled in permanent struggle. This will keep our mobile platforms agile, and, ironically, once all the platform developers actually get it together to get their act together, more secure. 
That's assuming these switched-on developers don't grow tired of the endless politics of the existing Android versus Apple story and simply invent something completely different.
Got a story? Drop me a line via Twitter or in comments below and let me know. I'd like it if you chose to follow me on Twitter so I can let you knowwhen these items are published here first on Computerworld.