By JR Raphael (@jr_raphael)
Every now and then, an app manages to come out of nowhere and get people talking. Boid for Android is one of those apps.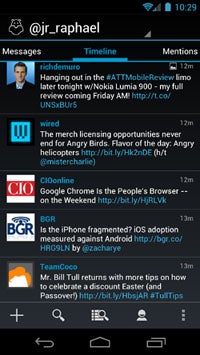 Boid -- a Twitter client for Android phones -- immediately grabbed the attention of the Android community because of its intuitive Ice Cream Sandwich-inspired interface. With most of the veteran Android Twitter apps still stagnating in yesterday's design standards, the sudden appearance of something fresh, innovative, and advancing with the times was impossible not to notice. A UI that worked a year ago just doesn't cut it anymore, and the people behind Boid clearly get that.
Now, Boid is by no means a completed product -- the app is still in alpha mode and sprinkled with unfinished features -- but the groundwork has definitely been laid for something interesting. And perhaps most interesting of all is the story of the people behind the project.
Leading the pack is Aidan Follestad, an eager young developer from Minnesota. Follestad serves as Boid's lead coder, handling the majority of the Java- and XML-based work. He often acts as the app's public face, too, overseeing much of the social network communications and customer support. Oh yeah -- and did I mention that Follestad is in the 10th grade? He's 16 years old.
Follestad is joined by Graham Macphee, 15, who focuses on graphic design and social networking from Scotland; Philip Oakley, 17, who handles the business side of things from the London area; and Federico Zubani, 18, who -- as the eldest member of the quartet -- does graphic design and interface mockups from Italy.
So, yes: The combined age of Boid's four-person team is still younger than Oracle CEO Larry Ellison.
Don't let numbers deceive you, though: The Boid crew is no neophyte in the world of high-tech development. Aidan Follestad actually started programming when he was all of 11 years old. In between his other hobbies -- snowboarding, playing drums, and speaking in Mandarin Chinese -- Follestad taught himself to code on Linux. His most recent project was another Android app called Peeper, which is what earned the attention of his soon-to-become Boid colleagues.
"Philip from my current team emailed me about joining them," Follestad tells me. "Since I had been working on Peeper by myself, I decided to do it because I thought it would make it easier to have other people to [help with] the graphic design and stuff."
Follestad had never met any of the other guys -- he says he didn't even know they were all his age when they started talking -- but their vision for an Android Twitter app impressed him. They sent him a handful of Photoshop-made mockups; he figured he could combine those with what he'd started with Peeper and turn it into something special.
"Before I even joined Boid, I had tried almost every Twitter app in the Market," Follestad says. "Even when I didn't have Android 4.0, none of the Twitter apps felt right ... [and] that pushed me to want to build my own."
Follestad and his crew have some lofty goals in mind. They plan to have a new alpha version of Boid out within the week and a beta version later this month. Their broad goal is to turn Boid into a slick app that excels in beauty, functionality, and simplicity. Specific features on the way include full tablet support with multi-pane layouts, a scrollable ICS-style widget, integration of Google's contact-syncing API, and an option to combine tweets from multiple accounts into a single color-coded list.
Beyond that, the guys are already talking about a bunch of other app possibilities, too -- everything from an ICS-optimized Facebook client to a text messaging utility with full social network integration. (You can view Boid's complete to-do list in the team's public roadmap; it's available -- naturally -- in Google Docs.)
So how does Follestad manage to keep up with all that while also staying on top of his classes? (He's still in high school, remember?) It's simple: He brings his laptop and his Galaxy Nexus -- which he purchased with his own money, he proudly tells me -- to school with him every single day. He says he occasionally gets questions when teachers notice strange-looking code on his screens, but his strong work ethic helps him avoid any academic problems.
"I always do homework before working on Boid," he says.
As for his future beyond Boid, Follestad dreams of one day working as an engineer for Google. It's a lofty goal; Follestad is chock-full of them. If his current success is any indication, though -- I can tell you that his work has already caught the eye of at least a few Android team members -- turning that goal into reality might be more within reach than he realizes.
JR Raphael writes about smartphones and other tasty technology. You can find him on Google+, Twitter, or Facebook.
Article copyright 2012 JR Raphael. All rights reserved.