Apple [AAPL] CEO, Tim Cook is in China attending to business at the moment -- as you'd expect, with that country rapidly transforming into the company's biggest market, with huge scope for even faster future growth.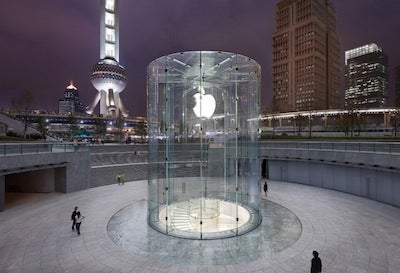 Tim Cook goes shopping
Cook was seen at the world's biggest Apple retail store in Xidan, Beijing, at 11am today. According to one report, insiders claim he's there to chat with Wang Xiaochu, chairman and chief executive officer of China Telecom.
A focus on China reflects yet another significant change in the way Apple operates. While moves to address emerging markets did begin under former boss, Steve Jobs, it took Cook to fully embrace the future opportunity.
Jobs, according to industry whispers, was extremely focused on the US market. Partially this made sense in order to grow the company's heartland, and partly this reflected Jobs' patriotic focus on the US. That meant a string of US-first product and software releases, a situation which began to change once Cook took more overall control before the departure of Jobs.
[ABOVE: It is probably fair to think that any country in which you see fake Apple retail stores probably has a little unmet demand the company can raise its game to meet, no?]
International times
Under Cook, we've seen product and software introductions become more universal. We've seen Apple's new CEO use his command of operational and logistical systems in order to launch hot, hot products simultaneously into myriad markets.
The recent iPad launch isn't just a triumph of consumer-focused tech marketing, it's also an achievement in terms of simply getting the product into all those retail outlets in high secrecy and at the same time.
With Cook in China, it's fashionable in the Apple-verse to speculate on what he's doing there. Here's a few ideas:
-- Cook's there to galvanize Apple staff in China.
-- Cook is meeting with manufacturing partners to insist they improve working conditions, underscoring its Supplier Responsibility Report with a few quietly-spoken words of command.
-- Cook's involved in finalizing the deal to bring the iPhone to China Mobile, a move which will very likely immediately make China the biggest Apple market in the world.
-- Cook may even be trying to reach a peace deal with Proview over that firm's insistence that Apple's broken its trademark on use of the iPad name.
-- Cook could be taking a few moments of quality time with Sharp to find out when Apple will be able to sack Samsung from display production.
-- Cook could quietly be finalizing component deals for future Apple products, such as the mythical Apple television.
All of the above
Whatever the reasons behind the visit it's good to be wary of anyone who says they know the truth. They probably don't. After all, we live at a deeply dualistic time. Perception appears limited to seeing truth in one thing at the expense of another. If we stop to think, we see the world isn't really dualistic. Motivations are usually far more opaque than allowed within the permitted terms of thinking implicit within such myopic vision.
Cook could be involved in multiple discussions across all manner of topics on this trip to China.
China is important to Apple. Not only is it the place where it makes its products, but it is also emerging as the company's biggest global market -- significant given that economic activity in developed markets seems to be retrogressive. Cook's presence in China confirms the importance with which his Apple regards emerging markets.
Growth, growth, growth
Be warned: headline writers may also want to begin planning for Cook's future appearances in other emerging markets: India, Brazil, Russia. You can expect Apple activity in all these regions to upscale in the months and years ahead as the company focuses on the emerging market opportunity.
It's possible that to fully engage with some of these territories, Apple will need to find a way to introduce new breeds of communications device for the pre-paid and the post-paid telecoms markets.
When it does, Nokia and other telecoms manufacturers will truly begin to feel the Apple challenge. Despite the iPhone-led smartphone industry attrition of the last few years, you ain't seen nothing yet. That's because, under Cook, Apple is deeply focused on growth. And no one yet has been able to stop this.
Got a story? Drop me a line via Twitter or in comments below and let me know. I'd like it if you chose to follow me on Twitter so I can let you know when these items are published here first on Computerworld.