Ladies and gentlemen, Samsung's latest and greatest Android tablet has arrived. The only problem: I'm not sure how great it actually is.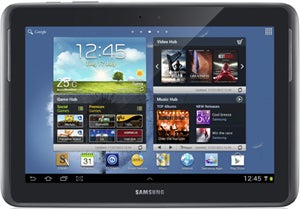 Sammy took the wraps off its Galaxy Note 10.1 tablet at a media event in New York City this morning. (Okay -- technically, Sammy took the wraps off the Galaxy Note 10.1 six months ago, at the Mobile World Congress in Barcelona. But it, erm, introduced it again today.) The Galaxy Note 10.1 goes on sale across the U.S. starting tomorrow, August 16; it costs 500 bones for a 16GB model and $550 for a 32GB edition. No word yet on international availability.
So what's the story with the Galaxy Note 10.1? In a nutshell, it's basically a reworked version of the Galaxy Tab 2 with an added stylus. And that's where I see the potential for problems.
See, the Android tablet market has come a long way since Samsung wowed us with its first Galaxy Tab 10.1 device. The company's second-gen Tabs weren't exactly wow-inducing. And that brings us to the Galaxy Note 10.1.
Gauging by early reviews, Samsung's Galaxy Note 10.1 feels a bit clunky, even cheap, compared to other tablets out there today. Its 1280x800 display is okay but nothing special, particularly when you consider what else is available at the same price or less. The Note utilizes a proprietary charging port instead of a standard microUSB connector. And its software is based on the already-dated Android 4.0 Ice Cream Sandwich OS; Samsung's mentioned a vague promise of an Android 4.1 Jelly Bean upgrade later this year, but we all know about Samsung's upgrade promises.
That software is a real sticking point, too: As usual, Samsung has reworked Google's Android operating system into something else entirely, using the ICS we know as a mere foundation for its own "TouchWiz" vision. TouchWiz tends to add a lot of noise and clutter into Google's recently simplified UI. In the case of the Note 10.1 specifically, we've already seen some signs that the modifications may be affecting the tablet's performance, creating lag and choppiness despite the device's ample under-the-hood power. That's concerning.
The Note 10.1's TouchWiz software does have some interesting feature additions, like the ability to run multiple apps side-by-side on the tablet's screen. But that feature works only with a small handful of apps -- a list that doesn't even include Gmail or the Chrome for Android browser -- so I'm not convinced it'd be too useful in reality.
I think Samsung's biggest challenge with the Galaxy Note 10.1 will be the comparisons: With the launch of its Asus-made Nexus 7 tablet earlier this summer, Google really shook things up in terms of what we expect from an Android tablet. For $200, you can now get a pure Google tablet with outstanding performance and fantastic form. The Nexus 7 ships with an untouched version of Google's Android 4.1 OS and is guaranteed to continue getting future OS upgrades as soon as they're released, making a very compelling proposition -- especially at the $200 mark.
Now, obviously, a 10-inch tablet is going to cost more than a 7-inch device. And Samsung's Note 10.1 does come with some extra touches, like a rear-facing camera and greater storage capacity. But those basics aside, if a manufacturer wants to convince folks to fork over more than twice the cash they'd pay for a Nexus 7, they're going to have to offer something pretty substantial -- a top-of-the-line high-def display, for example, or a wow-inducing form factor. Considering that there are 10-inch Android tablets available with those sorts of qualities, I'm not sure the presence of a stylus -- which Samsung seems to be relying on as the new Note's sole distinguishing feature -- is going to be enough.
But hey, maybe Samsung will surprise me. Maybe using the Galaxy Note 10.1's stylus will transform the tablet experience into something else entirely -- something that's worth an extra $300 over the Nexus 7 experience available today. Make no mistake about it, though: The scales have shifted. For 500 bucks, this thing had better be amazing.
I'll be spending the next several days living with Samsung's Galaxy Note 10.1. I want to see what it's like to actually use the device in the real world, the way a real user would use it. And I'll be brutally honest in telling you the good and the bad of my Galaxy Note experience and whether, all considered, it's a device I'd recommend.
Stay tuned for my in-depth review. In the meantime, check out my list of reasons why Samsung's really dominating the Android game -- I call it "The 3 secret ingredients to Android success" -- and see if you agree.
UPDATE: Samsung Galaxy Note 10.1: To buy or not to buy?