By JR Raphael (@jr_raphael)
Out with the old, in with the new: Google's new Google Play service is slowly making its way around the world, replacing the entities formerly known as the Android Market, Google Music, and Google eBookstore. It's also taking the place of the Books and Videos apps on Android devices.
As I wrote in the hours after Google's Play announcement, the move to Google Play really isn't that big of a deal for most Android users: It's mainly just a branding and service consolidation and doesn't affect much in terms of actual functionality. All those services still work the same way they worked before; they're just now located in a single centralized digital-content hub.
Seems sensible enough, right? And the reasoning behind the change certainly makes sense: Services like movie streaming aren't limited just to Android devices -- anyone can also use them from a PC-based browser -- but when they're lumped into the "Android Market," they come across as Android-only offerings.
So on paper, Google Play sounds like a fine idea. There's just one problem with the whole thing. And it's a pretty big problem:
The name.
No matter how you look at it, Google Play is a godawful moniker for Google's master storefront. Google Play might be fine if the service offered only games. I could even see the argument for Play being tied to music and movies, though I don't think the word immediately brings those things to mind for most people.
But the biggest part of the Android Market -- err, sorry, Google Play -- is apps. And apps encompass a heck of a lot more than just games. I'm going to "play" Business Calendar? Or "play" mSecure Password Manager? Seriously? How does the name "Google Play" make you think of a place to find utilities for your Android phone or tablet? It doesn't. It's confusing, and I can only imagine the befuddlement new Android users will feel when facing their phones for the first time and seeing the new Play-themed icons.
That brings me to the other issue with the Google Play name: the manner in which it's being spread across Android. The Google Play branding will appear on four awkwardly renamed Android services: 
• Play Store, the service formerly known as the Android Market;
• Play Music, the service formerly known as Google Music;
• Play Movies, the service formerly known as Movies;
• and Play Books, the service formerly known as Books.
In other words, if you want to get new apps on your Android device, you'll have to tap on the "Play Store" icon. Yes, Play Store. You might think that's a place where you shop for the latest Lego set or Fisher-Price kids' toy, but no, it's the freakin' marketplace for all Android content. So instead of telling someone to look for a useful program "in the Android Market," you'll now have to tell them to look "in the apps section of the Google Play Store."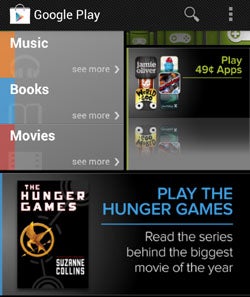 Oy. And I won't even get into the silliness of the phrase "Play Books." You're really going to prompt me to "play" a recent book? Come on, guys -- that just doesn't work.
From a naming perspective, this whole thing is just confusing and counterintuitive. "Play" simply doesn't make sense for the scope of Google's digital content marketplace. Maybe Android Market didn't make sense anymore, either. But how about -- oh, I don't know -- Google Market?
That'd apparently be too sensible of a change. So instead, we've got Google Play. And the Play Store. And Play Music. And Play Movies. And Play Books. It all still functions the same, but it sure does look strange. And newcomers to Android are going to be the most stumped of all.
In the end, of course, we're just talking about a name. The services are still the same. But man, oh man, is that name a shame.    
JR Raphael writes about smartphones and other tasty technology. You can find him on Google+, Twitter, or Facebook.
Article copyright 2012 JR Raphael. All rights reserved.