I hope to attend the Apple [AAPL] launch event in London next week. Held at the same time as its launch party in San Francisco, we're expecting the next-generation iPad, already dubbed as either the "iPad 3", "iPad 2 HD" or even, "iPad HD". We've talked about what to expect before and we will learn what it's called in a few days, meanwhile here's a few nuggets of recently-disclosed information.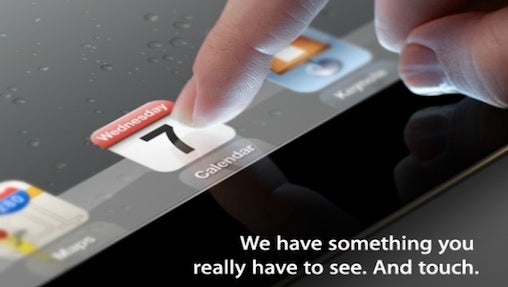 Supply won't meet demand
Apple's products are popular. Really popular. And, while you have Amazon's Kindle Fire scooping up the low-end market, and a few poor-quality Android also-ran's fighting for the mouse's share of the so-called 'tablet market', it makes sense to expect supply of the new iPad won't meet demand.
Apple's Modus Operandi (M.O.) to deal with this is to stagger the product's introduction territory-by-territory over the weeks following the US launch.
This means Apple-watchers in some countries must expect delay, and also inevitably makes for a healthy gray market, as Apple-anxious folk in some countries pay silly money just to get their eager paws on the new device. That's traditional.
While this is a problem most Apple competitors can only dream of ever facing as their cerebral cortex tries to process the grim reality that when it comes to building a presence in the post-PC age, their creations so far might as well ship with a big 'L' for 'Loser' on the box, for Apple it's a dream, but you can always dream bigger, which leads to...
The iPad 2
We're seeing signs that retailers are attempting to reduce their iPad inventories. The product's price has been reported as dropping by $50 in some places, and this seems set to continue.
Meanwhile strong rumor persists claiming the company intends offering up two models: a cheaper iPad 2 that's pretty much identical to the existing unit, and a new model equipped with a high-res Retina Display, faster processor and incredible graphics. That's why we'll want to 'see and touch' the device, as advised on the company's media invitation (above).
What does this mean to those competitors still suffering the PTSD-style symptoms of denying their own tablet market invisibility?
With Amazon devouring the low-end with its heavily-subsidized touch tablet and Apple creeping into lower price brackets with a cheaper iPad 2, other tablets will remain gathering dust in the warehouses of those retailers unfortunate enough to have purchased bulk quantities of the things, pending their inevitable return to manufacturers and dispatch to land-fill.
This would be a shame if any of the products were especially interesting or innovative in any way. This isn't the case, so their fate is of no great consequence to technological evolution or planetary DNA.
The future
With billions banked and 55 million iPads shipped so far, there's little to limit what Apple can deliver in tablet form in future.
The only barriers to future evolution will be component costs, technological limitations, battery life and the like.
This is why today's viral iPad video is so enticing. It's premise isn't so far-fetched:
Why shouldn't two iPads carry an active intelligence in order to create one big playing screen for gaming?
What's in the way of the inclusion of pico projectors?
In future as component costs shrink and technology advances, why not think about holographic projections of active game parts -- think Princess Leah in Star Wars.
All of these things are possible, assuming technological reality doesn't intrude.
Siri and the cloud
Don't be surprised if iTunes Match is suddenly extended to include movie purchases, specifically from studios owned by Disney and News International. Don't be surprised if Sony holds out on such a deal as it attempts to introduce its own end-to-end connected solution. And don't be surprised if some of the big movie studios attempt to embrace Google's doomed media sales engine (Google Music), before running back to iTunes once that service inevitably fails.
Later this year, most likely around September, you can expect TV show subscriptions and streaming for the Apple TV. I say September because I see this as the latest logical launch point for such services, if they happen this year, if they are introduced at all.
Also in the more long-term frame, look forward to a little more diversification, as the company launches the Siri-powered device (or potentially licensing framework) of the iPod Auto, or iPad Auto.
iPad Auto 
This 7-inch device (and this is speculation) will fit inside a compatible car dashboard and offer a complete end-to-end media solution for drivers. You'll run your in-car entertainment system from this thing, the kids will be watching some Pixar movie in the back while the device delivers driving directions and handles your communications at the front.
In-car entertainment will be next year's engine for clamor and speculation as Apple prepares to further invade new markets. Success in which is virtually guaranteed while we wait for some firm somewhere to find itself a spiritual and product design leader to match the likes of Jony Ive or Steve Jobs.
Until they do find such genius, and until they focus on the user rather than Apple, their shareholders, or each other, then the iEmpire will continue to grow. Though, like every empire, complacency is not now and never can be an option.
Signing-off, I'd like to apologize to regular readers for the lack of musings in the last week. I won't go into any details here, but a family bereavement means I'm likely to be AWOL from time-to-time across the next few weeks. Though I'm clearly watching what is going on while I deal with the consequences of our family's loss.
Also read:
The crazy Apple rumor guide to iPad 3
The crazy Apple rumor guide to iPhone 5
Got a story? Drop me a line via Twitter or in comments below and let me know. I'd like it if you chose to follow me on Twitter so I can let you know when these items are published here first on Computerworld.