We're in the final few hours before Apple [AAPL] is expected to unveil its all-new iPad. We've been writing about the product for months now, but here, in all its glory, is your cut-out-and-keep iPad rumor guide, including all the latest information.
[ABOVE: The presidential iPad...] 
Shipping now
Word from China claims Apple has acquired a huge percentage of the country's export capability. Lines of distribution are so packed with that company's products now other firms are having difficulty getting their products out of the country, and have been for a week or two. That's a pretty strong indicator that when Apple lands its iPad it intends launching the device at around the same time, with international roll-out in some key territories -- will we see the new device in the shops by the end of the week? Let the queues begin.
It's a love thing
According to Reuters, Apple has already shipped 55 million iPads, and this seems set to grow exponentially on the release of the new SKUs. Nearly one-third of mobile Web users told ad network inMobi that they intend purchasing Apple's third-generation iPad. 44 percent of these wouldn't even consider another brand of tablet. (I won't dwell on the competition in this space being toast). "The analysts" already expect Apple to shift its 100 millionth tablet this year. Oh, and it's pretty likely there won't be enough of the new device to go round, as display production has been more of a problem than expected.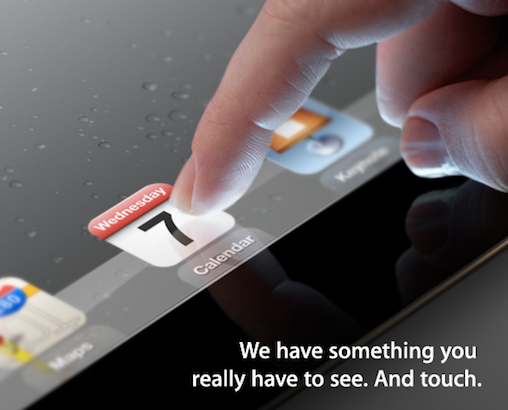 What's it gonna be called?
The jury's out, but the intensity and frequency of most recent speculation makes me think it likely this release will be dubbed the "'iPad HD'. This leaves the door open for Apple to offer versions of its existing iPad 2 (at lower price points) while also providing a faster, more graphically intense iPad HD, twinning this with professional apps, such as, oh, I don't know: Microsoft Office and Final Cut Mobile, perhaps? Oh, and the iPad HD seems set to make an even bigger dent in corporate America.
What will we get?
The potential features of the device are already much-traveled ground for bloggers, analysts and media outlets large and small. Here's what you can definitely expect:
-- A faster processor, possibly the A5X, rather than the quad-core A6 chip I'd been expecting.
-- A better screen. A so-called Retina Display capable of full 1,080HD. Purty. (And offering 2,048 x 1,536 pixels, according to MacRumors).
-- A super camera: After all, you want a decent-quality HD-savvy 8MP camera if you're going to make nice, crisp HD video on your iPad HD. Does anyone remember Flip?
-- Graphics to die for. Well maybe not die for. Feel pretty pleased with, I guess. To enjoy, I suppose. But definitely better -- thanks to new graphics advances from Imagination.
Yeah, but what about 4G?
I know most people reading this are in the US, and I recognize that in some small but vocal areas of the US 4G (LTE) networks are already being deployed by some carriers. LTE is also available in some key external markets, but as I've said before, it isn't yet a universal commonplace the world over.
A recent 9to5Mac report claimed that Apple intends offering three varieties of the device, suggesting this means LTE-enabled iPads will be made available, but don't buy 4G on strength of that -- check the deployment situation in those places you are likely to use your shiny, hopefully rubber-clad new Apple tablet. You may not need it (yet).
LTE will be far more widely available at the end of 2012, beginning of 2013. This means that, despite its promise, LTE support shouldn't be seen as a deal-breaker, yet.
Will it be thinner, or thicker?
I don't know. All the reports I've seen are equivocal. I can imagine the LTE model might demand the iPad be a little thicker (we're talking in millimeters), not just for the LTE radio but also for the additional battery life required to run 4G. This could also mean 4G iPad users may complain of comparatively poor battery life (though only in comparison to non-LTE iPads). Apple may deploy a Thunderbolt connection in this new iPad.
Will it support NFC?
I don't see huge immediate purpose in such support being enabled at this time. In future I can imagine it, in order that retailers be able to use their iPads to take payments from NFC-enabled devices. Take a look at this solution from Square to get an idea of how this might work. It is possible NFC support will be built-in, though, as the company attempts to seed the market with potential payment terminals pending introduction of the iPhone 5. (Take a look at this info graphic for a few ideas of why NFC may matter).
Siri?
Siri is in beta. Siri is in beta. Siri is in beta. Just ask Siri -- it will tell you (probably, if the servers are available).
This means:
It will be improved in future.
That it doesn't always deliver.
That it is constantly learning. 
I'm expecting wider support for local searches to be introduced, perhaps in conjunction with the iPad launch. I'm also predicting a new version of iTunes will appear magically in the next hours (or at some point prior to when the device hits the shops if there's a slight delay) to support the new iPad and to implement other enhancements in Apple's world-leading intelligent assistant. Drop me a line when it appears.
I'd certainly like Siri to be an element to the new release. Though as I often say during those many laugh-a-minute dinner parties I'm so constantly invited to, "If wishes were stars, the night would be brighter than the day".
Apple TV
An Apple TV? Probably. An Apple television? Not yet.
Also read:
Viral video hints iPad 4 as Apple iPad launch looms
The crazy Apple rumors guide to iPad 3
Got a story? Drop me a line via Twitter or in comments below and let me know. I'd like it if you chose to follow me on Twitterso I can let you know when these items are published here first on Computerworld.