Here are some tips I've picked up from the manual, the Web and, yes, hours of playing with -- I mean testing -- my new Nexus 7 tablet running Android 4.1 "Jelly Bean":
How to . . .
Take a photo. Sounds simple enough ... except there's no camera app by default on the Nexus 7. So that means the camera only activates when you're using an app that needs it, such as with a Skype video chat. However, you've got a couple of options to if you want to take a snapshot with the Nexus front-facing camera. One is to download the free Camera Launcher for Nexus 7 app from MoDaCo; another is to use the popular Instagram app, which was just updated for Nexus 7. Just remember that at 1.2M resolution, your photos will often be less than stunning; not to mention that it's tough to take a photo of anything besides yourself using a front-facing camera in a tablet form factor.
Want to save or share what's on your screen? Press the volume down and power keys for a couple of seconds and the Nexus 7 will snap an image of your screen. An icon for that image will then appear in your notification bar with an option to share it, so you don't need to flip back to the gallery to access it. (see images at left)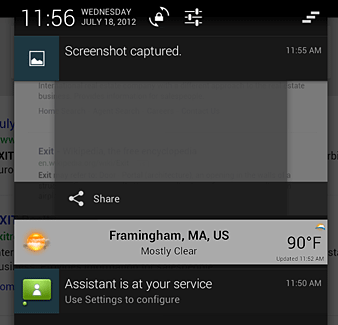 Take a snapshot of your screen.
Use your face to unlock your tablet. Tired of having to swipe your screen to unlock it, yet you're keeping your tablet at home so don't need the security of a password or PIN? You can set up biometric face unlock in Settings -> Security -> Screen lock.
Get quicker access to Google Now. While there's no press-and-hold button to get to Google Now, you can swipe up from the bottom center of any screen to immediately head to the Google Now screen.
Voice activate search. Once the Google Now screen is open, if it's too onerous to tap the microphone button to speak a command, you can just say "Google" and the Google voice search input screen appears.
Learn what Google Now can and can't do. Google Now is pretty slick in fetching and parsing general information available on the Web: "Will it rain today?" "What's playing in the Framingham Premium cinema?" "Nearby Japanese restaurants?" "Translate 'Where is the nearest ATM' to Italian". It's also a really nice way to open websites without having to type in URLs or look through bookmarks. If I say "open computerworld.com" I head to the Computerworld homepage; "go to blogs dot computerworld dot com" sends me to our blogs front page.
However, it's not so useful in acting as a Siri-like personal assistant to manage your calendar -- in fact, as far as I can tell, it doesn't deal with your calendar at all, although it does set alarms. It will also send email for you by voice command, but you'll save yourself some frustration if you learn the preferred structure:
"Send email to subject message "
You can send an email to yourself with "Note to self ".
If you want an app that will set appointments, check your calendar and open apps, try the Assistant from Speaktoit. I've got mixed success having it check for upcoming appointments, since I use multiple Google calendars and it only looks at one. It does a reasonably good job of adding events as long as I remember to just say the phrase "add event" and then let it ask me questions about the event name and time (and make sure to say an ending time as well as start time, because it doesn't default to a particular length). Or, if you can remember the format "add event to it works all at once. However, if you say "add event to calendar," it thinks you want to add an appointment called "to calendar."
Also unlike Google Now, Assistant will open apps for you, which can be handy if you've got a lot of apps on multiple screens.
Create and use email shortcuts. Do you often write the same thing over and over in email responses? If so, you can store a number of different message texts and then call them from a menu. To set this up, click on the menu within the email app to get to Settings and then choose a specific account. You'll see an option for "Quick responses." Choose that and then "Create new," and then save what you've written.
To use one of your saved quick responses, click on the email menu while composing a message (it doesn't actually have to be a reply, it can be any email you're writing), choose Insert quick response and then tap the one you want.
Monitor battery use. Go to Settings -> Battery and you can see what apps and processes have been using the bulk of your battery life.
Rotate screen from portrait to landscape. My Nexus 7 arrived with screen rotation disabled, so I went to Settings -> Display ... but there was no way to enable rotation. It turns out that you've got to swipe down from the top bar to access the notification pulldown "shade," then tap the little icon with the lock and arrows around it.
Access the Nexus 7 manual. If you're an Android power user and quickly rearranged your Nexus 7 home screen away from its Kindle-Fire-like emphasis on purchased content, you might have missed the items already sitting in the included Play Books app: the Nexus 7 Guidebook. Load up Play Books and you'll find it.
Want more on Google's new tablet? Check out: Nexus 7: Video and first impressions.