Apple [AAPL] today released a developer preview of the next version of OS X, 'Mountain Lion'. Scheduled for release to the public later this year, the new OS signifies another huge step toward bringing iOS and OS X together, closing the gap between the firm's mobile devices and its computers.
[ABOVE: Two become one: There's an iOS future for the Mac.]
ADHD
Some cynically-minded souls may feel that the announcement will serve to take some of the attention away from the two big issues clogging up Apple PR in-boxes today: worker rights in China and the furor over user privacy on iOS devices. Despite the timing of the news, the announcement still hints at the company's plans to integrate both its operating systems.
Mountain Lion is the ninth major release of the OS, and "brings popular apps and features from iPad to the Mac," the company explains.
"The Mac is on a roll, growing faster than the PC for 23 straight quarters, and with Mountain Lion things get even better," said Philip Schiller, Apple's senior vice president of Worldwide Marketing, in a press statement.
The feature list looks pretty promising, introducing as it does a host of popular iPad apps to the Mac.
Nice things for end users include a Messages app, Notes, Reminders, Game Center, Notification Center, Share Sheets (these make it easy to share links, photos and videos directly from Apple and third party apps), Twitter integration and -- very likely to become hugely popular, support for AirPlay mirroring.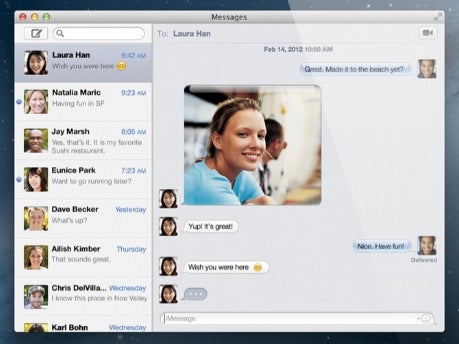 [ABOVE: Messages on a Mac.]
Get the messages
Available now in beta, the new Messages app replaces iChat and lets us send unlimited messages, high-quality photos and videos directly from our Mac to another Mac or iOS device. It supports AIM, Jabber, Yahoo! Messenger and Google Talk. Lion users can download the beta software right here. The final version will ship with Mountain Lion in late summer.
For developers, Apple is introducing a host of API's which promise new levels of gaming and multimedia excitement. These include new access to new core technologies within the OS, with a particular slant toward games development:
-- The Game Kit APIs tap into the same services as Game Center on iOS, making it possible to create multiplayer games that work across Mac, iPhone, iPad and iPod touch.
-- A new graphics infrastructure underpins OpenGL and OpenCL and implements GLKit, first introduced in iOS 5, to make it easier to create OpenGL apps.
-- Using Core Animation in Cocoa apps is easier than ever.
-- New video APIs deliver modern 64-bit replacements for low-level QuickTime APIs.
-- Enhanced Multi-Touch APIs give developers double-tap zoom support and access to the system-wide lookup gesture.


If you read between the lines, you can expect new Multi-Touch elements for ordinary joes, and a gaming experience on a Mac that's equivalent to that of an iOS device -- and even lets you AirPlay stream the action you are enjoying across to your television using an Apple TV, or, of course, an Apple television. Which could be pretty cool, I think.
[ABOVE: Do you hear the sound of 100 million users improving their Apple ID passwords?]
Cloud, cloud, cloud, cloud, cloud
The other big news in the release is that its build for iCloud, so you can easily set-up and use your apps. Does this suggest Apple may also enable use of some iOS apps on the Mac? That's hard to predict, but perhaps some kind of cross-implementation is possible.

With over 100 million iCloud users already, Mountain Lion uses your Apple ID to automatically set up Contacts, Mail, Calendar, Messages, FaceTime and Find My Mac. Documents changes are pushed to all your devices so they are always up to date. Developers will get APIs to make their apps work with iCloud.

The evolution of cloud-based services also implies an evolution in security preparedness.
That's why the release includes Gatekeeper, a security feature that gives users total control over what apps are installed on your Mac. Apple's phraseology is interesting, as the company says:
"You can choose to install apps from any source, just as you do on a Mac today, or you can use the safer default setting to install apps from the Mac App Store, along with apps from developers that have a unique Developer ID from Apple. For maximum security, you can set Gatekeeper to only allow apps from the Mac App Store to be downloaded and installed."

Does anyone else recall these claims? Is this about security, or about control?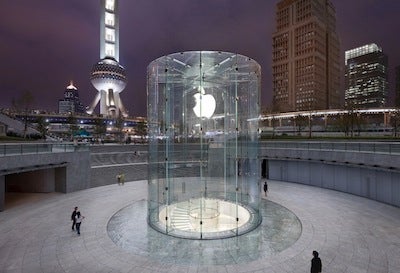 AAPL hearts China
Of course, Apple remains finely focused on its expanding Chinese market.

That's why this release includes a host of improvements for Chinese users.
These include significant enhancements to the Chinese input method and the option to select Baidu search in Safari. The system also supports Chinese services, QQ, 126, 163, Youku, Tudou, and Sina weibo.

One thing is significant for its non-inclusion within the Mountain Lion feature list: Siri. Only this week, Apple CEO, Tim Cook described both iCloud and Siri as "profound".
[ABOVE: A trip down the Mac OS memory lane.]
Siri for Mac? Surely that's inevitable?
Given that Apple has openly said it intends supporting iCloud in the next Mac OS release leaves us in an open season for speculation as to the inclusion of Siri voice assistant services on future Macs. On this I will only state: "Come on, this is inevitable, assuming Apple can improve server capacity sufficiently to accommodate the additional use, and that the software emerges from beta unscathed."

The preview release of Mountain Lion is already available to Mac Developer Program members. Mac users will be able to upgrade to Mountain Lion from the Mac App Store in late summer 2012.
Got a story? Drop me a line via Twitter or in comments below and let me know. I'd like it if you chose to follow me on Twitter so I can let you know when these items are published here first on Computerworld.