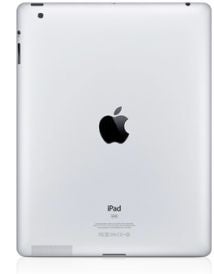 The iPad 3 release date is rumored to be later this month, as new images appear of the casing. This gives new clues as to Apple's (NASDAQ:AAPL) plans for what some are calling iPad HD. In IT Blogwatch, bloggers corral the rumors.
[Updated (yet again) with the non-nerd, shopping 'n' shoes viewpoint]
Your humble blogwatcher (@Richi Jennings) curated these bloggy bits for your entertainment. Not to mention: For a moment there, I thought this was today's Google Doodle...
    The anonymous RepairLabs gnomes breathlessly blog below:
[T]hanks to industry insiders in China..we are able to tell you just what to expect when Apple announces the iPad 3.

..

You can see here that the mounts for the logic board are very different..allowing for more battery. .. [We] can expect..a different camera on the iPad 3. .. [The] different mounting does mean that the LCD has been redesigned. .. [But] our insiders tell us that..the screen..has not been signed off or that it is being kept top secret.   
    Joshua Topolsky has his own sauces:
[M]ost of what the image shows lines up with news we've been hearing from our sources. .. [The] new iPad will be touting..a true iPad Retina Display, clocking in at 2048 x 1536..but the slate will be about one millimeter thicker [and] will include a significantly more powerful GPU.

..

What is surprising, however, is that our sources say that the A6 will not be a quad-core.

..

As far as timing goes, everything we've heard thus far suggests that a February announcement is not happening. .. [But t]here are 29 days in February this year..and the 29th falls on a Wednesday (the day on which Apple has announced every..iPad).   
What Anthony Tsai is saying here seems a little lost in (Google) translation:
But security or to share with everyone the different points of the diagram in order to let to this all day waiting for friends disappointed that foreign websites have PO iPad3 back cover of the map this is foreign Web sites certain foreigners in private to me Figure asked me to forward everyone has seen the inside of iPad3 behind the map, but the back of the following figure you can see iPad3 on the back actually looks almost with iPad2 originally thought the facelift friends really disappointed following another iPad3 magnet picture know iPad3 is also not too changes with the iPad2.   
Mark Gurman plays Sherlock:
[The] processor is codenamed "S5L8945X," and it comes out of Samsung, who is busy working on both dual and quad-core processors for its own devices.   
Voice-of-reason Christina Bonnington says:
We know, we know — Apple rumors should be taken with a grain of salt. However, these spec changes seem to jive with other purported hardware upgrades that have been floating around the web as of late.

..

Some believe the iPad 3 will be a millimeter or two thicker..but the latest leaked photo offers no solid evidence. .. But over all, we'd expect a new iPad not to look drastically different. .. In other words — if it ain't broke, don't fix it.   
But Apple B!tch is frustrated that we don't know everything now:
[It's] disappointing..that the photo shows very little. .. [They] didn't take the time to take a picture..that would offer a glimpse as to any thickness or shape changes in the new device.   
Drew Olanoff casts a cynical eye on the accelerating rumor-mill:
As we move closer to an official announcement of the iPad 3, expect a huge number of rumors and speculation to start swirling about other features that may or may not come to fruition.   
And Matt Peckham pecks at his keyboard similarly:
Where would we be without Apple rumors, leaks, and shameless speculation? Probably calmer and better informed.

..

I'm not going to join the hordes and speculate on the March arrival of the iPad 3 (or not). .. Then again, all we really have here are a couple of..sites putting up pictures and making allegations without clear sources.   
Meanwhile, Jonny Evans gets clever:
All the smart money now sees [it] set for launch in the first week of March..most likely..at the Yerba Buena Center..the venue website reveals that it will be operating no exhibition..on March 7.

..

[We've] also seen the resurrection of some claims [it] may also be made available in a 7-inch model. .. [The] inclusion of Siri..does appear ever more likely..[which] would also require a new version of iOS to accompany the release.

..

It's open season now, speculation is rife.   
And Caroline Gallay wonders if she should have one in her life:
I didn't buy the iPad because..it would be best to let Apple work out the kinks. .. I didn't buy the iPad 2 because one of my sale sites had a flash sample sale. .. So here we are. The third iteration.

..

Retina Display..might not mean much to me, since (#trueconfessions) I can't even tell when my television is..on HD. .. [But a] glossier virtual magazine-reading experience AND better airport movie-watching? Count this girl in.   
   And Finally...
For a moment there, I thought this was today's Google Doodle...
  
 
Don't miss out on IT Blogwatch:


Richi Jennings is an independent analyst/consultant, specializing in blogging, email, and security. He's the creator and main author of Computerworld's IT Blogwatch -- for which he has won American Society of Business Publication Editors and Jesse H. Neal awards on behalf of Computerworld. He also writes The Long View for IDG Enterprise. A cross-functional IT geek since 1985, you can follow him as @richi on Twitter, pretend to be richij's friend on Facebook, or just use good old email: itbw@richij.com. You can also read Richi's full profile and disclosure of his industry affiliations.