Idiots, the world is full of them and sometimes that includes stupid social media hackers. Poor password practices allow Twitter accounts to be compromised every day, but yesterday several high profile Twitter accounts were hacked, Ashton Kutcher, the Huffington Post, and actor Eric Stonestreet. What makes this interesting is the degree of stupidity committed when hijacking Kutcher's account . . . at the very least, tweeting via a FourSquare check-in would be consider a dumb hack.
Ashton Kutcher is known to many people as the star of Dude, Where's My Car?, That '70s Show, Two and a Half Men, and as Demi Moore's husband. After the breakup with Moore, Kutcher is rumored to be in a romantic relationship with actor/singer/screenwriter Lorene Scafaria. Kutcher has over 9 million followers on Twitter and the alleged "new" relationship is what the hacker focused on to cause havoc. Of course all of the fake tweets have been deleted, but Ashton Kutcher (@aplusk) had both his FourSquare and connected Twitter acounts hacked. Those deleted false tweets were preserved and posted on Celebrity Tweet which has the classy tagline of "Stalk Celebrities on Twitter!"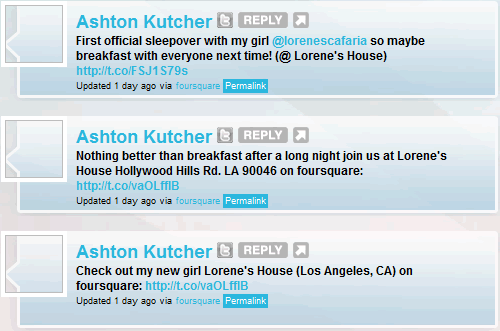 No you can't find her house with the above links as they were deleted. While the hacker may have thought tweeting locations to Kutcher's alleged new love interest was clever, the hacker was not bright enough to realize his or her own location was broadcast via FourSquare. It took Kutcher about six hours to realize his accounts were compromised, but then he tweeted:
Those tweets have also been deleted, but Kutcher's one warning remains. Whoops, it seems the not-too-smart social media hacker may be about to be Punk'd.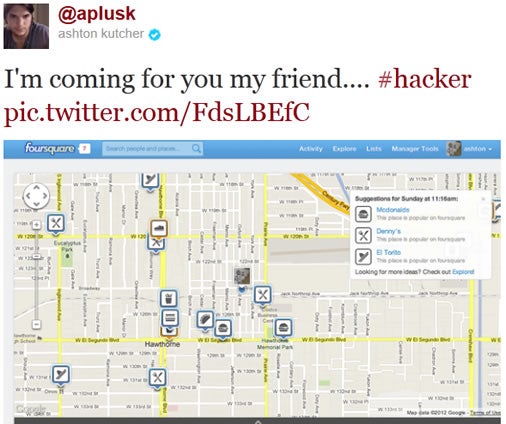 It's certainly not the first time Kutcher's Twitter account has been compromised, but as an angel investor in many tech projects including Foursquare, it's unknown if this hack might be additionally embarrassing for him. As seen by his quick cyber-sleuthing of this hacker, he's generally clever. Softpedia reported that Kutcher implemented a sneaky promotion for FourSquare in an episode of Two and a Half Men where "Kutcher plays an internet billionaire who sold his company to Microsoft." In one episode, "his laptop is plastered with stickers from startups, several of which he's an investor in. Stickers for Foursquare, GroupMe, Hipmunk, Chegg and Flipboard are visible. Kutcher has invested in Foursquare, Hipmunk and Flipboard."
As for the other 'high profile' compromised Twitter accounts yesterday, after a hacker tweeted lame comments, @HuffingtonPost tweeted an apology, "Sorry about that, Twitterverse! We know we've been hacked and are working to resolve the issue as quickly as possible."
Stonestreet, an actor who plays Cameron on ABC's Modern Family, discussed his hacked Twitter account while on the Golden Globe red carpet. According to Zap2it, Stonestreet told Ryan Seacrest that he didn't know his Twitter account was hacked and promoting diet pills until followers "started tweeting to ask him if he took the diet pills himself." When Seacrest asked what could be done about the hacker, Stonestreet replied, "Hunt him down and punch them in the face. Just kidding." But @ericstonestreet tweeted, "my account was hacked. but any of you that took that as a chance to be a d**k can kindly see yourself out the door."