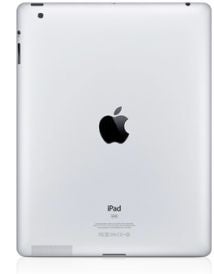 Will the iPad 3 release date be this quarter? Yes, according to sources at CES 2012, who also blabbed about its specs and features. There seem to be few external changes, so, in IT Blogwatch, bloggers wonder if it'll be called the iPad 2S.
[Updated: New news about Retina display sourcing, as Sharp fails to make the grade, reportedly]
Your humble blogwatcher (@richi ) curated these bloggy bits for your entertainment. Not to mention: Fast Food - Ads vs. Reality...
    As Jeremy Horwitz muses, you might have already seen it:
I'd show you a picture, but there's..nothing to be seen..you could walk past this new iPad..and have no idea that anything had changed.

..

[C]ompanies believe Apple will announce in the next two months..the next iPad..[which] look[s] basically the same—apart..from the screen. .. [The] changes are so modest that Apple could easily call [it] the "iPad 2S" or "iPad 2HD".

..

[E]very company I've asked about the next iPad seems to think [this] is correct. .. [At] 2011 CES, [we were] the first to show pictures of a nearly final iPad 2 shell..virtually identical to what was announced. .. This year, the smart money is on [it being faster], but with [an] improved..screen and cameras as a paramount focus.   
James Isabel refers to Horwitz' tweets:
[He] goes on to say that [it] will be sold alongside the current iPad 2 with a new lower price. Apple's answer to Amazon's Kindle fire? You bet!   
But Luke Johnson passes the condiments:
[The] lack of photographic evidence and unabashed openness with which this..is being banded around would suggest you take it with a hefty pinch of salt.   
As does Adam Bunker:
[It's rumored to] have a much higher resolution and may garner the 'Retina Display' branding.

..

[But] then it gets weird: Horwitz claims that Apple will add a millimeter of thickness [which] has never been Apple's style. That..on top of the fact that all of this is salt-pinchingly vague, leads us to be highly skeptical.   
And Ben Reid reads between the lines:
[It] certainly bode[s] well for accessory owners, whom can often fork out a small fortune for cases and docks. .. [O]nly cases made with utmost precision will not fit.

..

After persevering with sub-par cameras..iPad users will now get a snap-shot experience..on par with the wonderfully crisp images taken on..the 8-megapixel cam found on the iPhone 4S.   
Meanwhile, Joshua Schnell isn't swayed by past performance:
We're skeptical, but we were also skeptical last year.

..

[But] unlike last time, [it] feels a little bit more like a ruse.   
Update: Lee Hyung-soo has new news about Retina display sourcing:
Samsung Electronics and LG Display will supply LCD panels for Apple's iPad 3. .. Sharp was originally known to be [competing] but reportedly failed in initial supply.

..

Apple plans to soon unveil its iPad3 equipped with..a high resolution of XQGA(2048×1536). .. It is reported that Apple has started production..through OEM supplier Foxconn in China.

..

Sharp has competed..over the development of display panels..but reportedly failed to pass Apple's approval process for mass production. .. Apple plans to procure at least over 65 million LCD panels for iPad3 this year.   
   And Finally...
Fast Food - Ads vs. Reality
[hat tip: Ian Lamont]
  
 
Don't miss out on IT Blogwatch:


Richi Jennings is an independent analyst/consultant, specializing in blogging, email, and security. He's the creator and main author of Computerworld's IT Blogwatch -- for which he has won American Society of Business Publication Editors and Jesse H. Neal awards on behalf of Computerworld. He also writes The Long View for IDG Enterprise. A cross-functional IT geek since 1985, you can follow him as @richi on Twitter, pretend to be richij's friend on Facebook, or just use good old email: itbw@richij.com. You can also read Richi's full profile and disclosure of his industry affiliations.