Sure, now that I've finally gotten comfortable with Lightroom 3, version 4 is on the way.
Adobe today released a free public beta of Lightroom 4, featuring two new modules, a more capable editing brush, changes to basic editing sliders and more robust video handling.
The beta, available for download now from the Adobe Labs website, will be functional through March 31. You don't need to have a prior version of Lightroom in order to use it, just a (free) Adobe account.
Happily, when I launched Lightroom 4 I wasn't confronted with an entirely new navigation interface like, say, the Microsoft Office Ribbon (don't get me started...). Anyone should be able to easily start using LR 4 if they're familiar with an earlier version.
Here are some changes worth noting:
* The sometimes confusing "Recovery" and "Fill Light" tools have been changed and renamed to a more straightforward Highlights and Shadows. They appear to work much more subtly, affecting only light and dark areas of a photo respectively. In addition, these new sliders start at a midpoint to be dragged to the right for lightening or left for darkening. The old Recovery and Fill Light started at 0 on the left and could only go one way to increase their effects.
* The adjustment brush has more options, including highlight & shadows, sharpness, noise, temperature and tint. This makes it easier to change just a portion of an image, such as sharpening the eyes in a portrait without also sharpening all the imperfections in your subject's skin.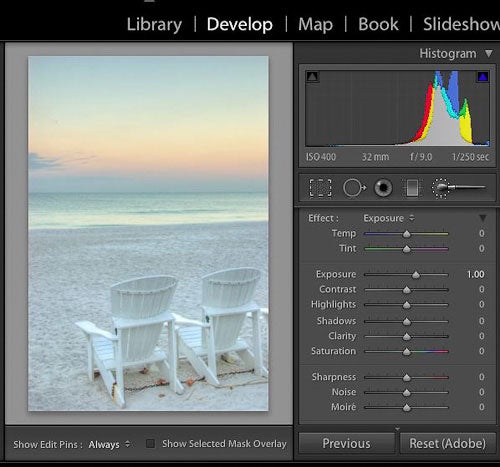 Adjustment brush. Lightroom 4 beta
You still won't mistake Lightroom for an application like Photoshop CS 5 that can perform high-end, very granular edits; but it's nice to have another quick-edit task that can be performed without having to move out of Lightroom.
* Soft proofing is built into the main editing module, Develop, making it easier to tweak images for output to a specific printer.
* Videos can be trimmed within Lightroom and globally edited for things like white balance, exposure and tone.
Video editing in Lightroom 4 beta
There's an option to "set poster frame" so you can choose the thumbnail that shows for a video, and you can export videos directly to Facebook and Flickr (although not, alas, to Vimeo).
* A new Map module pulls up a version of Google Maps so you can view your photos by location (note: Internet connection required). The map is autopopulated with your photos by location if your image files have been geotagged.
New Map module, Lightroom 4 beta
No geocode info in the file? You can search for a place on the map and then drag your photos onto it -- not all that useful for a weeks-long cross-country roadtrip, perhaps, but nice if you come back from a day shooting at specific spot. You can also save locations for later use, making it quicker to tag by place next time. There's an option to keep location data private so it's never exported when you move your files out of Lightroom.
I can't say I'm quite as jazzed about the new "book" module -- I tend to upload to a site like Kodak or Shutterfly if I'm printing a photo book -- but I might give it a try considering the option to print to PDF and share. Printing hardcovers is in partnership with Blurb.
In a live webcast at kelbytraining.com, Lightroom product manager Tom Hogarty cautioned testers not to import an existing catalog into the beta and not to save metadata from the trial version to your image files (unless you're working on test copies of the actual files). This is, after all, a beta.
There's no word yet on when the final, production Lightroom 4 will be available or how much it will cost, either for new users or those upgrading.
For more details on the beta, I'd recommend heading over to the National Association of Photoshop Professionals' Lightroom 4 beta launch center as well as Adobe's Lightroom Journal blog. If you've got half an hour or so to invest, Photoshop podcaster Terry White has a video going over many of the beta's new features.
Sharon Machlis is online managing editor at Computerworld. Her e-mail address is smachlis@computerworld.com. You can follow her on Twitter  @sharon000, on Facebook, on Google+ or by subscribing to her RSS feeds:
articles  | blogs .