In "The New PC Era: The Personal Cloud" (2012), Gartner reports that the combination of the shift from personal computers to mobile devices and the adoption of cloud computing is ultimately leading to a "personal cloud era" that will shift the focus from individual devices to services.
I believe this is spot-on, and the importance to collaboration solutions cannot be overstated. For example, Constructech's 2011 IT Playbook had already found that 81 percent of the contractors polled listed smart phones/PDAs as the devices most used to complete a mobile task in the field. Now, with 4G speeds coming of age, with new public cloud services coming online seemingly every day, and with the movement of even mission-critical applications to secure cloud services, how mobile workers accomplish their tasks is changing dramatically.
Here are five collaboration areas where mobile access is dramatically simplifying and accelerating tasks.
1. Information in and out. Whether a mobile worker is obtaining information via access to internal systems, a SaaS service, or even a standard web search, access today is far faster and easier, and the information is more usable once it's obtained. Perhaps even more important is that sharing information is equally easy. There's email and messaging, of course, but with today's mobile devices, workers can also tap directly into collaboration systems enabled for mobility, so any information added to the system is immediately available anywhere and to anyone who needs it.
2. Photos -- worth a thousand words and more. Taking and sharing photos with a mobile device is not just about posting on Facebook. In the field, it's now possible for inspectors (of power lines or construction job sites, for example) to identify an issue, snap a photo, and share it with the right people via the right application anywhere in the world with a couple of clicks. Just a few years ago, the same workers had to bring a camera along, take the photos, plug the camera into a computer, sync, find the photos on the computer, create an email, attach the photos, and click send. And at the time, we really thought this was the height of efficiency!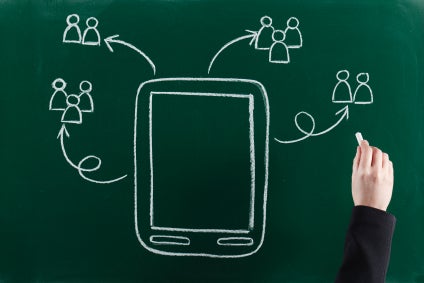 3. QR codes for immediate access to information.  Field workers in communications, energy, healthcare, construction and more can be inundated with systems and devices from different vendors. Few people can hold all the applicable specs and instructions they might need for any situation. A few years ago, they didn't have many choices. They could carry around a massive binder and hope the key documents hadn't gone out of date or been removed, or they could call into a support center and wait in a queue for someone to talk to. Not anymore. With QR codes, each system and device can be tagged, and with one click of the mobile device, field workers can immediately access specs, instructions, alerts and more, or even be automatically entered into a workflow designed to solve specific problems.Img Caption
4. Voice-capturing notes in real time. We've had small, portable tape recorders for decades, and even smaller digital voice recorders for several years now. But even the digital recording files were cumbersome to bring into enterprise systems where they could be tagged, searched, and converted as necessary. Today, however, thanks to mobile devices, voice recordings, such as customer service interviews and warehouse inventories, can easily and immediately become an accessible element of a collaboration system.
5. GPS -- or "Wherever you go, there you are." Wherever this quote originated, it gets to the heart of the GPS revolution. From finding your way there (or back), to understanding where you really are, to utilizing location-aware applications in a variety of fields -- think tornado trackers and road or rail inspectors -- mobile GPS completely changes how we think about the information and how it maps to the real world. Wherever you are, systems can automatically tag where, when and by whom data was captured.
The Gartner report on the "personal cloud" also noted that users will demand an increased level of simplicity that allows them to use applications without training. User of collaboration tools have always wanted simpler applications, and one of the consequences of the rise of social media and the consumerization of IT is that application designers have heard this message loud and clear.  In my next post I'll look at the consumerization of mobile and how it's affecting the collaboration world.
Leigh is the Co-Founder & CEO of Aconex, the world's most widely-used online collaboration platform for the Construction and Engineering industry