By Richi Jennings (@richi ) - December 12, 2011.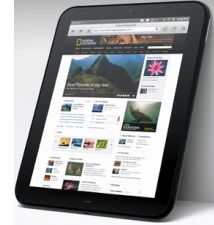 HP (NYSE:HPQ) is open-sourcing webOS and the ENYO framework. Meanwhile, its latest $99 fire-sale of TouchPad tablets causes slowdowns on eBay. In IT Blogwatch, bloggers wonder if this means Android will gain some of webOS's unique features.
Your humble blogwatcher curated these bloggy bits for your entertainment. Not to mention: What a Wonderful World...
    John Cox reports:
Hewlett-Packard...will "contribute" [webOS and ENYO] to the open source community. ... HP plans to be an "active participant and investor,"...[and] will "engage the open source community to help define the charter of the...project."

...

Originally designed by Palm, and presented...in mid-2009, webOS was praised by developers. ... [A]pplications could be written entirely in JavaScript, HTML and Cascading Style Sheets.   
    Iain Thomson adds:
The move is a pretty humiliating climb-down. [HP] paid $1.2bn for Palm last year. ... Leo Apotheker promised...Touchpad sales would give Apple something to worry about. ... The reality proved vastly different.

...

HTC, Samsung, and others had been mentioned as possible buyers...but with Android dominant...and Microsoft promising to unleash a tsunami of support for Windows Phone, no one was really going to pay. ... It's now hoped that open source enthusiasts will keep the operating system alive.   
Preston Gralla is predictably grumpy:
HP's purchase of Palm...in good part to buy WebOS, will go down as one of the biggest blunders in the technology business. ... [It] bungled the handling of WebOS so that now it's barely an afterthought.

...

This last-ditch effort to save WebOS likely won't work. ... Given the success of Android...it's not likely that WebOS will gain much traction. ... Windows 8 tablets will clearly benefit.   
Harry McCracken looks for parallels:
This could turn out to be good news. But...it might be years before we know. ... [Firefox] was open-sourced by Netscape in 1998, but wasn't until 2004...that it was clear [it] had a bright future.   
And John Gruber ain't positive:
[T]his is just the difference between putting your dog down and letting it free on a distant mountain road.   
But Anand Lal Shimpi hopes for the best:
The best we can hope for is that some of the innovations in webOS will get incorporated into other...OSes [making] them better.   
Meanwhile, Chris Davies wore out his F5 key last night:
HP's restarted TouchPad fire sale saw eBay brought to its knees on Sunday. ... The deal...kicked off at 7pm EST with the 16GB TouchPad at $99. ... Unsurprisingly, the cheaper model was gone within minutes.

...

HP and eBay chose to limit customer orders to two units, [but] that only applied on a per-listing basis. With several listings...those with fast mouse fingers found they could grab a handful.   
   And Finally...
What a Wonderful World
[hat tip: Marc Trömel; well done, Discovery Channel, for not caving to climate-change-skeptics and showing episode 7]

  
 
Don't miss out on IT Blogwatch:


Richi Jennings is an independent analyst/consultant, specializing in blogging, email, and security. He's the creator and main author of Computerworld's IT Blogwatch -- for which he has won American Society of Business Publication Editors and Jesse H. Neal awards on behalf of Computerworld. He also writes The Long View for IDG Enterprise. A cross-functional IT geek since 1985, you can follow him as @richi on Twitter, pretend to be richij's friend on Facebook, or just use good old email: itbw@richij.com. You can also read Richi's full profile and disclosure of his industry affiliations.