By Barbara Krasnoff (@BarbaraKrasnoff / ) - October 28, 2011.

I'm afraid that I've been one of those left out of the tablet revolution. Not necessarily because of the price of the tablets -- although I have to admit that I've balked at paying approximately $500 for seems to be basically a personal entertainment center. And it's certainly not because I don't appreciate bleeding-edge tech -- in fact, I've spent a large portion of my life happily playing with and writing about various tech devices.
It was more because, despite reading all the plaudits online, and listening to the enthusiastic recommendations by friends, I still didn't see the point -- at least, for my own use.
Which is why, when I was offered the chance of trying out the Samsung Galaxy Tab 8.9, I thought it was a good way to try to find out for myself what all the fuss was about. Perhaps if I used one for a few weeks I would then discover why everyone wanted one -- and even decide to invest in one myself.
The results? I found out why people like them -- and I still don't think I'd want one. At least, not yet.
The basics
The Galaxy Tab 8.9 measures 9.1 x 6.2 x 0.3 in. (in other words, it's impressively slim) and weighs a trifle under 1 lb. It's sort of the compromise between Samsung's petite 7-in. tablet and its full-size 10.1-inch tablet.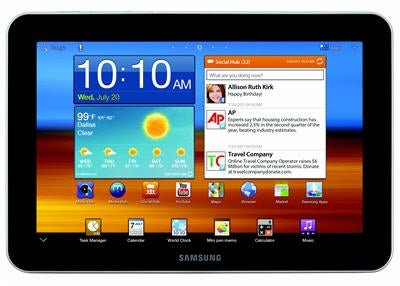 Around the top edge of the Tab 8.9 (assuming you're holding it in landscape mode), there's a power button, a volume rocker switch and a standard audio jack. The power button is rather close to the volume rocker, so I occasionally found myself shutting off the display when I meant to make the sound louder.
On the bottom are two stereo speakers and the port for the specialized USB connector that lets you recharge the 6100mAh battery. No 3G here; this is a Wi-Fi (and Bluetooth) device only. The review unit came with 16GB of memory ($450); you can also buy it with 32GB ($550).
I have to admit that if I needed to watch a few YouTube videos while waiting to get a cavity filled, this would be a good way to do it -- the images were sharp, bright and very clean. Of course, tablets tend to become smudgy rather quickly -- and when the display is off, every fingerprint becomes obvious. It wasn't really a problem when the device was actually on, but did cause a couple of friends to do a second take when they passed it on my desk. The audio was also quite good; the speakers were, in fact, better than those of my VAIO laptop.
Learning the interface
The Tab 8.9 offers Samsung's TouchWiz UX interface, and a bit to my surprise -- I tend to be an Android purist -- I rather liked it. The five home screens were convenient; when I pressed on the display for a couple of seconds I got a navigation screen that offered images of all five screens, allowing me to quickly jump to a different one. The same screen let me add widgets, app shortcuts, wallpaper, etc.
I found the notification tray -- which pops up on the lower right side when you tap on the date/time area -- very useful. It offers an easy way to turn various functions -- such as the Wi-Fi, GPS, Sound, or notifications -- on and off.
I also rather liked the hover apps -- a task manager, a calendar, a world clock, a memo app, a calculator and a music player -- whose icons pop up when you hit a small up arrow at the bottom of the screen. Tap on one, and the associated widget will remain floating on your screen for as long as you need it.
Speaking of which -- for the first time, I had real use for widgets. I have a few on my smartphone, but I don't use them a lot, because they take of valuable real estate and don't have room to show a lot of data. On a tablet, on the other hand, you can actually work with your email or read the news straight from your home screen, a real convenience.
Typing troubles
Because I'm a touch typist from way back, it took me a while to get used to the keypad, despite the variety of choices that I had. The Galaxy offers the standard Android keypad; the Skype keypad; and a Samsung version that is a bit more aggressive about offering vocabulary choices and includes keys for dedicated actions such as inserting an image into your document. In the end, for any real typing, I opted for something a bit more traditional -- in my case, a Logitech Bluetooth keyboard.
One of the things that surprised me was the back-facing 3.0-megapixel camera, which took excellent photos. I was especially taken by the way it allowed me to adjust it for a dark restaurant, where it took sharp, clear photos without a flash in an environment that would have stumped other device-based digital cameras. The 2.0 megapixel front camera also worked fairly well (once I was able to get it working).
So did you use it or not?
When I purchased my first smartphone (the original Droid), I kept exploring apps and using it for a variety of activities until I had trouble imagining myself getting through a day without it. However, while I have friends who have had this experience with their tablets -- both iOS and Android -- I found that, while the tablet was nice to have, it never crossed the line into "must have."
It was a great device to have when I was watching a film on TV and wanted to find the name of that obscure actress whom I could swear I'd seen in another movie, or read my partner an interesting article from the NY Times while he made dinner. It was also not a bad e-reader, especially because of the backlighting, and made for a nice gaming platform.
I did take it along with me on a few jaunts, but in the end, it was an added weight that I only seldom needed. Because it was Wi-Fi only, I often found myself going for my smartphone for online. If I wanted to do any real work, I had to remember to take the keyboard as well, which meant I was carrying about the same weight as my netbook. And if I was taking it along mainly as an e-reader, a 6.5-oz. Kobo Touch was much less of an additional weight.
It's possible that this simply isn't the device for me. Perhaps I should be considering the tablet that rules the market, Apple's iPad 2 (although at 1.3 lb., it would usually remain in my living room). Perhaps I should have been looking at Samsung's 7-in. Galaxy Tab, which weighs only 13.6 oz and, unlike the Tab 8.9, is available with 3G.
Or maybe I should just admit that, right now, a tablet is still a luxury item that I'm still not ready to invest in.