By JR Raphael (@jr_raphael)
One of the most powerful but underplayed features in Google's Android Ice Cream Sandwich release is the new system keyboard. As I've been testing ICS and the Galaxy Nexus these past several days, I've grown increasingly impressed with what this thing can do.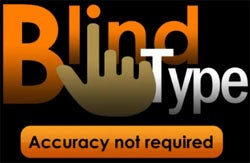 Now, I'm growing increasingly confident the ICS keyboard is based at least in part on the technology of BlindType, a virtual keyboard startup acquired by Google last October. This is just my personal theory; Google has made no official statement about BlindType's contribution or lack thereof, and an Android spokesperson declined to comment on the matter.
But using the keyboard in Android 4.0, it strikes me as increasingly likely that's the case. BlindType, if you don't remember, built tons of buzz with blogs and videos showing off its virtual keyboard in the months prior to its acquisition. The company promised to "redefine Android keyboards" with a "revolutionary system." It would adjust to your "perceived keyboard and typing style," BlindType promised, and allow for "super sloppy typing."
"Extra, missing, or swapped character? No problem," one of BlindType's promotions declared.
All of this could just as well be describing the new Android Ice Cream Sandwich keyboard. The ICS keyboard lets you type sloppily, all over the place, and it manages to figure out what you're trying to say. The accuracy is astonishing; as someone who tends to prefer Swype over any tap-based virtual keyboard, I've been surprised how happy I am using the stock ICS option.
Even Google's own description of its ICS keyboard seems to match what BlindType touted. The official Android 4.0 Platform Highlights page says the new system keyboard is "faster and more accurate," with "error correction and word suggestion" improved through "a new set of default dictionaries and more accurate heuristics for handling cases such as double-typed characters, skipped letters, and omitted spaces."
I went back and pulled a couple of the old BlindType promotional videos. Take a look:
I even tried typing some of the exact garbled character combinations from BlindType's demos into ICS; in many of the cases, the translations worked the same way. Note the suggestions on the far left in each of these screenshots:



Now, clearly, the BlindType technology wasn't simply dropped in to replace the Android keyboard -- even if the technology's there, it's obviously been refined, and the ICS keyboard has plenty of other elements involved -- but I'll be damned if there isn't a connection.
For ages now, the Android community has been wondering what happened to BlindType after the acquisition and if/when we'd see its technology appear. I have a sneaking suspicion we finally have our answer.
SEE ALSO: Android 4.0 and the Galaxy Nexus: My in-depth reviews
JR Raphael writes about smartphones and other tasty technology. You can find him on Facebook, Twitter, or Google+.
Article copyright 2011 JR Raphael. All rights reserved.