We've been speculating that Apple [AAPL] has a plan for television, now the company's interest in the scheme's been seemingly semi-confirmed -- by Steve Jobs. So, what should we expect?
[ABOVE: Which of these three things doesn't have an Apple brand on?]
What's going on?
The buzz is coming from Jobs' statements as reported in his posthumously published biography.
"I'd like to create an integrated television set. It would be seamlessly synced with all of your devices and with iCloud. It will have the simplest user interface you could imagine. I finally cracked it," he said.
Piper Jaffray analyst Gene Munster has been anticipating an Apple move into television for a very long time. He now believes the company has begun prototype production.
Adding even more weight to the rumor, Bloomberg claims Jeff Robin, who was essential to the creation of the iPod and iTunes is leading the TV development teams.
"Apple Inc. is turning to the software engineer who built iTunes to help lead its development of a television set, according to three people with knowledge of the project. Jeff Robbin, who helped create the iPod in addition to the iTunes media store, is now guiding Apple's internal development of the new TV effort, said the people, who declined to be identified because his role isn't public," the report explains.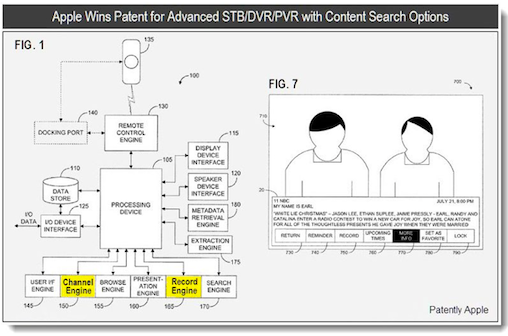 [ABOVE: Patently Apple will confirm Apple has many television-related patents. Why?]
What can we expect?
An iTunes-savvy television with all the additional features of an Apple TV may not be enough to thrill the market. What else could be in the home entertainment pipeline?
-- I'm hoping for iTunes Extra and augmented features for movie and TV downloads. All your DVD extras available at the touch of a button once you purchase the film or show.
-- Apps: It makes so much sense to support apps on an Internet-enabled television of this kind.
-- With apps support, this television is the ultimate console.
-- Spoken word controls: will this mythical TV support the advanced search and assistance facilities of Siri? Given Siri will have been in beta for at least six months when this new Apple TV appears, it's possible. On which some may reflect that Apple is about to give us what we've always wanted, a television we can shout at.
What's happening now?
Gene Munster claims prototype production of the new products have begun. Perhaps he's correct, but I've come across similar reports before.
Munster cites Apple patent filings and chats with a "contact close to an Asian manufacturer" in his prediction, saying: "We believe that of the estimated 220m flat panel TVs sold in 2012, 48 per cent or 106m units will be Internet-connected, of which Apple could sell 1.4m units."
[ABOVE: Opening up a new platform to developers? Why not launch at a developer conference?]
When can we expect it?
If Apple chooses to introduce app support within the new product, then it's logical the company will introduce the device in or around WWDC 2012.
An introduction at that event is logical because the new device may potentially offer a chance for developers to make some money developing for television.
Who should be worried?
Samsung and everybody -- assuming Apple understands the way the domestic consumer electronics markets work. (Hint: Has it sufficient experience introducing new product families with a feature-set and at a price that consumers find attractive? You know the answer.)
Television is all about content, and as content schedules become ever less inspiring people in the market for a TV may not be prepared to pay that mythical Apple premium -- even for built-in high definition and high quality displays, iTunes support, apps and voice control.
It's true that Apple faces quite a list of potential foes in its purported new plan, including hardware makers, console manufacturers, cable firms and more, for example: Samsung, Sony, Nintendo, Microsoft Xbox, Cable and satellite TV firms, Netflix, Google TV, Amazon and many more...
What might set it apart?
That TV show or movie you're watching might follow you from room-to-room and place-to-place on any of your array of compatible devices.
Apple has filed a wide number of 3D patents, including for 3D operating system elements.
Broadcasting will evolve. In future, channels will become apps, and you'll only explore the ones you want, leaving the rest behind. Euronews now offers its channel on Samsung's family of connected TVs. Similarly, the BBC's iPlayer app continues to gain features and become international.
In future the ecosystem will extend. Here's four potential examples to illustrate this:
-- If you have an iPhone or iPad you can already watch your video on a television using Apple TV.
-- iCloud will enable most users to access their media from any registered device.
-- Voice recognition technologies mean that you will eventually be able to ask your TV for what you want to watch, schedule a recording be made, or even have a show recorded and then made available via your online content locker for playback on another device.
-- You should also be able to achieve this remotely, using another device.
-- Social networking with these TVs will eventually enable things like PiP (Picture In Picture) video chat with other families while watching a show, an exchange of reactions from Twitter and more.
Is there any truth in the claims?
Of course Apple is prepared to explore all potential new markets available to it as it seeks to extend the reach of its iTunes system.
It remains open to question if moving to offer full-sized television sets makes sense for Apple, though if it chose to do so it has an immediate high street presence for its products via its chain of retail stores -- so it can reach customers with those boxes.
Before finalizing any such decisions, Apple's management will be asking themselves:
Is this simple enough?
Do we control enough of the primary technologies?
Can we make a significant contribution to this market?
What do you think the answer is? Can Apple reinvent broadcasting? Let me know in comments below.
Got a story? Drop me a line via Twitter or in comments below and let me know. I'd like it if you chose to follow me on Twitter so I can let you know when these items are published here first on Computerworld.