Galaxy Nexus review roundup, LTE release date Monday?
By Richi Jennings (@richi ) - November 18, 2011.
[Updated to highlight the uncertainty around the N. American release date]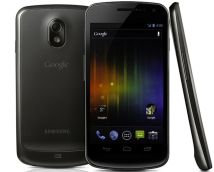 The embargoes have expired, and here come the Samsung Galaxy Nexus reviews. They're pretty positive, but we're still unsure about the Galaxy Nexus LTE release date in North America. One quote from a Google spokesperson seems to say Monday, but there's more than a little doubt about the interpretation. In IT Blogwatch, bloggers contribute to Richi's review roundup.
(SEO:005930) (LON:SMSN)
 
Your humble blogwatcher curated these bloggy bits for your entertainment. Not to mention: I Believe I can Fly...
 
 
JR Raphael reviews:
I wanted to share some of my early impressions with you now. ... The Galaxy Nexus is one slick-looking device...[with] rounded edges and a nicely contoured...supersized 4.65-inch screen. ... For as large as that screen size sounds, the Galaxy Nexus is surprisingly not bulky.
...
[It] uses Samsung's new HD Super AMOLED technology. ... The screen on this thing...is crisp and bright, with brilliant colors that really pop. ... With a resolution of 1280 by 720...this phone more than holds its own.   
   
Myriam Joire adds:
It's...pleasantly light and thin, and the bezel is small thanks to the lack of...buttons. Build quality is typical Samsung -- durable if...somewhat plasticky.
...
[T]he 4.65-inch 1280x720 pixel screen is simply gorgeous despite using a PenTile matrix. ... However, we noticed an issue with the auto-brightness...which functions properly in daylight but is too dim in low-light.
...
It's still too early to comment on battery life, but so far we're not seeing any issues.
...
We took a few pictures over the course of our first day...[which] look decent, but the results sometimes required some tweaks to the exposure. ... [There's] a major flaw in Ice Cream Sandwich, namely the lack of USB mass storage support.   

Vlad Savov has more on that all-important N. American release date:
Google's big, bold, and beautiful new Android phone is today being released in the UK.
...
[T]he LTE-equipped variety should be making its way stateside right about now. ... Google tells us the Galaxy Nexus will be available "pretty much everywhere" from Monday, November 21st.   
[Savov has been asked to clarify whether "everywhere" means everywhere in the UK, or... you know... everywhere. So far, no reply.]
 
 
And the unequivocal Charlie White calls it, "the best Android phone":
It's a lightweight phone at 4.8 ounces...(a Verizon model using...4G LTE...will be slightly heavier). ... [It's] about an inch shorter than an average-sized hand.
...
Who says you can't have a removable battery and still enjoy clean, minimalist lines on a smartphone? ... That clean design...gives you a hint of the highly capable hardware inside...a 1.2GHz dual-core processor from Texas Instruments...1GB of RAM and 16GB of internal storage.
...
[W]hen I compared identical shots [with] the iPhone 4S, I realized that even though the iPhone 4S's 8-megapixel camera looks slightly sharper in brightly-lit situations, the...Samsung Nexus camera in low light matches it nicely. ... [It] started up quickly, takes multiple pictures in rapid succession, and even [does] panoramic shots. [It] did an admirable job of grabbing acceptable [1080p] HD footage.   

But John Gruber waxes predictably pomaceous:
If you're like me, you're skeptical.
...
[E]very time a new Nexus phone has arrived...the initial reviews [say], "Hey, Android finally got its act together", but then...it turns out the whole thing is still a jumbled mess and second-rate...experience and we're really supposed to wait for next year.   
  
And Finally...
I Believe I can Fly: Trailer | Free Segment | Backstage
[hat tip: Meg Hanceford Meyer]
  
 
Don't miss out on IT Blogwatch:


Richi Jennings is an independent analyst/consultant, specializing in blogging, email, and security. He's the creator and main author of Computerworld's IT Blogwatch -- for which he has won American Society of Business Publication Editors and Jesse H. Neal awards on behalf of Computerworld. He also writes The Long View for IDG Enterprise. A cross-functional IT geek since 1985, you can follow him as @richi on Twitter, pretend to be richij's friend on Facebook, or just use good old email: itbw@richij.com. You can also read Richi's full profile and disclosure of his industry affiliations.
Shop Tech Products at Amazon