By JR Raphael (@jr_raphael)
Astro File Manager, a long-time favorite among Android power users, is getting a long overdue update this week. Among the app's new features: a brand new interface with full tablet optimization.
Let me tell you: This thing is slick. I've spent a lot of time testing out Honeycomb-friendly file managers lately. Astro may be late to the tablet game, but it blows the competition right out of the water.
On tablets, the updated Astro gives you one large panel with icons showing all the folders and files in your device's storage. To the left, you have a separate panel with quick links to jump to your internal memory, SD card, USB card, or a number of category-specific storage areas (downloads, pictures, music, and so on).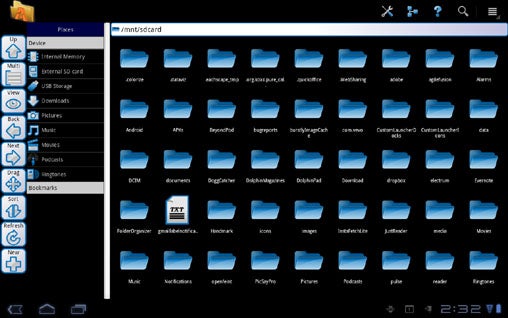 A menu at the far left side of the screen allows you to navigate through your storage. It also has a "drag" command that, when selected, lets you tap and hold any item to drag and drop it somewhere else in your system.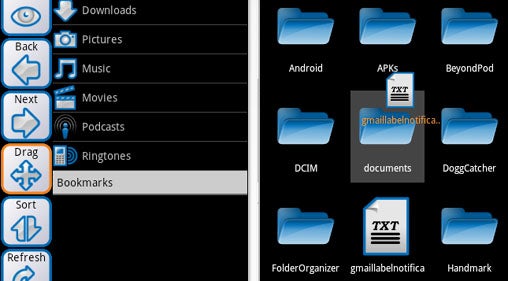 Aside from its intuitive and feature-packed interface, Astro's extras are what makes it shine. Astro's tablet edition has all the stuff the smartphone app has always offered, including integrated ZIP support and a host of customizable viewing options. It lets you manage files via a variety of external connections, too, including SFTP, SMB, and Bluetooth. It also has a built-in application backup tool that lets you easily grab, save, and restore APK files for any apps on your device.


This recent update brings the refreshed UI to the smartphone side, too, so there's something new in there for everyone.
Astro File Manager is a free download in the Android Market. An optional $3.99 "pro" key add-on will eliminate ads that show up in the utility.
Bottom line: An Android classic has just gotten even better. Whether you're on a smartphone or a tablet, this is one app you'll definitely want to download.
JR Raphael writes about smartphones and other tasty technology. You can find him on Facebook, Twitter, or Google+.
Article copyright 2011 JR Raphael. All rights reserved.