Bolt Browser for Android: Meh -- this is it?
By JR Raphael (@jr_raphael)
We've been hearing about the "innovative" new Bolt Browser for Android since the program went into private beta back in June. So with news that Bolt was publicly available on Android as of today, I jumped at the opportunity to try out the heavily hyped new browsing experience.
In short: Meh. Bolt Browser isn't especially great -- and there's nothing I can see in it that would convince me to switch over from a more robust alternative.
Let me explain.
Bolt Browser for Android: The Browsing Basics
When you first open Bolt Browser for Android, you're greeted with a busy-looking screen that holds square-shaped icons for your favorite sites. You can slide left to see your browsing history, or slide right to access Bolt's social and "Web apps" functions. There's a location bar at the top of the top of the screen as well as an integrated search bar.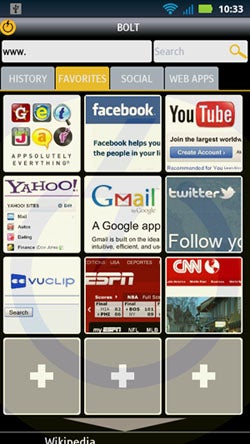 Bolt promises "blazing fast speeds" and pages that render "just as they appear on personal computers." The speed didn't strike me as anything exceptional, though; in fact, in my casual side by side tests, the same pages loaded noticeably faster in Dolphin Browser Mini than they did in Bolt.
As for the desktop-like rendering, Bolt does have its user agent set to desktop by default, meaning you get the normal desktop version of a site as opposed to a mobile-optimized site. But that's nothing new: Many third-party browsers provide a way to toggle between mobile and desktop viewing. Furthermore, in Bolt, images on websites appeared blurry and text appeared jagged and choppy. I was not impressed.
Bolt does offer tabbed browsing -- sort of. Instead of showing up at the top of the screen, where Bolt has a space-consuming title and location bar, tabs are hidden in a menu that's accessible only by pressing your phone's Menu button and selecting the "Tab" option. When I switched from one tab to another, Bolt would occasionally reload a page for no apparent reason instead of just snapping back and forth like most browsers do.
This is all looking at phones, by the way; Bolt does not currently offer a tablet-optimized version of its app.
Bolt Browser for Android: The Extras
So what about all the browsing extras Bolt promises to deliver? First up is the "dedicated social tab," which, best I can tell, is basically just a permanent on-screen link to the Facebook mobile site. Okay.
Then there's the "Web apps" tab. The first time I tapped it, the browser randomly crashed and shut down. On my second try, I got a short list of basic "add-ons" for the browser, including things like Twitter, YouTube, Weather, Wikipedia, and Bing.
Tapping on any of the apps gives you the option to install it -- but don't expect much. The Twitter "app," for example, just pulls up what appears to be a customized version of the Twitter mobile website (though one that's actually less intuitive and visually pleasing than the standard Twitter mobile website). The other "apps" are comparably lackluster.
Missing from the browser are options that'd actually be useful -- like one to easily share a page with a social app of your choice, something most Android browsers readily provide. Bolt Browser has one "Share" command in its main menu, but that pulls up a limited and confusing box that doesn't actually tell you where it's sharing. Based on my tests, it seems to share with the Facebook account you connected to the browser (assuming you did connect one); there's nothing on the screen that indicates that, though, or gives you an option to share anywhere else. I couldn't find any easy way to share a page directly to Twitter or Gmail, for example.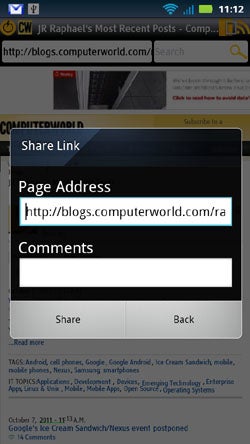 Even Bolt's settings seem rather limited. I couldn't find an option to set a loading preference for Flash content (e.g. always load vs. on-demand), nor could I find any controls to customize the appearance of the app or do much of anything useful.
Bolt Browser for Android: Bottom Line
I hate to be a negative Nelly, but all considered, there's really nothing in the new Bolt Browser for Android that remotely impresses me, let alone blows me away. The program seems to perform poorly in the most basic areas and lack advanced features that other third-party browsers provide. I didn't see anything better, more interesting, more innovative, or even as good as what's already out there.


One of the great things about Android is the amount of choice we have when it comes to things like browsers, and I encourage you to check out Bolt for yourself (it's free in the Android Market). Ultimately, though, Bolt may have won over users on feature phones and other mobile platforms -- but within the modern Android landscape, it feels like a step back in time compared to the more powerful and feature-laden alternatives.
JR Raphael writes about smartphones and other tasty technology. You can find him on Facebook, Twitter, or Google+.
Article copyright 2011 JR Raphael. All rights reserved.
Shop Tech Products at Amazon