Apple [AAPL] has announced its first definitively "Lion-ready" desktop Macs today, confirming the much-anticipated introduction of its new model iMacs, which cost from $1,199.
Take it to the (sandy) bridge
The morning began and Apple's online retail store was unavailable with the customary, "We'll be back soon" sign appearing on the store's front page (above). At 8.30am (Eastern) the company announced its quad-core iMacs, which it says are 70 percent faster than before with graphics promising "up to three times the performance" of the previous generation. More specifications below, and here.
Apple's new iMacs -- based on Intel's Sandy Bridge processors -- feature quad-core Intel Core i5 processors with an option for customers to choose Core i7 processors up to 3.4 GHz.
"Our customers love the iMac's aluminum enclosure, gorgeous display and all-in-one design," said Philip Schiller, Apple's senior vice president of Worldwide Product Marketing. "With next generation quad-core processors, powerful new graphics, Thunderbolt technology and a FaceTime HD camera, we've made the world's best desktop even better."
The previous generation iMac was introduced in June 2010. This makes it inevitable that the newly-announced models will eventually ship with Mac OS X 'Lion' pre-installed. This means that deconstructing what's inside the new machines will give us a good idea of the kind of specifications and features Lion will require for optimal operation.
[This story is from Computerworld's Apple Holic blog. Follow on Twitter or subscribe via RSS to make sure you don't miss a beat.]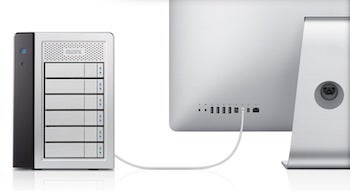 These chips ain't small potatoes
The update introduces Intel's Sandy Bridge processors instead of first-generation Intel Core iX chips. These new 32-nanometer chips carry 256k L2 cache, boast a shared L3 cache which it shares with the processor graphics, and promise up to 17 percent better CPU performance. (I'm predicting the new iMacs to max out at 3.3GHz, but that they will consume much less power and deliver much more efficiency, so they'll seem much faster. **UPDATE: They reach 3.4GHz as a BTO option.)
The new models are equipped with the brand new Thunderbolt I/O. A 256GB solid state drive option is also available. The new iMacs boast FaceTime HD camera and IPS LED-backlit high resolution display, SD card slot. They ship with Apple's innovative Magic Mouse or Magic Trackpad. 
Apple Insider had previously warned, "Rumors that 2011 would see changes to the iMacs' display panel size and the inclusion of 6000-series AMD Radeon HD chips, could not be confirmed with any degree of certainty."
This report was incorrect, as 6000 series AMD Radeon HD graphic are available across the range.
The move to upgrade the Intel processor comes as Apple's Mac chip shop bids to take Apple's mobile processor business away from current manufacturer, Samsung. Intel has concentrated on the x86 CISC platform until now, but it has the foundries and financial clout to build the production line. Apple has a problem with Samsung Intel hopes to capitalise on. Equally, it is possible Apple will begin joint investments with other manufacturers designed to bring the majority of its processor production in house.
A little rain
Taking the Sandy Bridge has had its problems: In January, Intel revealed that it had some problems affecting its new processors, issuing the following statement:
Intel Corporation has discovered a design issue in a recently released support chip, the Intel® 6 Series, code-named Cougar Point, and has implemented a silicon fix. In some cases, the Serial-ATA (SATA) ports within the chipsets may degrade over time, potentially impacting the performance or functionality of SATA-linked devices such as hard disk drives and DVD-drives. The chipset is utilized in PCs with Intel's latest Second Generation Intel Core processors, code-named Sandy Bridge. Intel has stopped shipment of the affected support chip from its factories. Intel has corrected the design issue, and has begun manufacturing a new version of the support chip which will resolve the issue. The Sandy Bridge microprocessor is unaffected and no other products are affected by this issue.
There is one other important caveat to the new Macs -- they include on-processor digital rights management. Now, it is no stretch of the imagination to think that rights management will become more of an issue when Apple offers Apps via the App Store, and when cloud-based media and personal data services are coming into play via Apple's newly-purchased iCloud.com.
Wikipedia tells us that Sandy Bridge processors include what Intel describes as "an extra layer of content protection", which is essentially DRM for PCs -- or, in this case, DRM for Macs.
Remote Wipe coming to Macs
There's more: I've been reading reports claiming Apple intends introducing a "Find My Mac" service, similar to the "Find My iPhone" service we already enjoy. It seems Sandy Bridge offers a helping hand for this. That's because the processors have a security feature which enable the ability to remotely disable a PC or erase information from its hard drives.
This suggests that in future -- once Lion ships -- you will be able to remotely erase your Macs drives in the event the machines are lost or stolen. This is bound to please corporate markets.
There's certainly more we can uncover about Apple's future direction with the Mac platform and its Lion OS once we take a deeper look at its new Mac models.
I'm very interested in your thoughts on this (you aren't a quiet lot when you get going, so please share in comments below), and I'd also like to invite you to pop back later when I update this tale with the details of the new models -- assuming Apple isn't making a fool of us all and actually does introduce them!!
Got a story? Drop me a line via Twitter or in comments below and let me know. I'd like it if you chose to follow me on Twitter so I can let you know when these items are published here first on Computerworld.