By JR Raphael
Love Honeycomb but not in love with Google's default calendar widget? A new option launching next week may be just the thing for you.
You've probably heard of Pure Calendar Widget for Android phones. It's one of the most customizable calendar apps out there, allowing you to fine-tune everything from the widget's appearance to how it behaves on your home screen.
The developer behind Pure Calendar Widget, Francois Deslandes, is getting ready to release an update that'll optimize the app for Android Honeycomb tablets like the Motorola Xoom and upcoming LG G-Slate. The new version will enable tablet-based scrolling within the widget, so -- just like with Google's stock Honeycomb setup -- you'll be able to thumb through your agenda without ever leaving your home screen.
Unlike Google's default calendar widget, however, Pure Calendar Widget will let you decide how everything looks and works. The app will offer all the customization options Pure's smartphone edition has long provided: You'll be able to select from widget sizes ranging from 2x2 all the way up to 4x4 (pictured above). You'll be able to select from numerous skins and color schemes to make the widget look exactly the way you want. You'll be able to set up quick one-touch buttons on the widget to expand its functionality. And you'll be able to specify how many days' worth of events the widget displays. 
If you're anything like me, this is all very welcome news. The stock Honeycomb calendar widget is great in theory, but at this point, it's pretty much what-you-see-is-what-you-get. You can't adjust the widget's appearance or color scheme. You can't make it any bigger. And, in what's turned into an ongoing frustration for me, you can't control how far in advance the widget looks for events; no matter what you do, you see only the next seven days' worth of items.
Now that Pure Calendar Widget is getting a tablet-optimized update, it'll serve as a solid alternative for those of us who want something a little more robust. Toss that bad-boy beneath the new Beautiful Widgets tablet Super Clock, throw a couple other Honeycomb widgets on the side, and you've got yourself a fine-looking, fully functional home screen no other operating system could match.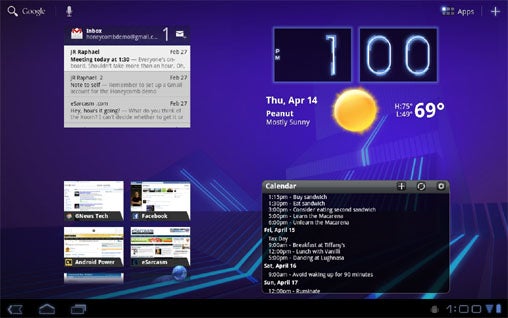 Deslandes says the new tablet-friendly version of Pure Calendar Widget will appear in the Android Market by next Friday at the latest. The app costs $2.15. If you've already bought Pure Calendar Widget for your phone, you won't have to buy it again; you'll just need to install it to your tablet and then accept the update once it arrives.
UPDATE [4/18/11]: The app is now available.
JR Raphael writes about smartphones and other tasty technology. You can find him on Facebook, on Twitter, or at eSarcasm, his geek-humor getaway.
Get Android Power stories on Twitter: @AndroidPower 
Article copyright 2011 JR Raphael. All rights reserved.