By JR Raphael (@jr_raphael)
With the sheer number of Android phones coming out these days, it's rare to see a new device and immediately think: "This is gonna be huge." After 10 minutes with Sprint's new Samsung Galaxy S II phone, I couldn't help but hear those words in my mind.
The Galaxy S II Epic 4G Touch, to use its full moniker, launches on Sprint today. The phone has some impressive lineage: It's the follow-up to the hugely popular first-gen Galaxy S, which a whopping 10 million people snatched up in 2010 -- and it's based on Samsung's international Galaxy S II model, which launched overseas in April and racked up 5 million sales in its first few months on the market.
Now, it's our turn. With the Galaxy S II Epic 4G Touch, Sprint becomes the first U.S. carrier to offer the hotly anticipated GSII device -- AT&T and T-Mobile will follow later this year -- and boy, oh boy, is it coming out of the gate in style. The Epic 4G Touch is sleek, classy, and fast. And it's incredibly fun to use.
[Samsung Galaxy S II: The complete FAQ]
The Epic 4G Touch runs on a Samsung Exynos 1.2GHz dual-core processor along with a full gigabyte of RAM. Swiping through home screens is fast and fluid, with nary a hiccup or delay; opening apps and browsing the Web have been equally speedy for me so far.
On the outside, the phone features rounded edges and a textured back (which, incidentally, sports the Sprint logo and the Galaxy S II logo -- no sign of the Epic 4G Touch name anywhere on the device). It's thin, at about 0.4 inches depth, and light, at 4.6 ounces. That's slightly beefier than the international Galaxy S II model on paper, but still quite svelte when you're holding it in your hand.
[COMPARE: Samsung Galaxy S II vs. the original Galaxy S]
And then there's that screen. The Epic 4G Touch has 4.52 inches of Sammy's new Super AMOLED Plus technology, which is, in a word, gorgeous. The colors are rich and vibrant, and even at a resolution of 800 by 480 -- lower than what's available on some competing Android handsets -- it's tough to imagine a better-looking picture.
What else? In terms of software, the Epic 4G Touch uses Google's Android 2.3 OS (2.3.4, to be precise), also known as Gingerbread. As usual, Samsung has added its own touches to the interface, baking the latest version of its TouchWiz UI into the phone. While I'm generally not a fan of manufacturer-made OS modifications -- due in part to the delays they tend to cause in future OS upgrades -- Samsung has actually done some interesting things with its new TouchWiz skin.
The default system lock screen, for example, has no visible slider; you just flick it in any ol' direction and it flies off that way. Samsung offers its own intuitive system for customizing home screens, along with its own set of preloaded widgets. The software supports native screen capturing, too -- you just press the home and power buttons simultaneously -- as well as a series of motion-activated commands.
Of course, with all of that comes a bunch of junk you probably don't want -- bloatware, as we like to call it -- and most of that stuff can't easily be removed from the phone. Such is the world of non-stock Android.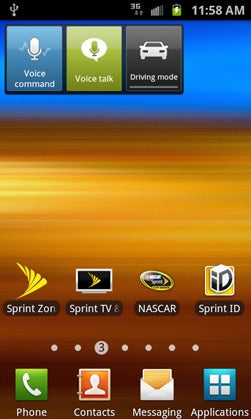 This is all just scratching the surface of what I've encountered after about a day with the device. The true test of any phone, however, is how it performs in the real world -- the way a real person would use it. That's why I'm going to spend the next week using Sprint's Galaxy S II Epic 4G Touch as if it were my own. I'll load it up with all my usual apps and widgets and carry it around in place of my personal phone. After all, it's easy to make measurements and observations while exploring a pristine phone in a quiet office, but what really counts is how the device performs when it's fully configured and put in a normal usage scenario. And that takes more than a couple of days to assess.
Check back next week for my full in-depth review. In the meantime, you can follow me on Facebook, Twitter, or Google+ if you want to keep up with my progress and chat about the Galaxy S II experience.
UPDATE: Samsung's Galaxy S II Epic 4G Touch: The verdict is in 
This is just the start of a new generation of Android devices coming our way this year. I'm looking forward to exploring them all with you -- and, before long, enjoying a little Ice Cream Sandwich, too.
JR Raphael writes about smartphones and other tasty technology. You can find him on Facebook, Twitter, or Google+.
Article copyright 2011 JR Raphael. All rights reserved.